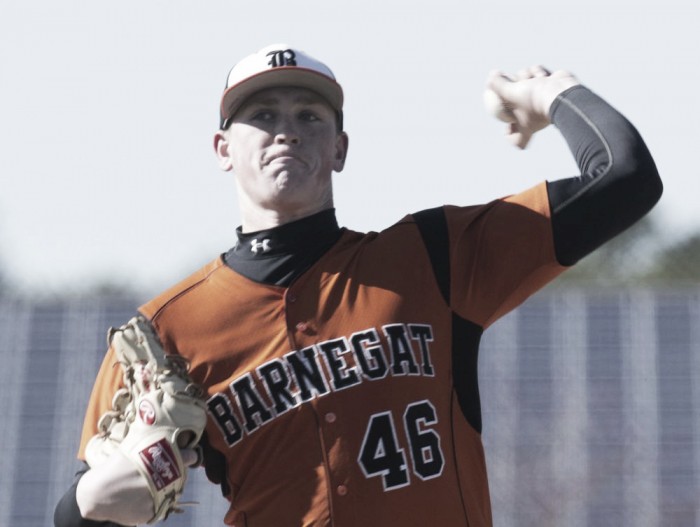 The Boston Red Sox may have struck gold.
Following a late slide, Jason Groome was surprisingly still available for the Red Sox with the 12th pick, and they selected the left-hander. Groome is expected to be a highly touted prospect and was ranked the No. 1 prospect in the draft by MLB Pipeline.
Groome's senior year of high school was a very odd one. After leaving his hometown Barnegat High School in New Jersey his junior year to attend IMG Academy in Florida, Groome returned back to Barnegat for his senior year. The left-hander had very high expectations, and in his first two starts back, he was nothing short of tremendous. In his first start on April 5, Groome tossed four-plus innings striking out ten and yielded just one hit.
His second start is where he really turned heads. He tossed a no-hitter and struck out 19 of the 21 batters he faced. He walked just one batter and faced the minimum amount of batters with 91 pitches.
However, shortly following the magnificent start, he was ruled ineligible. He violated the NJSIAA's transfer rules and had to sit out 30 days. It was a very controversial situation, but he was ruled out nonetheless.
Groome's potential
Groome's potential remains off the charts. He has drawn significant comparisons to San Francisco Giants' ace Madison Bumgarner, who just dominated the Red Sox on Wednesday. MLB Pipeline had the New Jersey native at the top of their board and had some positive things to say about him.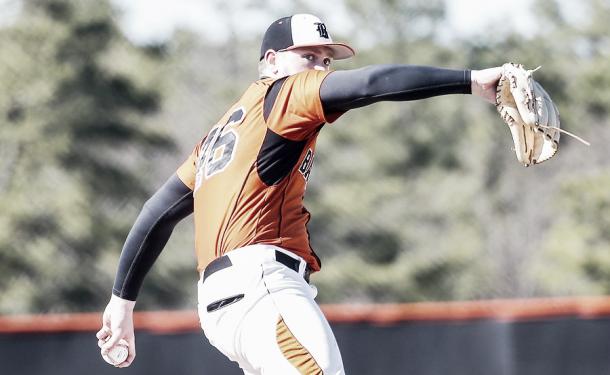 "Groome has everything to be a top-of-the-rotation left-handed starting pitcher, from his 6-foot-6 frame to the potential to have three above-average to plus offerings. The fastball is already there, up to 96 mph and sitting 92-93 mph over the summer, and in the 90-94 mph range in the early stages of the spring. Groome features a nasty curve as well, with tight rotation and bite. He doesn't throw his changeup often, but he's shown some feel for it, with some sink. Groome is generally around the plate and has clean mechanics, with a pretty good overall feel for pitching."
Jon Heyman of MLB Network reported Groome's respect around baseball, tweeting, "A GM on Jason Groome: 'Might be the best high school pitching prospect since Clayton Kershaw.'"
That's saying something. Since Kershaw was selected by the Los Angeles Dodgers in 2006, guys like Bumgarner, Rick Porcello, Gerrit Cole, Zack Wheeler, Shelby Miller, Noah Syndergaard, Jose Fernandez, and Lucas Giolito were all drafted out of high school.
Draft night slide
Just about a month ago, Groome was nearly seen as a lock to be selected by the Philadelphia Phillies with the first overall pick. His talent and potential seemed limitless and was viewed by many as the sure best player in the draft.
However, Groome made a decision that worried many GM's. Groome initially committed to a powerhouse baseball university, Vanderbilt University. It was viewed as unlikely he'd choose to attend the university, as most top picks elect to head right into the minor leagues. If he were to choose to attend Vanderbilt, the 6'6" lefty would have needed to wait until his junior year to be able to enlist in the draft once again.
Groome decided to switch his commitment. He chose to commit to Chipola College, a junior college in Florida. Therefore, Groome would be eligible to leave the junior college after just one year, and could join the draft in 2017 if he does not sign with the team who selects him. This worried many GM's, as some viewed it as a sign Groome wanted to take an extra year to develop his skills and body to better prepare himself for the minor leagues.
The slide was evident in the draft. Mickey Moniak, an outfielder, was selected with the first pick by the Phillies. Six different pitchers heard their name called before Groome.
This led many to think that Groome was likely to attend the junior college and test his luck next year until the Red Sox came on the board. Groome stated multiple times that his favorite team growing up was the Red Sox, and that would be his favorite place to land.
After being drafted by the Red Sox, Groome was ecstatic. He ran outside and got very emotional after being selected by his favorite team. He tweeted, "Unreal right now this feeling is priceless."
Will Groome sign?
Now begins the tough part for the Red Sox organization. Groome may be happy with the Red Sox taking him, but it is unlikely he will take a pay cut. He will likely be looking anywhere between four and five million dollars, while the slot value is $3.19 million for being selected 12th.
The Red Sox have $7 million to spend on their draft picks. If they give up the money to tab Groome, it is likely they will not be able to sign some of their other top picks.
If the Red Sox are able to sign the left-hander, it will surely be the steal of the draft. He was regarded as the best player in this draft for a while, and his slide had nothing to do with lack of talent.
At this point, the Red Sox are the most likely team to sign Groome that was not in the top five. It will take some risks, but it could be a very high reward for the Red Sox.
Future with Red Sox
The Red Sox are quietly developing arguably the best prospect core in baseball. Along with the talented young infielder prospect Yoan Moncada from Cuba, the Red Sox also have terrific other position player prospects. That includes Rafael Devers, Andrew Benintendi, Sam Travis, and Luis Alexander Basabe. Not only that but the Red Sox already have strong talent in the majors that are not 25-years-old yet. That core includes Mookie Betts, Xander Bogaerts, and Blake Swihart. Betts and Bogaerts are already some of the best players at their position and are both just 23-years-old.
However, should Groome sign, he would add depth to the young pitching core in the Red Sox organization. Anderson Espinoza has drawn heavy comparisons to Pedro Martinez and remains one of the top prospects in baseball at just 18-years-old. Michael Kopech has also been terrific in the Red Sox organization, and could be ready to pitch for the Red Sox very soon. Henry Owens, Brian Johnson, and Eduardo Rodriguez could very well be suitors to be in the Red Sox rotation for quite some time, and David Price signed a huge seven-year contract in the offseason.
Across the board, the Red Sox already have lots of talent. If they are able to walk away with Groome, it will add even more potential to this group. Give props to Dave Dombrowski, as well as Ben Cherrington, who acquired most of these guys before he was dismissed from the Red Sox.
This could be a dynasty in the making, especially if they walk away with the hard throwing 6'6" southpaw.