The USA advanced to the next round of the World Baseball Classic following their 8-0 demolition of Canada.
Starters dominate early in games
Danny Duffy had a sensational game on the mound for the Americans, lasting 4.2 innings. He dominated the Canadian lineup, leaving their hitters guessing with each and every pitch. In his short outing, Duffy struck out seven batters, which included striking out the side in the first inning, and allowed only two singles.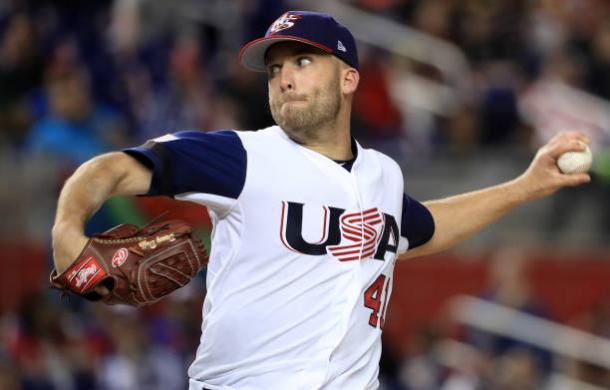 One thing that has been strong for the USA this tournament has been the starting pitching. Chris Archer put on a masterful performance in the opening game against Colombia, while Marcus Stroman stymied the Dominican Republic bats during his time on the mound.
USA offense explodes in first two innings
Canada's Ryan Dempster, on the other hand, struggled Sunday, lasting only one out. Dempster walked Ian Kinsler to start the bottom half of the first before getting Adam Jones to pop out to straight away center field. But then the damage came, and his night ended as quicky as it began.
Christian Yelich, who has had a sensational Classic, moved Kinsler to third base. Then, the bases became loaded when Nolan Arenado drew Dempster's second walk of the inning. Then, Eric Hosmer delivered the big blow, hitting a two-run double to left-center field gap.
After Paul Goldschmit walked, Dempster was replaced by 31-year-old Andrew Albers, who normally plays baseball for the Minnesota Twins. The Major League Baseball veteran, Albers, to get Buster Posey to ground out but not before Arenado scored from third to make it 3-0 USA after one.
The next inning was not any better for Albers. Jones and Yelich reached base after both hit singles with one out to bring up Arenado. The Colorado Rockies man had been relatively quiet to start the WBC, but during this at bat, Arenado was his normal self, as he hit a three run bomb on the first pitch he saw to put this game out of reach for the neighbors to the north.
One more run crossed the plate in this game during the bottom of the eighth inning. Facing Jim Henderson, Buster Posey blasted a home run into center field to put an eight spot on the scoreboard to cap off great team game all the way around.
Coming up
With the victory over Canada, the USA advances to San Diego, CA, for the following phase of the competition. While Group D has yet to be settled, the Dominican Republic topped Group C and will head to Southern California with USA, along with Puerto Rico who won their group.