For the first time in the World Baseball Classic, the USA have reached the final of the competition. In rainy conditions at Dodger Stadium, USA defeated the previously perfect Japan by a score of 2-1 an intense matchup.
Once again, the Americans got great pitching out of their starter, which has been solid for a majority of the tournament. Tonight, it was Tanner Roark, who had not seen much action before taking the mound against the Japanese. He was stellar, throwing four scoreless innings, while giving up just two hits and a walk, while striking out one batter.
Tense game throughout
It took a while, but there was finally a breakthrough in the top of the fourth inning. The wet conditions certainly played a factor in the scoring after Ryosuke Kikuchi could not corral a ground ball hit to him. The error allowed Christian Yelich, who has had a sensational Classic, reach first with one out.
Then, Eric Hosmer drew a walk after going behind 0-2 in the count to extend the inning top half of the inning which proved to be vital. Andrew McCutchen came up big again for the USA, as he broke the deadlock with a shot through the left side of the infield.
The Japanese, however, were determined to make this a game of itself, and clawed their way back two innings later. Kikuchi made up for his earlier mistake by sending a bomb to right field that just got over the fence. McCutchen lept in attempt to rob the home run, but did not quite have the reach in order to haul it into his glove.
Small ball led the way for the second American run of the night. Brandon Crawford got the bottom of the eighth going with single to Norichika Aoki. Ian Kinsler then slapped a double into the gap to put two runners in scoring position. With the infield drawn in, Adam Jones hit a weak ground ball third base, and with Nobuhiro Matsuda bobbling the ball slightly, his only play was to first, allowing Crawford to scamper home for the winning run.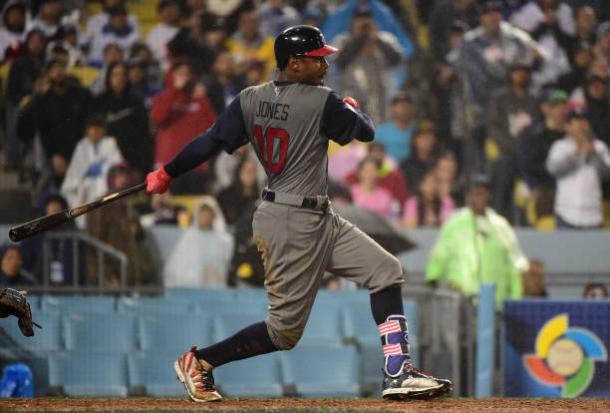 Coming up
The Americans will have a rematch with the vaunted Puerto Rico side for the WBC title. Proceedings are scheduled to start at 9:00 PM EST on Wednesday night at Dodger Stadium. The game will be aired on the MLB Network.
The two pitchers pitching in the final have already faced each other earlier in the second round. Marcus Stroman will get his redemption, along with the USA, as he goes up against the New York Mets' Seth Lugo.