A lot has been made of the Boston Red Sox's inability to draft and develop good pitchers, especially starters, in the recent years. Those that have shown promise have been traded, such as 18-year old Anderson Espinoza or flamethrower Michael Kopech. Others have stalled - like lefty Trey Ball, a former first-round pick who needed two full years at High-A Salem.
However, the Red Sox, the only American League East team without a homegrown starter, may have a developing hidden gem in Jalen Beeks. The Red Sox got their first look at Beeks, a southpaw 12th-round pick in 2014, on March 9 of Spring Training, when he stepped in for injured starter Roenis Elias and fired two innings against Team USA, the eventual winners of the 2017 World Baseball Classic.
Against premier competition, Beeks fired two scoreless, one-hit innings that included strikeouts of Christian Yelich and Adam Jones. The young lefty also retired slugger Giancarlo Stanton and 2016 National League Batting champ Daniel Murphy.
Red Sox manager John Farrell expressed how impressed he was with Beeks afterward, mentioned several times that he hoped to see the southpaw again 'not too much later in camp'. Beeks was eventually relegated back to minor league camp, and he started the season as the #2 starter for the Double-A affiliate of the Sox, the Portland Sea Dogs.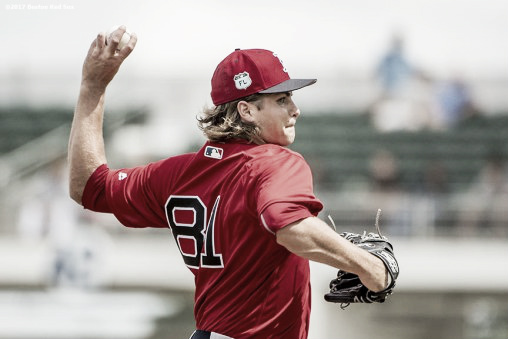 Beeks sizzles in season debut
Making his first start of the season on Saturday, Beeks shined again, this time against the Reading Fightin' Phils. Beeks dominated the Reading lineup, firing five scoreless frames before departing after hitting the 80-pitch plateau. He left with a 4-0 lead, and the Sea Dogs held on for a 4-1 win, improving to 2-0 in the new season. He whiffed eight batters, walking just two and allowing just a pair of singles.
Beeks effectively mixed a four-pitch mix that includes a fastball, curveball, cutter, and changeup. He didn't utilize his cutter frequently on Saturday, but his other three pitches were enough to cruise through five scoreless frames.
All eight of his strikeouts were swinging, four via his 92-94 MPH fastball. He also picked up a pair of Ks on his mid-80s cutter, with the last two coming on his big looping curveball that had hitters off-balance all day.
Beeks struck out the side in the first inning, his only blemish being a one-out walk. He easily worked around a two-out single in the second, striking out Malquin Canelo on a changeup to end the threat. He got into a mini-jam, his only real trouble in his outing, in the third inning. A walk and a single by Carlos Tocci put runners on first and second, but once again, Beeks evaded another bat to get out of trouble, whiffing Kyle Martin for the second time in the game, this one on a curve.
He fired a perfect fourth inning on seven pitches, granting him another inning of work. After an error and stolen base with one out, Beeks ended his season debut in style with strikeouts of Scott Kingery and Andrew Pullin, both blown away by fastballs up in the zone.
Beeks won't pitch again until next Thursday, at Trenton, but he certainly has some attention from the upper levels. He earned that attention by dominating the Team USA lineup. He proved why that attention is warranted with a sparkling season debut.

Could this lefty end the homegrown hurlers' woes for the Boston Red Sox? Only time will tell.