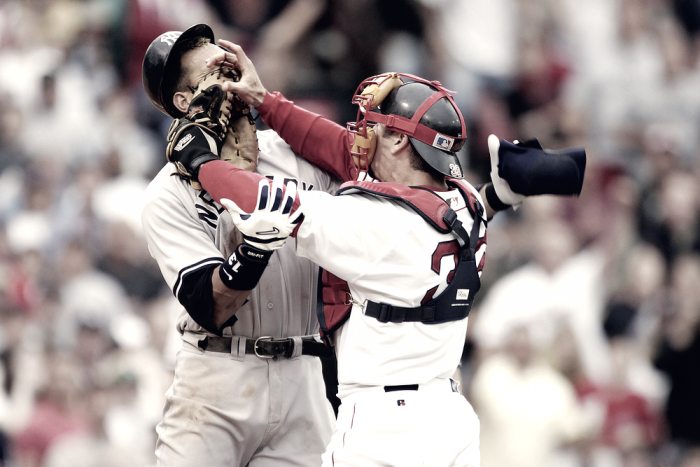 With under 100 games to go in the MLB season, the American League East division race is quickly thinning out to a battle between ancient rivals - the New York Yankees and the Boston Red Sox. Both excellent teams, the Yankees and Red Sox have both been re-energized by the youth movement with the Bronx Bombers led by the likes of Gary Sanchez and Aaron Judge, while the BoSox have Xander Bogaerts and Mookie Betts. While the Orioles, Rays, and Blue Jays are solid teams in their own right, all three have faded to .500 and below. The Rays have a fairly weak offense and are far too reliant on the home run ball, an issue that also plagues the Orioles, combined with their horrible starting pitching. The Blue Jays got off to a terrible start and their stars are underperforming, compounding their pitching issues. The Yankees and Red Sox have separated themselves from the field, and one question remains. What does each of these teams need to push their squad over the hump and into the playoffs with a division title in hand?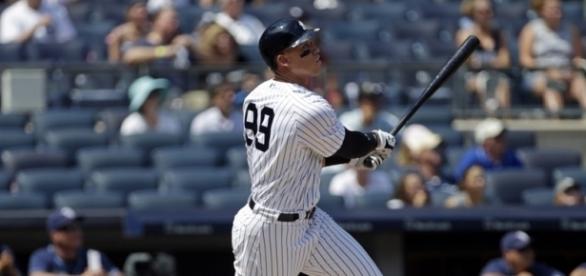 New York Yankees
The newly-dubbed Baby Bombers lead the dangerous American League East division, but a recent three-game skid has dropped them to just two games ahead of the Boston Red Sox. Their weaknesses are few, but they do have vulnerabilities there to be attacked by their rivals in the race for a divisional crown. One is a lack of depth, both in their pitching staff and at the plate. The Yankees' offense is formidable - they rank first in seven different offensive categories, and second in two others. Led by the intimidating Aaron Judge (.335, 22 HR), the Pinstripes are back in business this season.
However, past their starting lineup, depth is a question. Aaron Hicks has done an excellent job stepping in for Jacoby Ellsbury during the speedy center fielder's stint on the disabled list, and many question whether Ellsbury will automatically reclaim his job come his return to the diamond. However, more injuries could threaten New York's offensive prowess. Few teams make it through a season unscathed, and their back-ups feature questionable and inconsistent productivity. Their outfield is steady currently, but any more injury could throw them into havoc unless they can find a prospect ready to step up. Gary Sanchez is a rare catcher that doubles as an offensive threat, but an injury to him could leave the Yankees with Austin Romine behind the plate - Romine started the season catching with Sanchez injured and hit just .228.
On the mound, the depth is even shoddier. Former ace Masahiro Tanaka has a cringeworthy 6.07 ERA. Luis Severino has been excellent with a 2.75 ERA, while Michael Pineda and Jordan Montgomery have been solid. C.C. Sabathia was pitching well but he is injured now, and his inconsistent history brings up questions on how effective he'll be when he returns for the Bombers. So with only three solid starters and no clear secondary options, the question marks are there in regards to the New York staff. Their bullpen is fine, but it won't do much good if they don't get leads from their starters.
As the trade deadline approaches, the Yankees should look for a few pieces to shore up their squad in the long run. The #1 priority will be a starter, and there should be plenty arms available on the market in July. With buckets of prospects that they've acquired over the past few years, the Yankees have the materials to acquire a pitcher. They also need a first baseman. It has been their weakest area of offensive production with Chris Carter hitting just .214 with seven home runs. They also would love to get a better glove at the position, as his lackadaisical fielding has cost the Yankees a lot. They could potentially get both a starter and first baseman from the Kansas City Royals by dealing for Jason Vargas and Eric Hosmer, satisfying both their needs. Hosmer would be a huge improvement over Carter, providing both average (.300) and Gold-Glove defense. The Yankees could possibly try for another outfielder, a veteran that could play a utility role and fill in where needed, especially just to reduce the wear and tear on the likes of Judge, keeping the Bronx Bombers healthy and ready for a long overdue playoff run.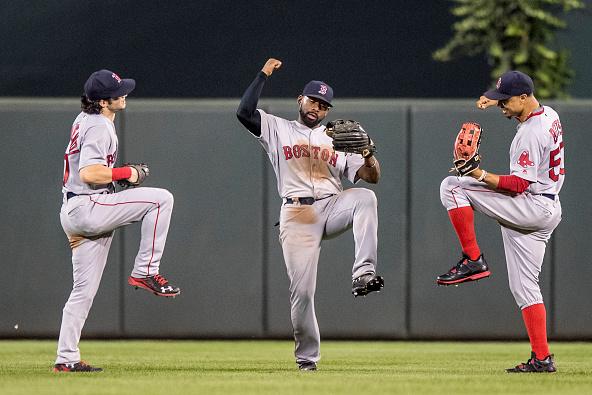 Boston Red Sox
Although they find themselves chasing the Yanks early on in the season, the Sox have closed to just two games out. However, in order to stay in contention for consecutive A.L. East titles for the first time in their history, the Sox have several weaknesses to address. They lead the league in doubles and have the least strikeouts. However, they also have a league-worst 63 home runs and rank ninth in slugging percentage at .416.
The most glaring need for the Red Sox is at the hot corner, where they have been a mess, unable to find a solution. Josh Rutledge has been the best offensively, hitting .247 with just three extra-base hits. Pablo Sandoval looked promising in spring training, in shape and better offensively, but an injury and lackluster production along with shoddy defense have squashed the hype. Sandoval is hitting .208 with five errors in just 26 games at third base. Deven Marrero was the best defensive option, but the Sox couldn't afford to put him in the lineup with his .195 on-base percentage. Marco Hernandez looked like he might be the answer, hitting .276 with serviceable defense, but he is currently on the 60-day disabled list, leaving the position still very much in doubt.
Rafael Devers has been mentioned as a potential call-up as he is currently tearing up AA pitching. However, more likely would be a trade. Both Todd Frazier of the Chicago White Sox and Mike Moustakas of the Royals appear to be on the market, assuming both teams continue spiraling out of contention. Moustakas is a better, but more expensive option for the Sox. Frazier will come cheaper, but he is hitting just .181 this year, and the Red Sox would have to bet on a change of scenery helping the former slugger. Moustakas would provide decent pop with 13 home runs, and, as a free agent at the end of the year, he could be the bridge the Red Sox need to get them to Devers. Although the president of baseball operations Dave Dombrowski has ravaged the farm system over the past two years, they still have a handful of names that could be used to wrangle a third baseman from a seller at the deadline.
Besides third base, the Red Sox don't have a ton of offensive worries. The numbers are there for the most part, but they just need to capitalize more often. They lead the league in hitting into double plays, killing many rallies. As the season wears on, Christian Vazquez should see more playing time, with Sandy Leon, his current platoon-mate, serving more as a role player and backup catcher. Vazquez has been expectedly superb defensively while adding in surprising offensive production that should lead to more playing time for the 26-year old backstop. With Vazquez there and Blake Swihart providing a depth option in Triple-A, catching is not a worry. Hanley Ramirez has struggled as the designated hitter, but he is still hitting .240 with nine home runs. A great second half last season provides hope that he will do the same this year and serve as a spark.
On the mound, the Red Sox don't have too many issues, but a plethora of injuries is becoming bothersome. With Chris Sale serving as the ace, Eduardo Rodriguez has slid into the #2 spot with a 3.54 ERA. However, the young lefty has battled injuries, limiting his availability. David Price, just returning from injury, has shown flashes of the ace he can be and just needs to put it together to return and provide a knockout punch for this excellent rotation. Brian Johnson was doing very well, but an injury knocked him out of the rotation temporarily. With Hector Velazquez and Kyle Kendrick already having tried and failed at becoming the depth starter, the next option could be the oft-tried Henry Owens, a pitcher with tons of potential and little control. Another option is the rapidly rising Jalen Beeks, who pitched for the Red Sox against Team USA in spring training and threw two shutout innings. Beeks dominated at Double-A and is performing well at Triple-A so far this season. As long as the Red Sox continue to recover from their injuries, they have the depth and talent to provide a solid rotation. Their bullpen has been lights out, so don't expect many trade deadline moves regarding the pitching staff.
The AL East race is set to be a thrilling one, restoring the age-old rivalry between the Yankees and the Red Sox, a rivalry that had diminished due to the squads' recent mediocrity. One key to this exciting race may be the Kansas City Royals, who hold several key pieces that both teams could go after at the deadline. If the Royals or another squad, cooperate, this race could be one for the ages.