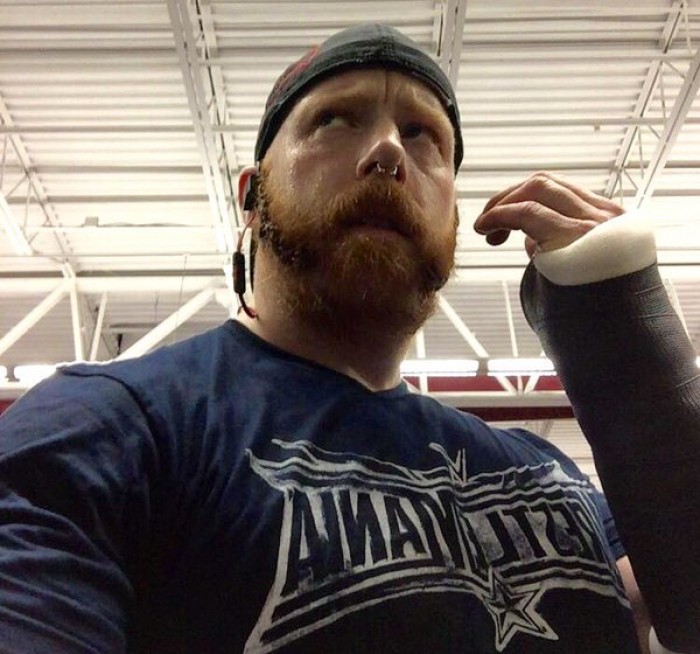 Former WWE World Heavyweight and WWE Champion Sheamus appears to have suffered an injury during his birthday celebrations this week, adding to the WWE's problems heading into Wrestlemania.
The Irishman tweeted out a photo of his left arm in a cast with the following: "You know the celebrations went well when you wake up in a cast... any ideas how it got there?" His official status is currently unknown.
Sheamus now joins a number of top superstars including John Cena, Daniel Bryan and Seth Rollins on the injured superstar list as the WWE enters it's biggest part of the year, the Road to Wrestlemania, which is causing major headaches for the WWE officials.
The injuries continue to pile up for WWE, leaving a hole for other superstars to step up into, replacing the injured superstars spot, but the company hasn't been left with much time to build up new stars to the level needed for the biggest show of the year.
With WWE currently considering NXT talent call-ups to the main roster,this latest injury could force their hand into promoting talent earlier than first planned, but that would lead to issues with arguably their hottest product, as NXT creative would then be left in hot water.
WWE is yet to make a comment on the injury and its extent, so it is currently unknown as to what damage has actually been done, and for how long he will be out of action, but the fact his arm is in a cast isn't a good sign.
It's unlikely that officials will be impressed if Sheamus has suffered the injury whilst out celebrating, and given that it was his 38th birthday yesterday, the 'celebrations' he referred to on his tweet would likely have been for him.
This injury will continue to cast a shadow over the League of Nations stable, which is already struggling through a series of bad booking and injuries, with Wade Barrett currently also not fully fit, if the injury is severe it could end up having an impact on all the members and not just himself.
Make sure to follow - @Vavel_Wrestling to keep up to date with this ongoing story.