So NXT was actually poor this week which is a shame as it is usually WWE best product. Even Raw might have topped this week's NXT. This could be because we expect so much from NXT. But this week's episode felt SWAFT.
The matches this week were poor and left nothing to desire. Compared to Apollo Crews - Finn Balor last weeks this card felt weak. The divas were the main focus which was nice, just the wrong divas were showcased.
We had a package to open the show which was really cool and was put together well, Carmella vs Bayley should be a good fight and it made us excited for the night ahead.
We opened up with Baron Corbin Vs Johnny Gragano. Barons hate for Indy stars is really kicking off and if this becomes his gimmick it would be great. Johnny on the other hand is winning over the fans with ease. HIs wrestling ability is second to none. He even wrestled Samoa Joe three weeks ago in the main event. Commentary was great for his fight and played up both wrestlers. The duo of Corey Graves and Tom Phillips is perfect and a two man both is great. Corbin has improved a lot since his debut and is looking more and more believable as a wrestler. Corbin won with a beautiful end of days. Both men are wrestlers for the future!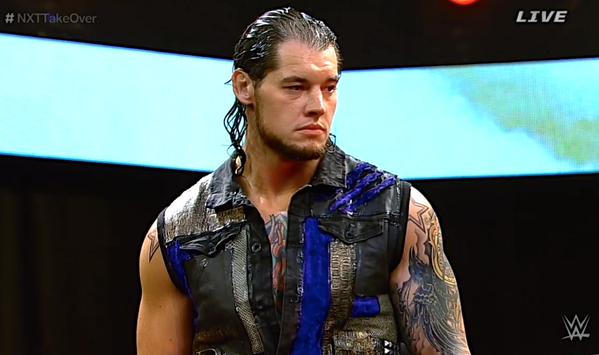 Sami Zayn gave a lovely backstage segment and played up his battle with Joe next week. Sami Zayn is the next Daniel Bryan, a made baby face! (So Excited).We then saw a great promo for Simon Gotch and Aidan English. Very excited for their continued heel run.
We then have The Hype Bros. vs. John Skylar & Corey Hollis this match was nothing special, the Hype Bros are not very interesting and you knew they would get the win, very disappointing match, hitting the hype ride for the win, this was a squash match and just not needed at all.
Backstage package of Bayley and Carmella talking up their fight and how important the woman's title means to both of them. Great stuff which makes the fight mean even more. Something we have never see on WWE TV.
Next for a terrible match, that was so bad.As Cameron took on Alexa Bliss. This was hard to watch. Cameron botched a close line......a close line. Aren't these girls both heel why are they fighting? If heels are fighting please give them a reason! The crowd did not like this match and deserved better. Now this was not Alexa's fault at all she tried really hard and did a lovely little bit where she stood on Cameron and just stomped on her it was great. The crowd started chanting for Alexa Bliss but they were just confused. Double knees from Alexa and a Sparkle Splash for the pin.Bliss takes the win. This was a match to see what these two girls got and clearly Bliss has some talent and deserves better than working with Cameron.
Backstage again (love these between matches) Enzo and Cass cut a promo on Dash and Dawson. It was great Enzo is great, Cass is great the tag team division is perfect. Jordan and Gable came out and did the funniest promo with Enzo and Cass just good funny segment. Great from both teams and both are already made superstars.
Now for another terrible match. The Drifter Elias Sampson vs. Jesse Sorenson. This is terrible. The crowd even starting chanting "Drift away". This was shocking and this match made Sampson just look bad. He is Aggressive which is good but that is all. The crowd then started chanting "Nickelback" to Sampson. Poor match and not good from NXT. Graves's great commentary could not even save this match just terrible.
We saw clips from Balor - Crews and it was great then Crews cut a promo suggesting a heel turn which would be very interesting.
Main Event
First off Carmella came out to no reaction and gave a terrible intro for herself. Bayley of course got huge cheers and is amazing. It felt like a big match and Phillips and Graves made it even more important. A great duo and hope they don't leave for the main roster.
The crowd were well behind Bayley. They hugged before the fight and we were off. Bayley was in control and then Carmella made a comeback with a big boot and a terrible huricanrrana. Bayley takes back control and Bayley on the top rope and Carmella knocks her to the outside.
Carmella then did a great dive to the outside it was awesome, and quickly followed it up with another, and the fans were quickly becoming invested in her and the match.The challenger was in control and nearly locked in a submission but it went back and forth with some pinning combinations and eventually Bayley got the pin and it was a nice way to win compared to the usual finisher. They hugged at the end and everything was fine. It was an okay fight amazing compared to the other matches on this card.
End of the match Nia Jax and Eva Marie attack Bayley and it was brutal out comes Auska to save the day. A standoff between Auska and Bayley saved this show it was perfect.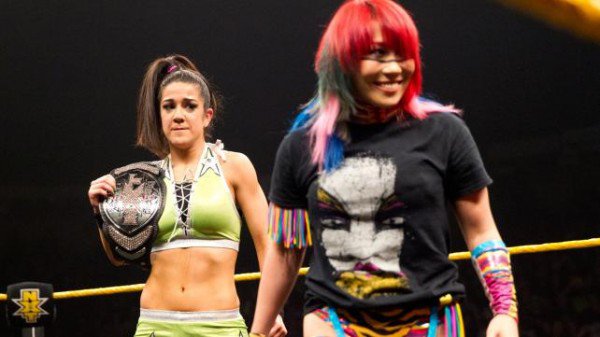 Bad choice to end it with a Joe Promo for next week nothing was said in the promo just building up his match with Sami Zayn next week.
Overall poor.Very poor NXT saved by a segment Between Bayley and Asuka. It was hard to watch and was not entertaining. Felt like a filler episode and something big must happen soon! Especially with Lucha Underground doing so well. Hopefully Next Week is better. 4/10
Results:
Baron Corbin beat Johnny Gragano
The Hype Bros. beat. John Skylar & Corey Hollis
Alexa Bliss beat Cameron
Elias Sampson beat Jesse Sorenson
Bayley beat Carmella