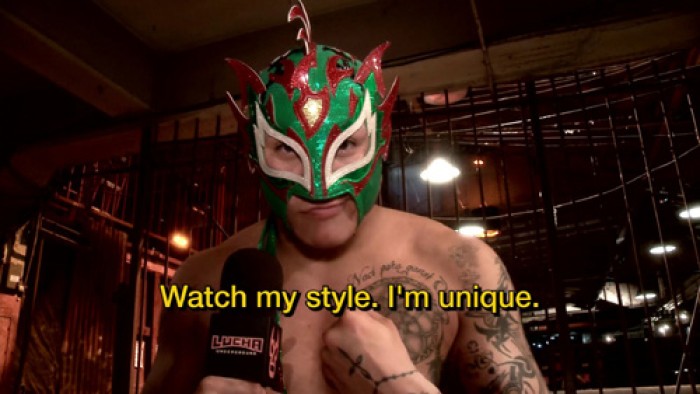 Last nights episode of Lucha Underground was top notch from start to finish and although the first match seemed very lackluster it added an element of suspense. The excitement and entertainment value was astounding, with a few questions answered as to when Fenix would cash in his Gift Of The Gods Championship. The main event is what really sold the show as Pentagon,Puma and Mil Muertes put on an excellent match that was all over the arena.
Marty The Moth Vs The Mack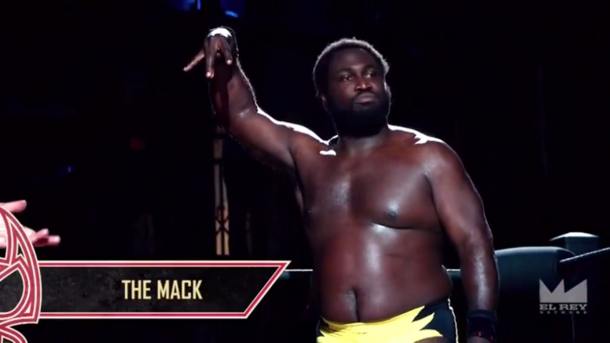 Again this match wasn't brilliant at all but we had a few nice outside dives from The Mack as well as some moonsaults. While Marty was being tossed around the arena and with Sexy Star ringside to check out the damage being done, things seemed as if they would be in the big mans favor. However the lights went out in the temple for a brief moment and when they came back on a women in a mask made her way to ringside distracting Mack and allowing Marty to get the win with a roll up. The women's name was not revealed but it adds to the story. Rating= 1/5 stars
Johnny Mundo - Brian Cage
Cage made his way to the ring and was awaiting the arrival of Johnny Mundo. However Taya the women from last week came out instead and told Cage to fight her instead. In the Temple there is no rules so anything goes in every match there is. We had Taya go through two tables after Cage gave her a superplex off the top rope and to the outside. I must say Taya is a very impressive women's wrestler for taking bumps like that. Mundo eventually made his way to the ring but Cage wasn't interested, after Mundo hit Cage with a club, Taya went for the pin but Cage kicked out at the two count. Cage got back on the offense and hit his finisher on Taya as Mundo watched from outside the ring to pick up the win. This feud is far from over so expect many more matches between these two as the weeks follow. Rating= 4/5 stars
Backstage segments: Pj Black and Drago fighting/Son of Havoc Ivelesse and Angelico ask Catrina for a trios tag title shot.
The two are shown fighting with nunchucks and a few words were said afterwards. This author is not really sure what the point of this segment was as the two have no real reason to be fighting each other but if something should happen down the line it would be entertaining. After that we cut into Iveleese exiting Catrinas office with Son of Havoc and Angelico alongside her. The boys ask her if they got their title shot which Iveleese agrees but says if they lose they're fired. These three as a team are amazing in the ring and the stunts that Angelico does make your jaw drop. If you don't know these guys i highly recommend looking them up. What will be the scenario next week? Do they win the trios tag titles or get fired?
Pentagon Jr Vs Prince Puma Vs Mil Murtes(Lucha Underground Championship)
For most of the match Prince Puma and Pentagon worked as a team to put Mil Muertes down on the mat so they could focus on each other. If you follow Ring Of Honor we saw a slight super kick party with Puma and Pentagon taking turns giving Mil super kicks. Things eventually went south for the pairing of Puma and Pentagon and each respectively hit their finishers on each other, turning it into a true triple threat.Every time you thought the match would be over each luchador would kick out right before the three count, making the match tough to predict.
Chairs were smashed into Mils head and they even took the fight into the crowd where Puma beat Perntagon with a fans own mask of himself. While it wasn't a bloody match bodies flew out of the ring from Pentagon and Puma taking turns doing dives,450s and moonsaults. The author thinks that each luchador wanted to showcase their skills instead of what they normally do in the ring.
I bet you're wondering the outcome of this match well sadly Mil Muertes retained after hitting Puma and Pentagon with a modified DDT to both men at the same time. The celebration was short lived though as Fenix the current gift of the gods champion made his way to the ring saying that next week he is cashing in his title for a championship match against Mil Muertes. The author rates this match 5/5 stars a must see match up.