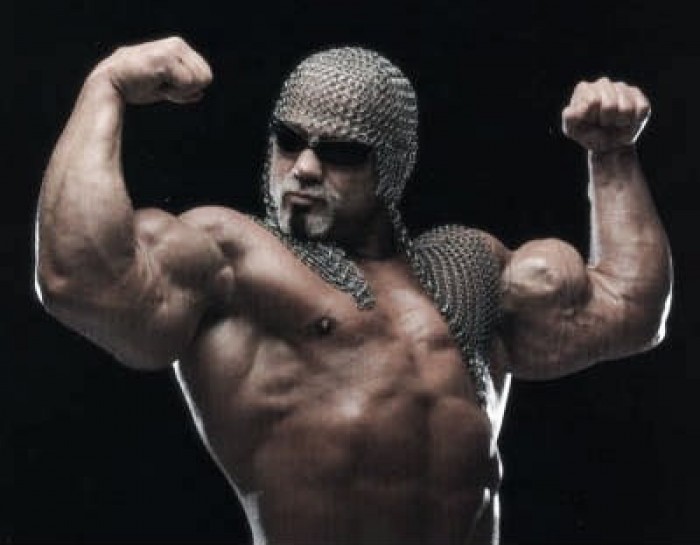 If you are lucky enough to have secured a ticket to see Scott Steiner: Unleashed as part of a promotional UK tour with Inside the Ropes then please divert your attention.
The former WCW star was as outspoken as always in front of an audience over 100 wrestling fans at the Manchester Comedy Store with his experiences and life story laid out for open ears.
'Big Poppa Pump' was rather resentful towards some of the biggest names in the sport to say the least, with Ric Flair and current WWE World Heavyweight Champion Triple H bearing the brunt of his tirade.
On Ric Flair
"The man" or the "the 16-time world champion" were two of the sarcastic labels Steiner placed on Flair before removing the rug from the mindset of the audience with a word that rhymes with bunt.
One of the biggest stars of WCW and then in WWE was torn to shreds in a hostile speech about his time with the Ted Turner owned company, to which he described the former member of the Four Horsemen as a "backstabbing b*****d."
He said "those who have never had a career in sports such as Flair and Triple H were b******s." He said the former NWA champion often attempted to "kill the NWO" purely because he was "obsessed" with "pushing the four horsemen" down "the audience's throats."
His labels of the 67-year-old failed to stop just there as he went on to speak in detail about the 'weepings' of the man who pioneered the 'woo!'
He said "I apologize for tearing down your childhood heroes" as he said "Flair was a c**t" and that he "cried" backstage when "Curt Henning joined the NWO" which Steiner said "this was not the first time he cried either."
Finishing up the segment on Flair he said "From the moment I was headed to WCW I already had zero respect for him (due to stories heard of him) but when you meet him, that respect gets even lower."
On Triple H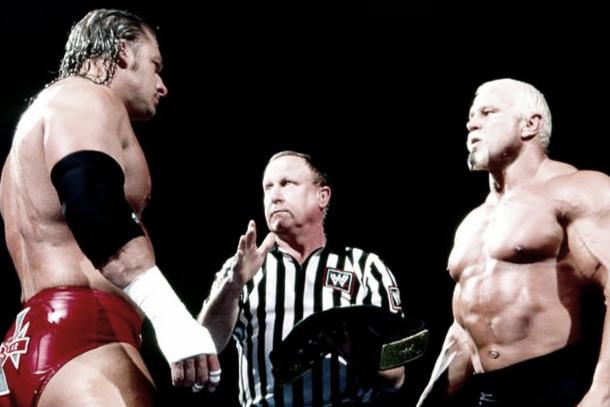 The description of WWE Hall of Famer Flair was just a taste to what he had to say about Triple H, as the negativity towards the current CEO of Vince McMahon's company erupted from the tongue of the 53-year-old like uncontrollable tourettes.
From the moment Paul Levesque was mentioned towards the man from Detroit, Michigan the happy expression on his face changed to one that looked as if looks could kill, this article would never have been written.
He said "He was a piece of s**t" as he continued "he had no sports background, a quick Wikipedia search will tell you that and he like the other guy (Flair) was just another example of a c**t."
Steiner said "He (Triple H) would be nothing if he had not f****d the boss' daughter" he then described the current WWE World Champion as "the Kevin Federline of wrestling."
On the segment the two had together during 2003 he said of the planned storylines that 'The Game' was "the last person" he wanted to "work with" preferring the likes of "The Rock" and "Stone Cold Steve Austin."
He said "Triple H will not quit wrestling until he beats Flairs records because he is an even bigger mark than him (Flair)." That remains to be seen but given that the game is on 14 currently this prediction may yet ring true.
On Stephanie McMahon
Despite being one of the most powerful women in wrestling, Big Poppa Pump believes that Mr McMahon's daughter should have "stayed away" from the business due to her lack of knowledge and experience within the industry - in the politest way of putting it.
Steiner said "Stephanie was trying to write my lines during my interview and I was like, NO get the f**k away from me" he said "I would never say s**t like that."
He said her whole rise to power within the WWE was down to the sole reason of "daddy's money" and said the 39-year-old was "obsessed" with his "body image" with constant questions such as "how are your muscles so cut" to which Steiner said he wished he would have told her to "get away" as she would "never look like me" because of her "s**t genetics."
On Vince McMahon
The mood changed during the conversational topic at this stage and the person in the spotlight was principal owner of World Wrestling Entertainment Vincent Kennedy McMahon, a man that Steiner maintained a passionate hatred towards describing him as he had many other during the night as "a piece of s**t" this insult however seemed more purposeful and personal feelings ensued.
He said "Vince is someone that you should really respect because of how he got the WWE to be so big, but I do not respect him for the way he denied any part in the injuries of the wrestlers over the years."
Steiner said "How could he deny any part in the death of Gorilla Monsoon's kid" he said of the death of WCW referee Joey Marella in 1994 that it was down to the "time on the road" which was "too much."
The stone cold character that the current Global Force Wrestling roster member was portraying was beginning to tear away as he began to tear up at the thought of the former WCW official's death in 1994 citing him as a "personal friend" before saying he "died before he died" meaning due to the workload he was under meant he never had the chance to live.
On Hulk Hogan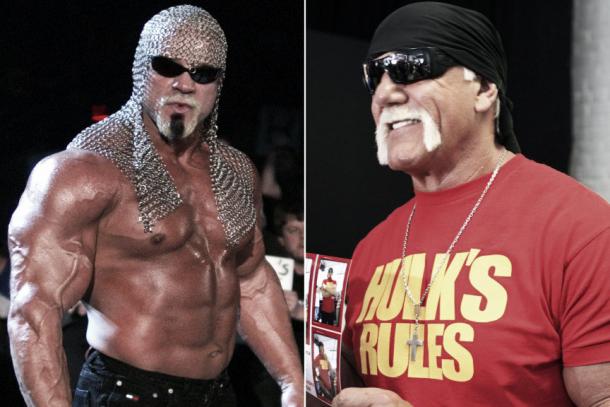 It is fair to say that Hulk Hogan and Steiner are not friends, and are so far past enemies that if the 53-year-old ever saw the Hulkster again he promised to "slap him like a little b***h" a promise that he actually uttered to Terry Bollea's wife.
He said in what was becoming a recurring theme "Hogan was a piece of s**t" as he then said having the Hulkster induct Randy Savage was a "disgrace" as he said the Macho Man "hated Hogan."
He said "Vince and Hogan both knew how randy felt" he said "Hogan hid his wife (from Savage) for 10 days and he never forgot that; as he knew how sleazy he (Hogan) was."
He recalled a confrontation between the two in which he said that the Macho Man had finally "had enough (mentally)" and "confronted" Hogan in the locker room, Savage then "threw down his bag" before urging Hogan to fight but the Hulkster apparently "walked away."
In recent events he said the 'unstoppable force' had "called the cops" on him during last years WrestleMania meet and greet after Steiner had issued a "threat" towards his wife which the police department said could have been classed under "terrorism."
He said "I had been waiting to see Hogan for years, and I was just praying that he would walk through the airport, but I somehow spotted his wife, I walked up her and said tell your husband next time I see him I am going to slap him like a little b***h - have a nice day."
Steiner had much to say on the recent lawsuit involving Hogan focusing on the part of the case that involved the length of his penis to which he said "I don't care how small your penis is, you cannot satisfy your wife and she should call a real man - like me."
Retrospectively looking back it was clear that Steiner was not afraid to speak his mind and that friendship was something that he maintained very little interest in, a very open man with a lot of resentment towards the big names of the industry and following the comments it seems very unlikely that he will be receiving an invite to the WWE Hall of Fame anytime soon - not that he would accept anyway.