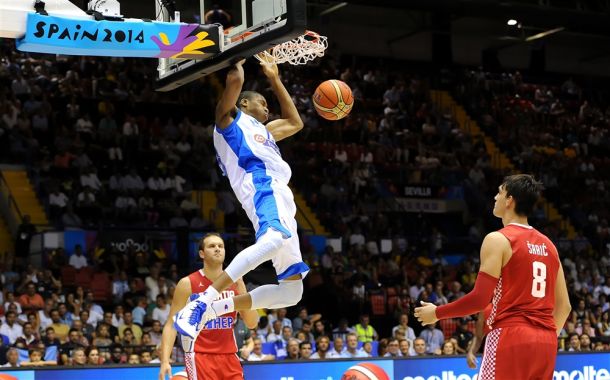 Greece defeated Croatia 76-65 behind 65 percent shooting on two-point shots in group stages of the 2014 FIBA World Cup at Palacio Municipal De Deportes San Pablo in Seville, Spain.
After Greece jumped out to a 36-23 lead at halftime, Croatia answered back with a 42-40 second half, but it was not enough as the Greeks escaped with a comfortable win.
Houston Rockets forward Kostas Papanikolaou and Kostas Kaimakoglou of UNICS Kazan in Russia led the way for Greece with 14 points apiece. Ioannis Bourousis of Real Madrid followed suit with 13 points and 10 rebounds. Milwaukee Bucks forward Giannis Antetokounmpo played just 12 minutes and had 2 points and 4 rebounds.
Brooklyn Nets guard Bojan Bogdanovic was Croatia's leading scorer with 20 points. Future Philadelphia 76ers forward Dario Saric was second on the team with 10 points.
Greece was in the lead for 35 of 40 possible minutes, while Croatia led for just over a minute in the second quarter.
The Greeks are now 4-0 and will wrap up group play tomorrow versus Argentina at 4:00 pm ET.
Croatia, 2-2, takes on Puerto Rico tomorrow at 12:00 pm noon ET.