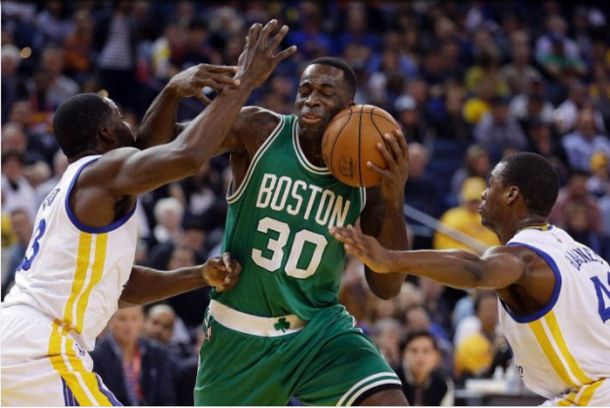 If the Golden State Warriors expected to blow out the Boston Celtics early in the game, they were in for a disappointment. The hosts eventually managed to pull out a 114-111 victory, but it wasn't easy.
Warriors guard Stephen Curry only had two big plays in the first half, both in the last seven seconds of the second quarter and both of them ending at the charity stripe. After first hitting two free throws he got the steal on the other end, and had a lucky contact resulting in a shooting foul that awarded him three more free throws, which he hit to give the Warriors a seven point lead at the half.
While Curry was slowed down by Avery Bradley's strong defense, the Warriors rather depended on sharing the ball, with three out of five starters scoring nine points in the first half. Klay Thompson led the team with 13 points.
For the Celtics, the offense in the first half was carried by big men Jared Sullinger (11 points) and Tyler Zeller (10 points), an impressive effort going up against a couple of the best defenders in the league.
The picture in the second half was more or less the same, though the Warriors came out with increased defensive intensity. Stephen Curry hit his first three pointer of the night after one minute and 40 seconds of the third quarter and soon the Warriors had an 11 point lead. The Celtics were momentarily able to cut the lead down to six, but the quarter ended with a 12 point Warriors lead.
The Warriors started the fourth quarter by taking their biggest lead of the night at 14 points, but they weren't able to put the game away. As late as ten minutes into the quarter, their lead was only eight points.
Most people might have thought the game was over when Thompson made a three pointer with 36 seconds left to make it 112-102, but not the Celtics. They played the final seconds in a frenzy with full court pressure defense and cut the game to one possession with nine seconds left. Then they had to foul Thompson and he was able to secure the game by making his two free throws with just a couple of seconds left.
Thompson leads all scorers with 31 points, while Curry had 22 points, 11 assists and two steals. For the Celtics, Jared Sullinger had 26 points and nine rebounds.
The Warriors have now won 19 home games in a row and lead the league with a 36-6 record. The Celtics came from two straight wins on their West coast road trip, and are 15-27, still only 2.5 games behind the eighth seed in the Eastern Conference.
The Golden State Warriors face the Chicago Bulls at home on Tuesday, while the Celtics move on to play in Utah against the Jazz Monday night.