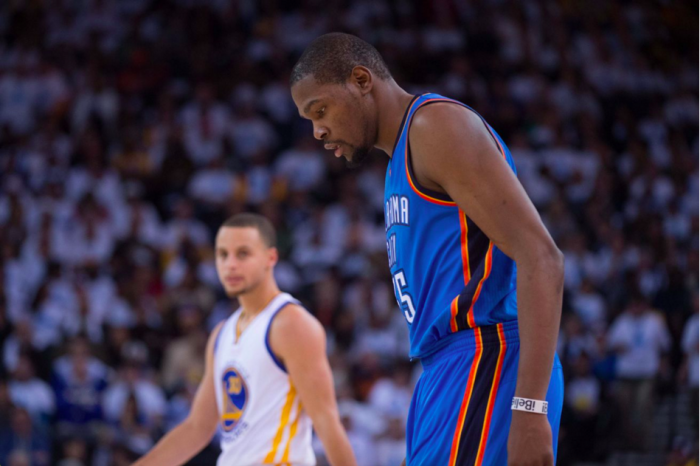 In what has been an NBA season where we have seen the Golden State Warriors lose only five times this season and look unstoppable, the Oklahoma City Thunder could have beaten them twice.
Twice Oklahoma City found themselves within striking distance of the Warriors but poor play in the 4th quarter resulted in Golden State walking out of those games victorious. We saw OKC collapse at home to Golden State in overtime, a game where we saw Stephen Curry hit a 35 foot three for the win, but it should have never gotten to that. We also saw OKC fade away in the 4th quarter against the Warriors in Oakland as they were outscored 39-23 in the final quarter.
We also saw this happen a day prior to the loss in Oakland as the Thunder blew a double digit lead in the third quarter in a loss to the Los Angeles Clippers. Oklahoma City held as much as a 22 point lead in that game but suffered another 4th quarter collapse. This happened in a matter of one week but this has been a worrying trend for Oklahoma City.
According to ESPN Stats and Info, Oklahoma City now has lost nine games this season when they had the lead entering the 4th quarter. Who is the only team that has more losses like that? The 76ers.
It is something that Oklahoma City needs to fix otherwise they are in for a rough time in the playoffs. They are one of the best offensive teams in the league but when their offense fades away, it leaves their defense exposed. A defense that is not very good and it can get things going south for Oklahoma City very quick.
Better play from Kevin Durant
It has been another high scoring season for Kevin Durant as he is averaging 28 points and around eight rebounds per game. He has been an MVP candidate this year but his shooting percentage per each quarter has been worrying.
Per Basketball References, Durant's shooting percentage has dipped as the game progresses. Here are his shooting percentages per quarter.
1st : 55.3%
2nd : 51.2%
3rd : 49.2%
4th : 46.8%
OT : 33.3%
It is clear that as the game goes on, Durant starts to fade away in terms of shooting and that is something that really hurts Oklahoma City. Anytime you have your best player's shooting percentage drops off when it matters most, it will be tough. Durant has to get better in the 4th quarter.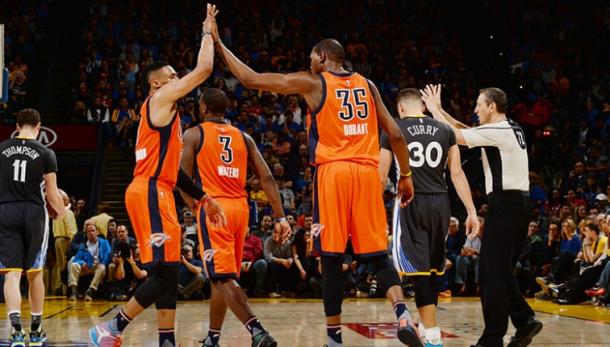 Apart from Durant's woes, Russell Westbrook's shooting percentage's have also dropped off in the 4th quarter. He goes from shooting 50.3% in the first three quarters to around 40.2% in the 4th.
Team oriented basketball
In Oklahoma City's losses against the Warriors, it was a barrage from everyone on Golden State that helped them beat the Thunder. It wasn't just one player that beat Oklahoma City. The Warriors played liked a team, sharing the basketball and creating easy baskets for each other. It is something that has helped them to where they are now and something Oklahoma City needs to try to replicate.
Right now Oklahoma City sits 7th in terms of assists per game 22.7 per game. Westbrook is far and out the best distributor on the team with 10.3 per game which makes sense considering he handles the ball most of the time with Durant occasionally carrying it up court as well. But right now they are behind the two teams they are chasing in the Warriors and the San Antonio Spurs.
Oklahoma City has some good role players in the likes of Enes Kanter, Serge Ibaka, and even Andre Robinson. Dion Waiters and Kyle Singler have their moments but the first three are the players that need to step up for the Thunder on the offensive end. Working to get their teammates incorporated in the game will help as "hero ball" won't always help the Thunder in these situations. Having Westbrook or Durant take over in the 4th quarter certainly has it's advantages as it's something many teams envy but it also has it's disadvantages. It may work against some of the lesser teams in the NBA but Durant and Westbrook can't run isolation players every time against the Spurs or Warriors. It just won't work.
Oklahoma City, with Durant and Westbrook, can certainly compete with the rest of the elite teams in the NBA. Their team defense may be questionable but it is comprised by their scoring. This team has the potential to make the Western Conference Finals if they play to their potential. Then they will likely meet the Warriors and anything can happen in that series. But Oklahoma City has to fix their 4th quarter woes or it they will have tough sledding in the playoffs.