 After breaking the regular season wins record, the Golden State Warriors are looking to cement their historic year with another Larry O'Brien trophy. The first team in their way is the Houston Rockets, whom they faced off in the Western Conference Finals a year ago.
While the Warriors improved even more from a season in which they already won it all, the Rockets did the complete opposite, regressing to a point that they became a laughingstock. They were supposed to among the top four teams in the West, possibly pulling upsets over the Oklahoma City Thunder or even the San Antonio Spurs. Instead, they narrowly sneaked into the playoffs thanks to a Utah Jazz collapse late in the season.
All of that basically explains why many are predicting a sweep. The Warriors are one of the best teams in NBA history, while the Rockets are one of the biggest disappointments in NBA history. Looking at the regular season series, the Warriors swept the Rockets 3-0, the only close game coming on New Year's Eve when Houston lost by four.
This author does not see the Rockets being such a pushover. Nobody is suggesting that they win the series. If that were to happen, then it would be the greatest upset of all time, even greater than when the New York Giants ruined the New England Patriots' hopes of achieving a perfect season. But Houston will be able to pull one, two if they're lucky, from under the Warriors' noses.
Is Game 1 going to be when they do so? Let's look at both teams separately and then see:
Notes on the Warriors
If you didn't get the memo because you were busy being either extremely pissed off or completely in awe of Kobe Bryant's masterful performance the other day, the Warriors beat the Memphis Grizzlies in order to break a record most thought would never be touched: the regular season wins record. They had to get a perfect record in a rough four game stretch to pull off the feat, with two games being against the Grizzlies and the other two being against the Spurs. Many thought they wouldn't be able to, but the Warriors proved all of them wrong.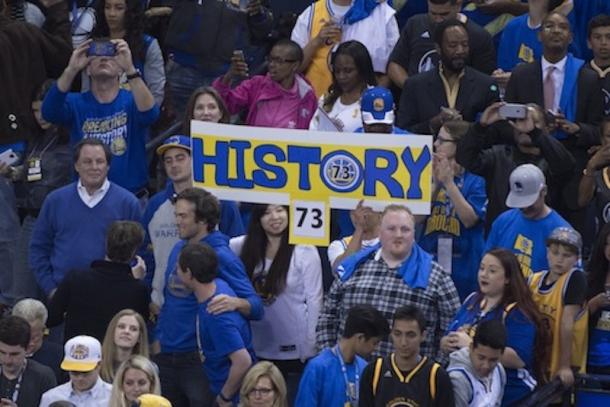 So they are definitely riding on a high right now. Kobe might've stolen some of their shine, but once it sinks in completely how amazing what they just accomplished really is, they will be under the spotlight to finish the year with their second consecutive championship. As of now, two things can happen: either the Warriors get arrogant, especially because they're going into a series against a vastly underperforming Rockets team, and play lazily, or they use a "take no prisoners" attitude and make the Rockets sweep themselves off of the floor. While this team has proven that they are very poised and disciplined, there is no way that they aren't at least somewhat reveling in what they've just done.
Notes on the Rockets
It's important to take into consideration the fact that they lost their first round pick by making the playoffs. If they hadn't they would have been able to keep it, but instead they lost it to the Denver Nuggets because of a trade for point guard Ty Lawson last offseason. They were hoping that Lawson would alleviate the load that was resting on James Harden's shoulders on offense. However, the only offense he could ever do was driving, and that was only when drunk (the pun game in that last sentence is strong).
They could've tanked the rest of the season in order to keep their first round pick and draft a key piece to bring this team back into championship contention. However, they opted to throw that out of the window and make a final push for the playoffs. It wasn't even like fans were demanding a postseason appearance. In fact, many were hoping for the complete opposite. But, for better or worse, the Rockets got what they wished, and now they face the impossible task of taking down Goliath. David could do it, but Daryl Morey will be so busy trying to calculate where to aim the slingshot using advanced statistics that Goliath would sit on him before he figures it out.
But you still have to admire the Rockets' stubbornness in this matter. Just when you thought it was over for them, they come from nowhere and survive another day. They must be a very proud team to forego their first round pick in order to exit very early in the first round. That pride might help them in this series. They could also have just been extremely lucky and will be pulverized quickly like roadkill.
Who to Watch for the Warriors
Stephen Curry. Not because he is the best player in the league right now. Not because he is the greatest shooter ever. Not because he is the most fun player to watch in the NBA. But because the once seemingly unstoppable force has been stopped, to an extent. This has only happened a few times, but it still has happened, especially as of late. As the season dragged on, he would start looking sluggish some games, exhausted from all that was demanded of him to lead his team on their quest for 73 wins.
However, their mission is not done just yet. They still have to win it all, a journey that may prove even more grueling than the previous one. And facing Patrick Beverley (nicknamed Red Bull by Rockets fans and Red Gnat by everyone else) will not help him at all. If anybody on the effort gives 110% effort all of the time on both sides of the ball, it is Beverley. He is relentless on defense, and while he won't be enough to stop Curry, he can possibly slow him down. The Warriors seem indestructible for the most part, but when their most important cog starts creaking, they become vulnerable. Curry will have to keep up the scoring tears that he has been putting up all season long because the Rockets will definitely take advantage if he slips up. And the more they take advantage, the longer the series becomes and the less rest they have against bigger challenges.
Who to Watch for the Rockets
Michael Beasley. Coach J.B. Bickerstaff is really something else. Beasley has been a pleasant surprise for the Rockets nearly as soon as they signed him, providing quality offensive output from the bench. He seems to be the only one who can score consistently outside of Harden, and putting him on the second team gives them an edge once the subs come in. However, for no apparent reason, his minutes have been dropping, in favor of players like Josh Smith, who have not played in God knows how long.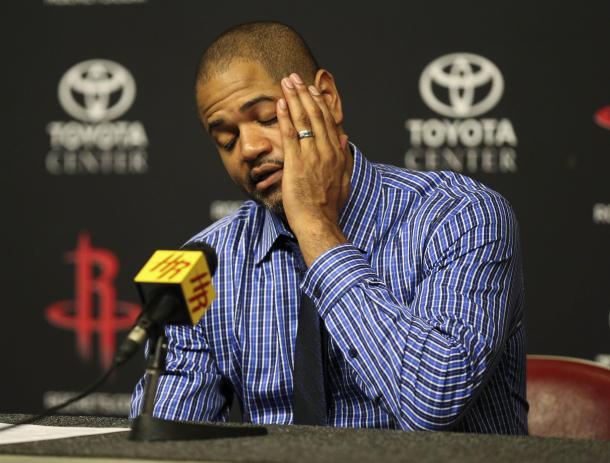 It isn't like his performances have been getting worse. In the month of March, Beasley averaged 14.6 points and 20.6 minutes a game. In April, he averaged 8.3 in 12.5 minutes. If you change both point averages to per 36 minutes, you get that he is averaging 25.5 and 23.9, respectively. Not much of a drop off there.
The only reason that somewhat makes sense was that Bickerstaff didn't want to risk injuring Beasley. But it wasn't like the Rockets were for sure going to make the postseason, so why would they rest him if he could have greatly helped the team? Then again, not much of what Bickerstaff does makes sense.
Houston needs Beasley's scoring off the bench to compete with the likes of Andre Iguodala and Shaun Livingston, the two anchors of the Warriors' second team. Not only that, he can provide quality minutes late in games and take pressure off of Harden. Facing a team with multiple defensive threats, mainly in Klay Thompson and Draymond Green, the Rockets can't afford to get cute and put the likes of Andrew Goudelock instead of Beasley, even if his name sounds like good luck.
Who Will Win Game 1?
The Warriors have momentum and their crazy levels of talent going for them. They are supposed to win this game as well as the next three. The Rockets have underperformed all year and it's not like their locker room problems will be mysteriously solved come playoff time. They can exploit the divide between the Rockets and deliver a quality win to their fan base.
The Rockets have the element of surprise and their pride going for them. The Warriors have exceedingly high expectations, and even though they have proven to be disciplined, they might succumb to the pressure. The Rockets want to show that they do deserve a spot in the playoffs, and stealing Game 1 away from the Warriors would be the perfect way to do so. To do so, every single player will need to bring their A game, something that is sadly uncertain about this group of individuals. They will also need to set aside their grudges and learn to play as a team rather than alone.
While the Rockets will put up a fight, it will prove to not be enough. They will keep it close for the first three quarters, before Curry knocks down a couple of cold-blooded threes to take the lead for good. Harden will attempt to answer back by winding the clock down and jacking up a contested three. The Warriors exploit this one-man type of offense and pull away late in the game, eventually winning by eight points.