 The 2016 NBA playoffs are beginning this Saturday, April 16, and the Cleveland Cavaliers have clinched the first seed in the Eastern Conference for the first time since 2010.
Cleveland, who ended the season 57 and 24, is guaranteed home court advantage until the face a Western Conference foe, if they were to advance to the Finals. This is crucial for the Cavaliers, who were 33 and 7 at home this season. However, the Cavaliers have many things to consider going into the playoffs, after a very turbulent season full of drama.
Block out the Noise
The Cavaliers, although sitting pretty at the top of the East, faced a boatload of drama this season. Former head coach David Blatt, who was brought in last offseason to take over a young team, was fired halfway through the season after a 30 and 11 start that was riddled with lineup changes, close victories, and unexplainable losses. This was only the start of the Cavaliers drama.
Following Blatt's firing, Tyronn Lue struggled to find a fitting strategy on multiple occasions, which was very evident in Cleveland's continued turbulence. Injuries to key players like Kyrie Irving, Timofey Mozgov, Iman Shumpert, and Mo Williams made the adjustment no easier for Lue, 38, who had no experience as a head coach before taking over this star-studded Cavalier team midway through the season.
Additional reports broke on a regular basis indicating that there were locker room issues, as stars like LeBron James, Irving, and Kevin Love failed to see eye-to-eye in many instances. Reports of these issues surfaced on multiple occasions throughout the season, but were quickly put down by the players who claimed that everything was fine and everyone was simply trying to find their role on the team.
Heading into the playoffs, the Cavaliers need to continue to block out these reports, and avoid falling to the drama. It is evident that there were issues with the team throughout the season, but many of those issues seemed to stem the from the lack of consistency for the Cavaliers. With multiple injuries, coaching changes, and players continuing to learn their roles, it is not surprising that this team hit its rough spots. However, with statement wins towards the end of the season and a still impressive 57 wins, this Cavalier team simply needs to block out the noise and drama surrounding them.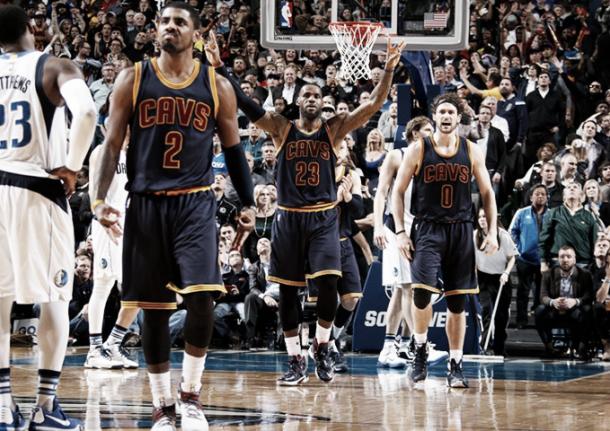 Finding Roles
As mentioned previously, the continuous lineup changes and inconsistency for the Cavaliers because of the constant injuries and personnel changes within the organization has made it hard for many players to identify their key roles in this team that has all the right pieces to win a championship.
First, James needs to continue to be a leader. James started the season slow, struggling to find a groove on his jumpers as he was shooting below 30 percent from beyond the arch. However, in the final weeks of the season, he has stepped up his game, increasing his scoring and shooting numbers. James needs to continue to demand nothing but quality play from his players. If that means yelling at the young guys for not diving for a loose ball, that is what he must do. James needs to continue the confidence that he currently has in his shot, and must utilize this to make his teammates better as well.
Irving has been an interesting case since his return. Having been injured for the majority of the first half of the season, he was thrown into the mix and was expected to immediately produce big numbers after returning from a devastating knee injury. Irving is not a typical point guard though as he looks to create shots for himself and demands the ball be in his hands to find the best scoring opportunities. However, he must understand that James should be the primary scorer to start games. Irving has found a great deal of success taking over games in the second quarter and late in games while James is resting, and he should exploit that.
This means that Lue must be willing to substitute the starting point guard out early and put in Matthew Dellavedova, who has been much improved this season. Dellavedova makes up defensive ground that Irving lacks and has improved his scoring ability to be a reliable offensive player. Additionally, this gives Irving some early rest and allows him to enter the game when James sits, giving him the freedom to take over the scoring load. The point guards are huge assets for the Cavaliers and must be utilized to their full extent.
Many have complained that Love has not fit with James and Irving, and ultimately takes away from the two when he tries to create shots for himself, as he often did in his years with the Minnesota Timberwolves. What many fail to recognize is Love has been a great contributor early in games for the Cavaliers.
When James or Irving struggle to find their shots early in games, Love keeps them in games with his ability to score from anywhere on the floor. Getting Love the ball in the paint early has been crucial for the Cavaliers, as he gains confidence scoring near the basket, allowing him to step out into the high post and 3-point area. Love must understand that he finds the most success when playing inside out and the rest of the team should be willing to feed him early to allow his confidence to grow.
J.R. Smith and Mozgov have been extremely inconsistent this season, after being key contributors to Cleveland's championship run last season. Smith has failed to find consistency in his shot shooting under 40 percent in Cleveland's losses this season, according to ESPN. Smith often holds the ball and will shoot contested shots, halting Cleveland's offense.
Additionally, he has had very few games this season where he catches fire and wins a game for the team as he typically does. As a great passer, scorer, and defender, Smith should look to find his shots in rhythm as opposed to forcing isolation situations and hindering the team's offensive flow.
Mozgov has also dropped off greatly this season after returning from off season surgery. Mozgov provided a reliable scorer around the basket last year, but has failed to convert many open opportunities, missing an inexplicable amount of layups and dunks with little pressure. Additionally, Mozgov's defensive impact has dropped off this season.
Having had surgery on his right knee during the summer, Mozgov has struggled to move around and contest shots. Unfortunately, the Russian center has been unable to keep up with the many athletic centers in the league. Lue has made a smart decision going into the playoffs, as Tristain Thompson will have the starting center spot.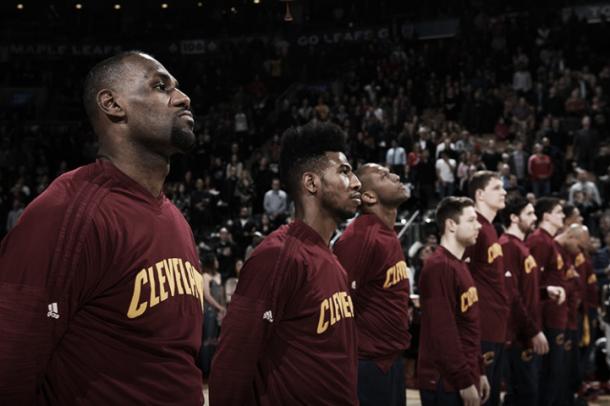 Team Adjustments
This Cavaliers team has all of the pieces to make a strong championship run, but many fans seem concerned entering the playoffs considering the struggles Cleveland has faced this season. Amongst those issues is the lack of ball movement and continued isolation play of players like James, Irving, and Smith, who often look to shoot the team out of slumps. When the ball sticks and players on this team don't look to get their teammates involved, they struggle greatly and the ball rarely finds the basket.
With a passing talent like James, a player who requires a double team in Irving, outstanding shooters like Love, Smith, and Channing Frye, and other talents like Dellavedova, Shumpert, and Thompson, this team should be a force to be reckoned with. Amongst that list of players, it is clear that Cleveland can score from anywhere on the floor, they must simply be willing to phase out isolation play and move the ball.
When this team passes, they have statement wins like their late season 109 to 94 win against the Atlanta Hawks. James and Irving should look to attack and find the open Love or Frye in the corner. Dellavedova and Thompson must look to execute their pick and role ally-oop.Smith should exploit his all-rounded offensive game to become an unprecedented threat in this league.
It is clear that the potential for this team is through the roof. With players who are threats from any spot on the floor, the Cavaliers are geared for a championship run. They must ultimately be willing to block out all of the drama and exploit the strongest qualities of their players.
The key pieces to win the first championship in this team's history are all there now, but every asset must be exploited to its full extent if this team hopes to beat other powerhouses in this league like the Toronto Raptors, San Antonio Spurs, and Golden State Warriors. The playoffs begin this weekend, and it is time to see whether the Cleveland Cavaliers are ready to win the first championship in the franchise's history.
The Cavaliers will begin their first playoff series against the Detroit Pistons, Sunday at 3 p.m. on ABC.