 Jason Terry guaranteed the Houston Rockets would come out and defeat the Golden State Warriors in Game 5 of the Western Conference Playoffs. That did not even look like it would be the case for the briefest second, as the Warriors came out strong and pounced on the Rockets en route to an easy 114-81 victory.
The Warriors executed well and played its game, using the three ball and its home crowd to spur triple after triple. The Warriors shot 14 of 22 in the first quarter with 12 of those looks assisted. The team play is something we associate well with Golden State, but the Warriors appeared fully cohesive even without Stephen Curry.
Golden State was favored by just 10 points in this game, but the Warriors led by 17 after the first quarter and the lead only grew larger as the game progressed. Golden State hit 55 percent from the field and 42 percent from behind the arc.
Curry was diagnosed with a sprained MCL in his right knee and is out for about two weeks. His backcourt mate Klay Thompson showed he is a superstar in his own right, of sorts. His defensive effort on James Harden was actually rather good, despite the Rockets star putting up 35 points. Thompson kept his hands back and avoided reaching throughout most of the game. Harden clearly was trying to do too much, and the lack of chemistry the Rockets showed in this series signals that there will be major roster reconstruction this offseason.
The three keys to the Warriors win:
1) Klay Thompson Came Out Like a Superstar
We have already seen Klay Thompson do incredible things before. He is a guy who has scored a 37-point quarter, after all.
But Thompson really showed up to play and usurped the high usage role ordinarily occupied by Curry. He seemed to seize the moment as the Warriors de facto No. 1 option, and his defense against Harden was sound.
Thompson was able to cover Harden on a night he went absolutely bonkers, all the while staying out of foul trouble. Harden may have put up 35 points (on 12 of 23 shooting), but Thompson put up 27 points while fitting in with a team offense and knocking down 7 of 11 behind the arc.
Which is more impressive?
2) Shaun Livingston Came Out Poised
Patrick Beverley is a defensive pest capable of getting in the head of opposing point guards. Shaun Livingston however is hardly the run of the mill backup point. He has had a strong season and needs only to come out and lead his team on their home court. He was 6 of 6 from the field at the half, and seemed to be able to get whatever looks he wanted for himself and his teammates. The Warriors depth can be actually astounding in some ways, because Livingston showed definitively that he is a quality starting-level guard who merely fits in perfectly on the Dubs' talented roster. He finished with 16 points, three rebounds and three assists while perfectly performing the point duties in Curry's absence.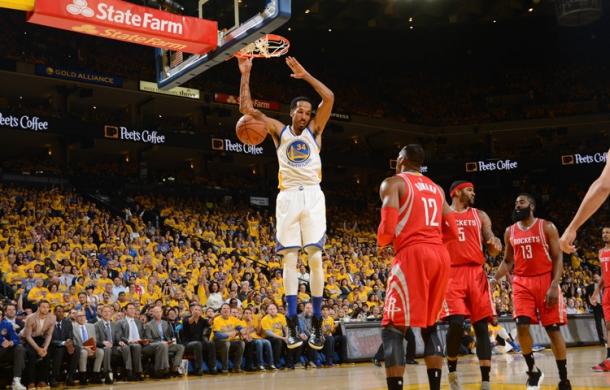 3) James Harden's Supporting Cast was Basically Blanked
It can be expected James Harden is going to have big games, but limiting his teammates is the key to really punishing Houston. Golden State did just that. In the first quarter Harden had six field goals while not getting a single field goal from any of his teammates. Dwight Howard was 2 of 10 at the half and both those made shots were dunks.
Harden really did not have any help, but the Rockets also really never appeared to be interested in this series—on a deep level. The Rockets shot just 32 percent from the field and outside of Harden the Rockets were 19 of 73 (26 percent). The Warriors are a strong defensive team, but there is no reason a team should make just one-quarter of its field goals.
There was the criticism of the Rockets bench following the non-celebration of Harden's go-ahead bucket in Game 3, but that moment is really a microcosm of the Rockets' season. Even when things were blatantly wrong, there was some sort of confusion. Howard seems all but gone. Harden put up his numbers, but that seems to be the thing most wrong with this Rockets team as it tries to pick up the pieces this offseason. The Rockets never really gelled as a team and the "moneyball" strategy of GM Daryl Morey appears busto.
The Warriors will await either the Los Angeles Clippers or Portland Trail Blazers in the second round. The Blazers lead that series 3-2 and will have a chance to close it out on their home court Friday night.