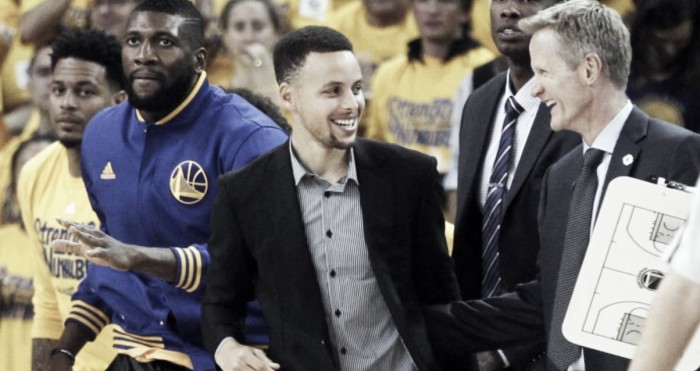 Stephen Curry's chances of returning to action Monday night aren't looking too good.
Golden State Warriors coach Steve Kerr, according to reports, told reporters on Sunday that Curry, while continuing to make progress in his recovery from a sprained right MCL he suffered when he slipped on a damp spot on the court in the first round against the Houston Rockets, is "doubtful" for Game 4 of the Warriors' semifinal playoff series with the Portland Trail Blazers.
Prior to Game 3 of the Portland series, Dub Nation mostly shrugged at that kind of an update. The Warriors really hadn't missed a beat without Curry, who also had to leave Game 1 of the Houston series early after tweaking his ankle. And given that he hasn't played in two weeks (and counting), it is tough to say if Curry will immediately make a huge impact when he finally does rejoin the lineup.
But the Blazers' 120-108 triumph at the Moda Center on Saturday night in Game 3, the Warriors' first convincing loss this postseason and their first double-digit loss in two months, sure did make Curry's return to this series more of a necessity. Is his return required for the Warriors to reach the next round? Perhaps that's going a little too far, but at the moment, it's worth debating.
A Bump in the Road
For a while there, it appeared the Warriors wouldn't even need Curry until the Western Conference Finals.
They played the majority of their opening round series against Houston without Curry, but the Warriors probably would have swept the Rockets had James Harden been whistled for an offensive foul after blatantly pushing off on Andre Iguodala to create enough space to sink his game-winning shot in Game 3. Golden State dominated the Blazers in Game 1 of the semifinals and then demoralized them in Game 2, rallying from double-digit deficits, including an 11-point hole at the start of the fourth quarter, to grab a 2-0 lead.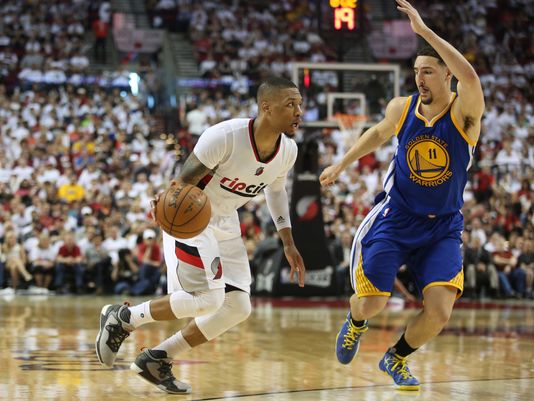 Things went differently on Saturday night. Damian Lillard's 40-point, 10-assist performance in Game 3 was so dazzling he drew comparisons to the reigning league MVP Curry. Al-Farouq Aminu had a near-perfect offensive game. The Blazers got more out of their reserves than the Warriors did theirs. And Portland's big leads did not go to waste. The Warriors lost. Without controversy. The only thing that delegitimized the win was Curry's absence, which was felt more in that game than in any other Warriors game this postseason.
Before Game 3 against Portland, it felt like the Warriors had an automatic bye to the Western Conference Finals, with or without Curry. Now there's conversation about whether the Warriors need their MVP just to get past feisty Portland, which makes Game 4 all the more interesting, especially if Curry is indeed M.I.A. again.
The Missing Elements
"Steph's absence changes the rotation, obviously. We have to kind of mix and match a little bit more. We don't have the luxury of kind of staying with a set rotation. We have to read what's going on and play different people based on what we see and what we need," Kerr said after Saturday's loss. "But that's alright. We've got a lot of players who can play. They've been ready to perform all year. We've had a lot of great seasons from different people on the bench, and they should all be ready to go."
The Warriors made the Blazers work for their Game 3 victory. Klay Thompson (35 points) and Draymond Green (37 points, nine rebounds, and eight assists) were sensational. As a team, the Warriors shot 47.7 overall and 48.3 from three-point range. They even outrebounded Portland (by one) and had more assists (29 to Portland's 19).
Curry's unavailability isn't the reason why the Blazers shot 46.5 percent overall from the floor and a blistering 56.7 from downtown. But Golden State wasn't able to complete a comeback and increase the pressure on Portland down the stretch. Iguodala and Harrison Barnes didn't have solid games. "I don't think we played with enough urgency to win," Green said after Saturday night's game.
Green added: "I think our offense hurt our defense, because we weren't very good offensively."
And Curry, the team's most dangerous offensive weapon, had one of the best seats in the house as Game 3 unfolded.
Not Time To Panic (Yet)
A Warriors win Monday night would erase any and all worries at this point. Their resilience is not to be questioned. They have not lost consecutive games all season. They have won big games without Curry before.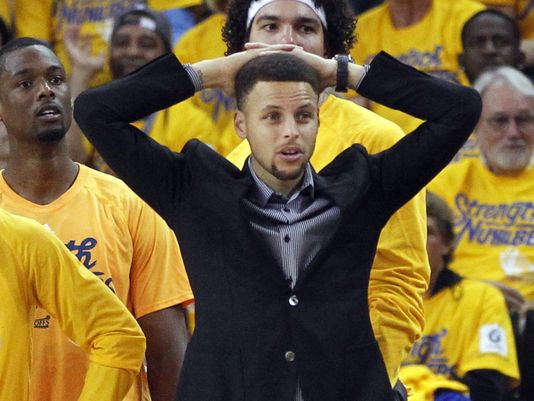 "You can expect Game 4 to be a battle, at least from us," Green said.
But the Blazers have now beaten Golden State twice this season, something no other team can lay claim to. They proved in the first round they can take advantage of opportunities that injuries on the opposition create when they came back from down 2-0 to knock off the Los Angeles Clippers, sans Chris Paul (hand) and Blake Griffin (quad), in six games.
Does Curry need to rush back? Does he need to play in this series at all? Maybe. Maybe not. But after Game 3, these are now valid questions. Game 4 may provide some answers.