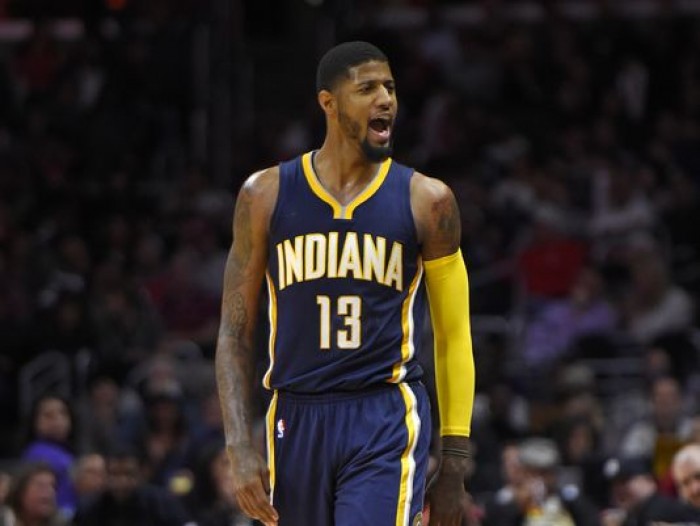 Since the Toronto Raptors ended the Indiana Pacers season in the first round of the NBA Playoffs, lots of question marks have swirled around President of Basketball Operations Larry Bird and the rest of the organization. Who will coach the Pacers next season? Who will Bird target in free agency? Who will the Pacers select with the No. 20 overall pick?
The organization has tons of uncertainty this offseason. However, one thing is certain: Paul George will be an Indiana Pacer next season.
Why?
First things first, the Pacers are not shopping Paul George. Bird has never stated this nor even alluded to the possibility of trading his superstar. Sure, the Los Angeles Lakers may propose a trade, but in no way does that mean the Pacers are willing to part ways with the face of their franchise.
PG13 averaged 23.1 ppg, 7.0 rbg and 4.1 apg in his first full year following an injury where many thought he may never step foot on the court again. With these numbers and his season, George is arguably a top 10 player in the league and undoubtedly one of the best two-way players as he ranks 10th in points per game and 7th in defensive win shares – a stat that represents wins contributed by the defense of a single player. How many players in the NBA beat both of those rankings? Zero.
This post season, the Pacers were eliminated in the first round of the playoffs. Yet, that doesn't tell us what Paul George did or how good he really was. He averaged 27.3 ppg, 7.6 rpg and 3.1 apg over the seven-game series. He was a monster to say the least, and probably played the best of any player in the NBA during the first round.
Paul George is 26 years old and has three years left on his contract. Yes, 26. Let's put that into perspective. Steph Curry is 27. Chris Paul is 30. LeBron James is 31 and Dwayne Wade is 34. It's safe to say that George is just hitting his prime and will continue to be a top player in the league for at least the next five or six years. So why would Larry Legend trade away his promising future? He wouldn't.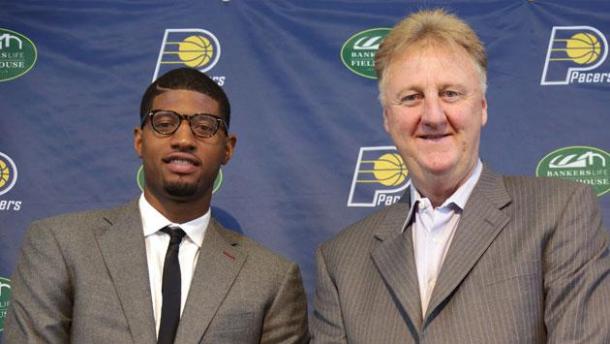 Numbers don't tell it all
Let's face it: we use statistics to prove our arguments every single day, but they don't always tell the whole story. So, let's tell the whole story.
Larry Bird has just fired Head Coach Frank Vogel. Why? Bird wants to play small ball with the players on the roster. If Bird wanted to trade the face of the franchise and the players he signed, he most definitely would have kept Frank Vogel. In no way would it make sense to get rid of both Vogel and George.
In addition, why would George want to leave? He has one of the most promising rookies on his team in Myles Turner along with veteran Monta Ellis to round out the core of the team. He was drafted by Indiana and has spent the last six years growing closer to the city of Indianapolis. He loves to fish in Indiana and calls it home. Most importantly, he plays in a conference in which not much is in his way of the Eastern Conference Finals year in and year out.
All in all, Pacers fans have nothing to worry about. Bird has not stated that they are willing to trade Paul George and he's in a great position at this point in his career.
The Golden State Warriors are not trading Steph Curry. The San Antonio Spurs are not trading Kawhi Leonard. The Portland Trail Blazers are not trading Damian Lillard. And the Indiana Pacers are not trading Paul George.