 The NBA Western Conference Finals are set. It will be an intense matchup between the reigning champion, Golden State Warriors, and the athletic, exciting Oklahoma City Thunder. To earn their way into the conference finals, Oklahoma City had to power their way past the talented San Antonio Spurs. They did just that. Still reeling from their close win in Game 5, the Thunder carried their momentum and cruised past a fatigued Spurs team.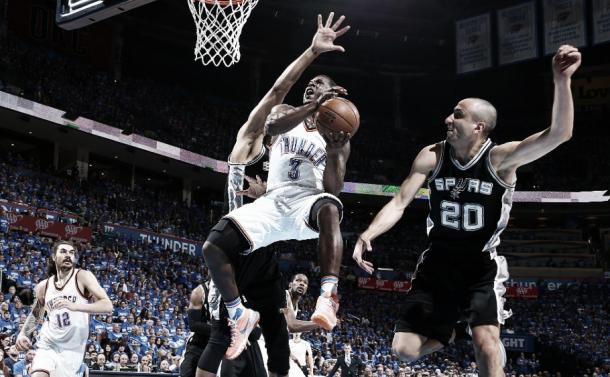 Heading into their second round matchup, the Spurs had to be just a little confident. They shut out the Memphis Grizzlies in a four-game sweep back in round one as San Antonio sensation Kawhi Leonard continued his season-long dominance. The only problem was that Oklahoma City was just as confident. Once the Spurs dropped Game 5, the series was just about over for the veteran squad. Tonight only sealed that deal.
Thunder strike hard
Oklahoma City locked down the game from the tip-off. There wasn't a moment in the game where the Thunder seemed overly flustered or panicked. The offense ran smoothly throughout thanks to Russell Westbrook and Kevin Durant. In addition, Steven Adams' solid defense down low contributed to a massive lead for the hometown Thunder. Heading into halftime, Oklahoma City was up by a huge 24-point margin. Not to discredit San Antonio, they fought hard with Tim Duncan, Kawhi Leonard, and LaMarcus Aldridge all providing a valiant offensive effort. OKC was simply too hot to handle. The Thunder's dominant performance continued until the final buzzer, earning them a huge playoff victory.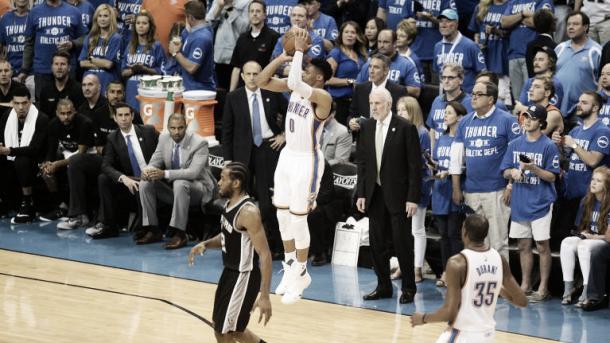 On a number-for-number basis, the Spurs were just simply outmatched in tonight's game. Three of San Antonio's starting five had great nights, the other two were the total opposite. Oklahoma City, on the other hand, saw a total team effort from their five, with all starters finishing in big numbers. Both team's benches remained quiet, with neither having any players scoring in double-figures.
Big night for Durant, Westbrook
Durant and Westbrook further cemented their reputation as NBA superstars tonight. Durant finished with 37 points, nine rebounds, and two assists. Westbrook scored 28 points along with 12 assists, three rebounds and two big steals. The duo weren't the only offensive contributors for the Thunder, however. Steven Adams, starting center, had 15 points and 11 rebounds in addition to his outstanding defense. Even Andre Roberson snagged 14 points and seven rebounds on the night. Serge Ibaka was the lone starter who didn't have a great scoring night with only eight points, but he did manage to bring down 10 rebounds and provide ample help down low with Adams. For the bench, Enes Kanter and Dion Waiters stayed quiet with seven and two points, respectively.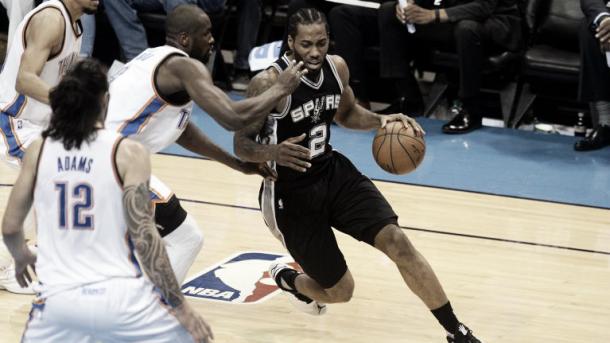 Leonard remained a bright spot for San Antonio finishing with 22 points, nine rebounds, five assists, and three steals. Aldridge, in his final game of his first season as a Spur, ended with 18 points and 14 rebounds. The Spurs veteran point-guard, Tony Parker, couldn't find his shot and finished with just six points and three assists. Guard Danny Green ended his night with only nine points. Duncan, in what could be his last NBA game, played very well. The 40-year-old finished with 19 points and five rebounds. Rumors have swirled about potential retirement this off-season for the 19-year NBA veteran. Only time will tell if tonight's blowout will go down in history as his final game.
Next up for the Thunder
In what should be an exhilarating matchup, the Thunder will be facing off against the Warriors in an offensive showdown. It'll be a showdown between the Steph Curry-Klay Thompson duo and the Durant-Westbrook connection. This one will be fun.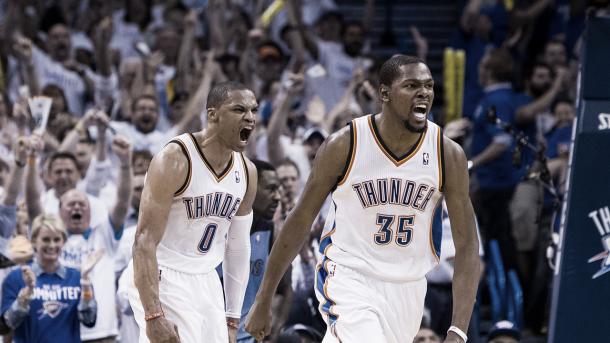 Game 1 will be on Monday, May 16th live from the Oracle Arena in Oakland, California.