 Whatever momentum the Toronto Raptors gained in their two games north of the border did not travel with the team to the Quicken Loans arena as the Cleveland Cavaliers throttled the Raps 116-78 in game five of the Eastern Conference Finals. Cleveland now leads the series 3-2 heading back to Toronto.
Toothless offense
The Raptors never got into a rhythm, after getting as close as six after a Jonas Valanciunas jumper, the Cavs outscored them 17-3 to end the first period. It only got worse as Cleveland held a 28-15 advantage in the second frame. Toronto looked very sloppy on offense, shooting only 39 percent as a team, a paltry 17.6 percent from downtown and missed 14 free throw attempts. Credit goes to the Cavs for making the adjustments to their defense, collapsing and helping on drives and exposing the Raptors lack of floor spacers.
Finding the stroke and crashing the boards
The Cavs were more conservative with the three-point shot. After going a combined 27-82 from long distance in the two games at the Air Canada Centre, Cleveland took 21 in game five, making 10 of them. Like the previous two games, the Cavs looked to take advantage of their plethora of capable sharpshooters by spacing the floor and putting post players like Valanciunas, Bismack Biyombo, and Luis Scola on the perimeter to cover the faster guards. Sacrificing size for shooting did not hurt Cleveland in the rebounding department. Unlike the last two games, the Cavs controlled the glass, out-rebounding the Raptors 48-27, 10-5 on the offensive boards.
Business as Usual for "The King"
LeBron James was his usual tremendous self, scoring 23 points on 10-17 shooting, along with six rebounds and eight assists. James is shooting 64 percent from the field in this series, the most efficient rate in any playoff series in his career. Toronto's defense did not have an answer for James on the inside, and when the help defense collapsed in, hurt them with his passing. Unlike the previous games away from the Q, James received more help from his supporting cast, particularly the other two-thirds of the big three.
Help for James
Forward Kevin Love broke through after a horrid couple of games. Love scored 25 points on 8-10 shooting, including 3-4 from three-point range. In games three and four, Love scored a combined 13 points, shooting a rancid 5-23 from the field. Guard Kyrie Irving followed up his 26-point effort in game four with 23 points on 9-17 shooting. Irving also finished with three assists, three rebounds, and three steals. Channing Frye added seven points and Richard Jefferson led the Cavs bench players with 11.
All or nothing from Lowry and DeRozan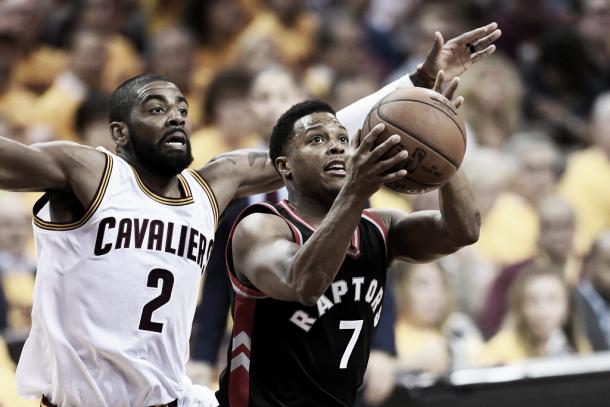 After two tremendous performances on their home floor, the All-Star duo of Kyle Lowry and DeMar DeRozan pulled another disappearing act. After scoring 20 and 35 points in an efficient fashion in games three and four respectively, the Cavs held the dynamic point guard to 13 points on 5-12 shooting. Lowry, an 81 percent foul shooter during the regular season, shot just 2-6 from the charity stripe in game five. ESPN lead play-by-play man Mike Breen said it best when describing Lowry's play as "feast or famine". DeRozan was not much better, scoring 14 points while going 2-8 from the field, although he did make 10 of his 12 foul shots. Cleveland's defense did a great job bottling both men up, forcing them to make tough shots that have seemed to plague the two backcourt mates throughout the postseason.
Help left in Toronto
Biyombo, whose rebounding played a big role in taking two games in "T-Dot", grabbed only four. DeMarre Carroll continued to struggle to find his shot, scoring just five points while going 0-4 from three. Terrence Ross failed to convert a three-point basket as well. The lack of reliability of their best three point shooters made it even harder for Lowry and DeRozan to find space to work with.
Possible Reinforcement?
If there is any positive to come from a blowout like this for the Raptors, it had to be the play of Valanciunas. Playing in his first game since spraining his ankle May 7 against the Miami Heat, the big man from Lithuania scored nine points on 4-4 shooting in 18 minutes. It is hard to imagine Valanciunas not starting in game six, as he gives Toronto a little more versatility than the severely offensively limited Biyombo.
What's next?
The Raptors will be playing for their playoff lives on Friday as the series heads back to Toronto for game six at 8:30 pm EST.