 After two embarrassing blowout losses, the Cleveland Cavaliers came into game three with a fire lit underneath them. With enthusiastic home support, the Cavaliers dominated the Golden State Warriors with a 120-90 victory. It was an all-around outstanding effort from Cleveland and they played with a perfect pace. They dominated early and held a big lead throughout the entire duration of the game.
Golden State, on the other hand, was the total opposite in terms of gameplay. They were forcing bad shots all night and the offense just failed to run smoothly. The "Splash Brothers", Steph Curry and Klay Thompson, failed to make much of an impact in the game. Golden State's bench couldn't bail them out either. This lack of offense combined with a lackadaisical defense led to a high-scoring, dominate victory for Cleveland.
Easy night for the Cavs
From tip-off, the Cavaliers controlled the game. They jumped to a double-digit lead quickly behind the quick scoring of Kyrie Irving and LeBron James. Cleveland's defense was just as vital as their sharp offense. The Warriors, at one point, had twice as many turnovers as they had field goals. Klay Thompson, 0-5 at the time, exited the game late in the first after a fall to the ground. The Cavaliers finished the quarter with a 17 point lead.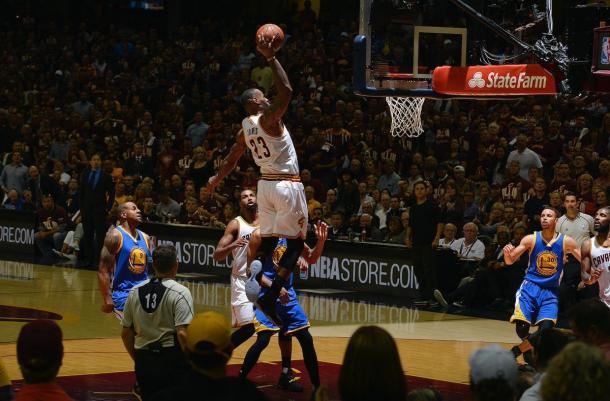 The second quarter was much of the same for both teams. Irving continued to dazzle on the court, making buckets after buckets for his team. Golden State continued to take panicked shots but did manage a slight comeback. They cut the lead down a bit thanks to an offensive spark from Harrison Barnes. This offensive spark continued late into the quarter and Golden State outscored the Cavs by nine points. Heading into half-time, Cleveland led by just eight.
That comeback was short-lived, however, as the Cavs locked the game down and surged past the Warriors once more. LeBron, Kyrie, and J.R. Smith were just too much for Golden State to handle. Those three combined for a monster 82 points on the night. Following that strong performance, the Cavaliers cruised to a vital Game Three victory.
No Love, no mercy
Kevin Love was forced to sit the game out due to concussion protocol, was replaced in the starting lineup by NBA veteran Richard Jefferson. Jefferson's last start in an NBA Finals was back in 2003. Losing Love was a big questionable for the Cavs but Jefferson proved that they were just as strong, if not stronger, without him. The 35-year-old's clutch defense was a key tool in shutting down the hot and explosive Warriors. Jefferson finished with nine points and eight rebounds. Cleveland's biggest stars of the night were easily Kyrie Irving and LeBron James. The duo were a non-stop offensive threat and Irving was an effective floor leader the entire game.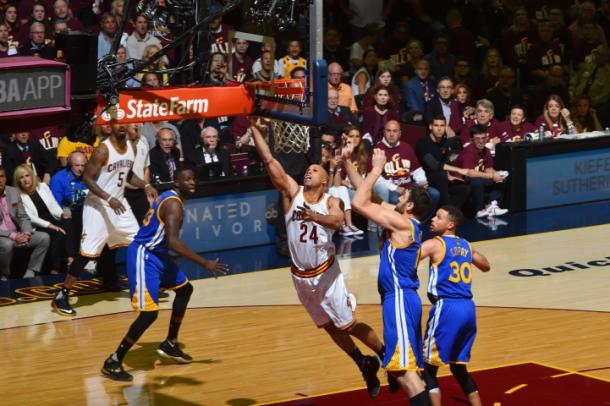 Kyrie ended the night with 30 points, eight assists, and four rebounds. LeBron was the highest scorer with 32 buckets along with 11 rebounds and six assists. J.R. Smith, while not quite as flashy, was just as important in tonight's matchup. He finished with 20 points and four rebounds, shooting 50% from beyond the arc. The last of the starting five, Tristan Thompson, also had a great night. He crashed the boards and pulled down much-needed offensive and defensive rebounds, finishing with 13 rebounds alogether. Thompson had a nice scoring night too, ending up with 14 points on 5-6 shooting. Cleveland's bench, however, was almost non-existent. The highest scorer was Jordan McRae who had just four points. Channing Frye failed to make a single basket despite playing 12 minutes. Iman Shumpert played 18 minutes and had three points and five rebounds on 1-5 shooting.
Warriors didn't come out to play
It was a rough night for Golden State. Their two biggest stars, Curry and Thompson, failed to show up in tonight's game. Curry finished with 19 points on 6-13 shooting along with six costly turnovers. Thompson was held to just 10 points, shooting around 30% on the night. He was 1-7 from three. Harrison Barnes was a diamond in the rough for the Warriors, scoring 18 points on a solid 7-11 shooting. He led the team tonight but his efforts alone couldn't give them a win.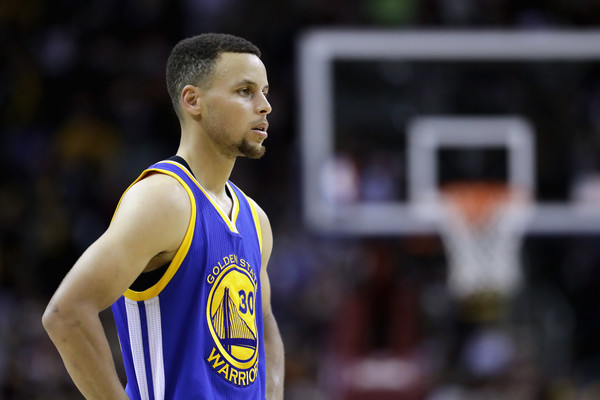 The front court duo of Draymond Green and Andrew Bogut was ineffective for the Warriors. Green failed to find his offense completely, finishing with just six points on 2-8 shooting and 0-4 on free-throws. He did, however, nab seven rebounds and seven assists. Bogut, who played only 12 minutes, ended with four points and two rebounds. Andre Iguodala provided a small effort from the bench with 11 points on 5-7 shooting. As a team, Golden State shot 42.1% FG and an abysmal 27.3% from three.
Next Up
The Cavaliers will look to repeat their powerful performance when they face off against the Warriors at home again on Friday. Kevin Love should be active which creates an interesting decision on his playing time. The team may ask themselves if they are better off with Jefferson starting on the floor than Love. Jefferson certainly displayed his impact tonight. Regardless, Cleveland will hope to even the series at 2-2.
Golden State should see tonight's game as a wake-up call and realize they aren't an untouchable team. Their offense will have to step it up and their defense has to prioritize stopping Kyrie Irving and LeBron James. The series record will be dependent on that.
Game four of the NBA Finals is Friday, June 9th at the Quicken Loans Arena in Cleveland.