 With the 2016 NBA season coming to an end and the Golden State Warriors battling the Cleveland Cavaliers in the Finals, it will soon be time to shift all focus towards the draft, which will be held in the Barclays Center in less than two weeks. Teams at the top of the order, who have been waiting for this night for quite some time, will be looking for players to kickstart their winning efforts. On the other hand, playoff teams like the Atlanta Hawks are looking for guys who can fit specific roles in order to take the squad to the next level and contend for a title. This year's class has widely been referred to as a "two-man class" with LSU's Ben Simmons and Duke's Brandon Ingram commanding the first two picks in almost all mock drafts. However, there are still players in this draft who will carve out NBA roles, help teams win championships, and perhaps be referred to as "steals" when it's all said and done.
The Hawks hold the 21st, 44th and 54th picks in this year's draft, and it is very possible that they will be active on the trade fronts as well. Last year, the team traded its first round pick for SG Tim Hardaway Jr., a move that fell under some criticism throughout the season. Recent rumors have also suggested that the Hawks are ready to move on from point guard Jeff Teague, perhaps dealing him to the Philadelphia 76ers for a package including Nerlens Noel. This could be a discussion we see brought back up come draft night. If the Hawks elect to keep their picks, there are several options that make sense considering Al Horford and Kent Bazemore will be free agents later this summer. Let's take a look at five players whom the organization should look to draft provided they are available.
1. DeAndre Bembry - Jr - SF - Saint Joseph's
Bembry would be the perfect pick for the Hawks late in the first round for several reasons. First of all, his versatility and "swiss army knife" playing style are coveted by all contending teams looking for depth. The junior small forward is one of the most unselfish wing players in the draft, a trait coveted in Atlanta where ball movement is stressed so much. He also possesses great physical tools and is an above-average athlete standing at 6'6". Another important trait to have under Coach Mike Budenholzer's scheme is ability on the defensive end. While he will need to become more consistent overall and show more intensity, the skills are there.
The biggest knock on Bembry's game is his outside shooting, where he shot 31% over his three years in college and saw his numbers regress each season. He also shot just over 60% from the free throw line, a number that needs to improve considering his position. Despite this, he showed flashes of hitting jumpers with his feet set and likely will be able to improve his form at the pro level. All in all, the former Saint Joe's standout would bring a lot to the table for a team that already lacks in wing depth and may very well lose the aforementioned Kent Bazemore to free agency.
2. Denzel Valentine - Sr - SG - Michigan State
This is a prospect Atlanta would love to see fall to their pick #21, and it is looking more and more likely that it could happen. Earlier in the draft process, it seemed like Valentine would be a lock for the lottery after a monster season at Michigan State. In the last few weeks, however, he has seen his stock slip a bit due to questions concerning his upside and athletic limitations. The June 7th DraftExpress mock draft has him slated at pick #23 despite being their #12 overall prospect. This is value that the Hawks shouldn't pass up, especially considering he fills a major need.
Valentine fits the bill for Atlanta- he is an experienced player who can shoot, pass, and rebound the ball at a very high level, averaging 19.2 points, 7.8 assists, and 7.5 rebounds this past college season. The 22-year-old shooting guard also boasts one of the highest basketball IQ's of the entire draft, another important quality for a team that plays consistent team basketball. The main issue with Valentine's game is his individual defense, which was poor over his four years in school. While this would seemingly be a major problem on a team lacking in the defensive category, the Hawks were the best defensive team after this season's all-star break. Michigan State played solid team defense that overshadowed Valentine's personal restrictions, and Atlanta can do the same. His offensive ability alone warrants this selection (honorable mention here goes to Baylor's Taurean Prince, who has recently seen his stock rise, most likely higher than where the Hawks pick).
3. Brice Johnson - Sr - PF - North Carolina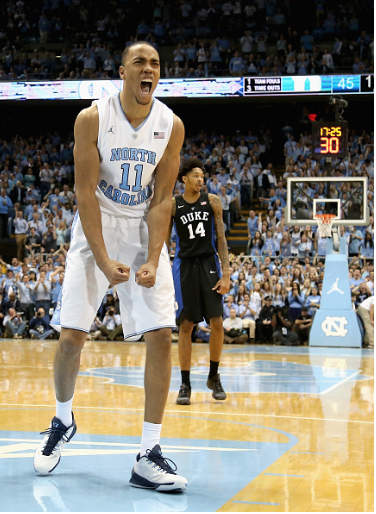 Should the Hawks choose to strengthen a frontcourt that may soon see the departure of all-star Al Horford, this would be a solid pick. Johnson, like the previous prospects, brings experience and major improvements over his college career to the table. He would also bring immediate help to an area of concern for Atlanta over the past few seasons: rebounding. The All-American big makes up for his skinny frame with elite athleticism and a solid post game, while showcasing the potential to develop a mid-range jumper. He also uses his athleticism to protect the rim and play with energy on the defensive end. At the age of 21, Johnson possesses rare upside for a senior entering the NBA. The NBA training regimen should help him bulk up, and a developed jumper would make him a steal at this point in the draft.
4. Tyler Ulis - Soph - PG - Kentucky
This is a bit of an interesting option for the Hawks, but it makes a lot of sense if Jeff Teague is, in fact, dealt. Dennis Schroder has shown that he can take over games with his scoring and effort on defense, but has yet to show true consistency over an extended period of time. The diminutive point guard from Kentucky could be an exciting backup and help bring depth to the position if the Teague deal doesn't yield another primary ball handler. Ulis' aggressiveness and can't-lose attitude separate him from most young point guards, and he is a great ball handler, passer, and shooter as well. Over time, a duo of Schroder and Ulis would be dynamic on both ends of the floor.
The obvious counterargument to the sophomore's game is his height and weight of 5'10", 149 pounds. While this seems to put a large dent in his value on the surface, he showcased his ability to overcome it with floaters in the paint on offense and pesky defense on guys much larger than him. Even if he struggles to find the same success in the NBA that he did in college due to his size, his intangibles alone will allow him to find a role as a backup.
5. Malcolm Brogdon - Sr - SG - Virginia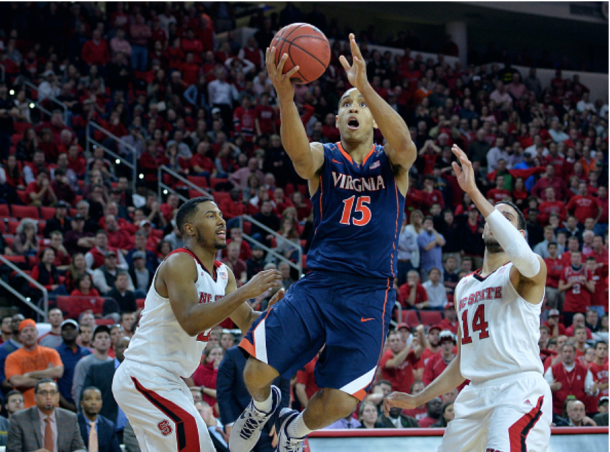 It is important to remember that the Hawks also have two picks in the second round, and history shows that they shouldn't be taken lightly. While Draymond Green is the success story we tend to hear about today, several second rounders over the past few drafts have outperformed their expectations.
Think Jordan Clarkson of the Los Angeles Lakers two years ago or Josh Richardson of the Miami Heat last year. Could Malcolm Brogdon be that guy this year? Similar to another decorated college player on this list in Valentine, the senior from Virginia brings experience, shooting and passing ability, and a tremendous basketball IQ.
It would be a surprise to see organizations like San Antonio and Golden State to pass on such a successful college player late in the first, but most mock drafts tag Brogdon as a second round prospect. A team like Atlanta would be more than happy to sacrifice upside for a proven player who can fit a role right away, and it wouldn't be overly surprising if they used the 21st pick on him if their other top options are exhausted.