 The Cleveland Cavaliers kept their city's hopes for a world championship alive for at least one more game, defeating the Golden State Warriors 115-101 in game six of the NBA Finals.
Rough start for the Dubs
The number one seed in the Western Conference dug themselves an early hole. It took the Warriors five minutes to score their first field goal on a Draymond Green driving layup. Golden State shot less than 30 percent from the field in the opening period, including 1-9 from three-point range. The poor inefficient shooting led to a paltry 11 points from the usually high-powered Warriors offense. The Warriors shot 40 percent as a team to Cleveland's 52 percent for the game. Cleveland also outscored Golden State in transition 19-10.
From the opening tip-off, chants of "Let's go Cavs" rang through the Quicken Loans Arena. The crowd energized the Cavs in the early going, playing inspired defense and attacking the paint.
Cleveland's activity on defense caused problems, switching on pick and rolls and closing out on open shooters. The Warriors missed most of their few open shots early as well. Golden State outscored Cleveland by six the rest of the way, but the horrid start ultimately did them in.
With center Andrew Bogut ruled out with a sprained knee, Warriors head coach Steve Kerr went with a small lineup to start, putting Green at the five. Cleveland showed no fear getting to the rim. Cleveland held a plus 10 rebounding edge as well, not allowing many second chance points.
Early foul trouble plagued Golden State, perhaps causing them to dial back the aggression on defense. Stephen Curry picked up a couple of quick fouls as did Green, returning to action after a game five suspension for exceeding the flagrant foul limit in the postseason.
The King and his men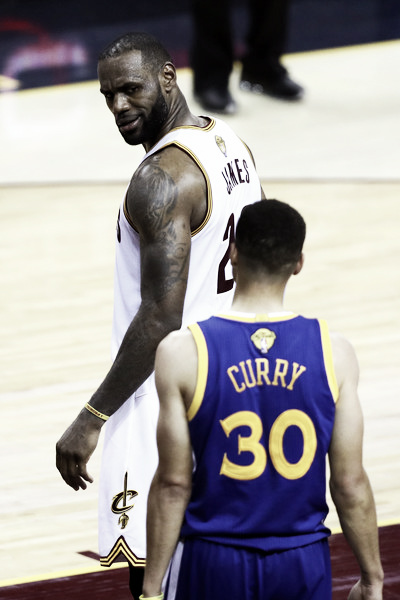 LeBron James continued his otherworldly play in elimination games. The four-time NBA MVP turned in another well-rounded performance, scoring 41 points, dishing out 11 assists, nabbing eight rebounds and four steals, including a stretch in the second half where he scored 18 consecutive Cavs points. James shot 16-27, 3-6 from downtown. James scored 40 or more points in the last two games, a feat not done in the playoffs since Shaquille O'Neal in 2000. Every time the Warriors attempted to come back, the Akron, Ohio native answered back with a score. James made his fair share of great passes as well.
Guard Kyrie Irving continued his hot streak, scoring 23 points on 7-18 shooting. Irving took advantage of big man switches on pick and rolls. Both James and Irving took advantage of the lack of rim protection coach Kerr often had on the floor, with James backing down Warriors guards en route to easy baskets.
Forward Tristan Thompson played inspired ball throughout finishing with a double-double, feeding into the conventional wisdom of role players excelling on their home floor. The former Texas Longhorn scored 15 points on 6-6 shooting, along with 16 rebounds and three assists
J.R. Smith added 14 points, four rebounds, three assists and three steals. Smith shot 5-11 for the night, 4-10 from three's, taking many of his usual outlandish contested shots.
A frustrating game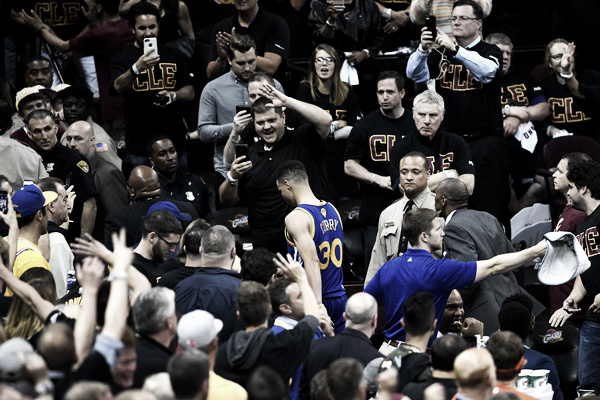 The defending NBA champs never went away. Cleveland led by as many as 20 twice and the Warriors cut both leads to single digits, showing flashes of the Thompson scored the final eight points of the third to cut the lead to nine. Golden State got as close as eight in the final frame before the Cavs pulled away.
Curry and Klay Thompson led their team in scoring with 30 and 25, respectively. Curry made eight of 20 field goals, went 6-13 from long distance, but had just one assist against four turnovers. Thompson shot 9-21 from the field, going just 3-10 from deep. The reigning MVP fouled out with about four minutes to go in regulation. Curry, frustrated at the foul call, threw his mouthpiece, hitting a fan (Curry apologized immediately after), resulting in a technical foul and his ejection, the first of his career.
Golden State received little help outside of the splash brothers, as no other starter scored in double figures. Rotation player Leandro Barbosa scored 14 points on 4-6 shooting off the bench, the only other Warrior to score 10 or more.
Green recorded a near triple-double, scoring eight points with 10 boards and six assists.
Fresh off a woeful game five, forward Harrison Barnes did not score, shot 0-8 from the floor, five of those misses from three-point land. A number of the former North Carolina Tar Heel's misses were open looks. Barnes played only 16 minutes, the rest allocated to Barbosa and Shaun Livingston.
Andre Iguodala, given the starting nod in place of Bogut finished with five points on 2-5 shooting. Last year's NBA finals MVP appeared to injure his back and clearly played in pain throughout.
What's next?
It all comes down to the decisive game seven at Oracle Arena in Oakland, Sunday at 8:30 EST.