 After trading Thaddeus Young to the Indiana Pacers, the Brooklyn Nets used their newly gained first-round pick to select Caris LeVert. LeVert, a 21-year-old guard from the University of Michigan, is a much-needed player for Brooklyn. The Nets are particularly weak at the guard positions, so the team will likely look for LeVert to make an immediate impact.
Early time in Michigan
Caris was born in Columbus, Ohio but grew up in Pickerington, Ohio. He led his high school team to a 26-2 record and a subsequent championship. LeVert wasn't heavily scouted in high school and almost committed to Ohio University but ultimately decided to attend Michigan.
LeVert didn't see much playing time in his freshmen year. He was overshadowed by higher recruited players such as Nik Stauskas, Tim Hardaway Jr., and Glenn Robinson III. Caris broke out in his sophomore year, scoring a career-high 24 points and 11 rebounds. He and his fellow rookie sensations brought Michigan to the Elite Eight but were eliminated by the University of Kentucky. To make their offseason even worse, LeVert was sidelined after having surgery to repair a stress fracture in his foot.
Final college years
By the start of his junior year, LeVert was ranked 13 out of the top 100 college players in the nation by ESPN. Michigan officially named LeVert co-captain of the team. This boosted LeVert as he later scored a new career-high 32 points and a career-high nine assists later in the season. Then, he went down again. LeVert re-injured the foot which was operated on in the offseason. Michigan lost him for the season. At the time, he had been leading the team in scoring, assists, rebounds, and steals.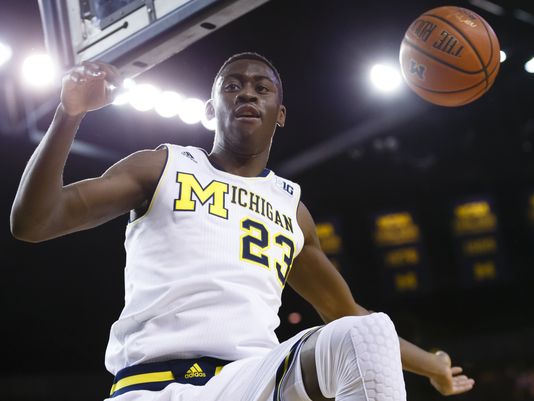 Heading into the 2015 draft, LeVert heavily considered declaring. However, he was worried his injury would cause his draft stock to fall and elected to do one more year with Michigan. This time around, LeVert was ranked 16th out of 100 in ESPN's list. He had a solid season but not his strongest. He did manage to become the fourth Michigan player to record a triple-double with 13 points, 10 rebounds, and 10 assists. Later in the season, he missed a few games with a lower left leg injury. He came back after missing 11 games and played 11 minutes in the game. A month later, however, the injury resurfaced and brought the end of LeVert's season and collegiate career. It was the third surgery on his left foot in a short time span. LeVert's stock plummeted into the second round.
Strengths
Caris is a great scorer and he's displayed the ability to have hot shooting nights on several occasions. With a 6'10" wingspan, he has great length for a shooting guard. Besides his scoring, LeVert is also a great passer and has excellent court vision. He really shines on offense and can score from just about anywhere.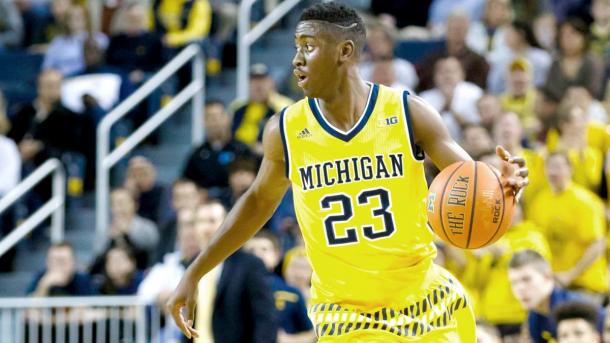 LeVert can be a danger from any area. Boasting 45% from beyond-the-arc, he clearly is a deep threat. But, it's not surprising to see him drive to the hoop and finish at the rim. He's a great ball-handler and has the potential to be a team leader. If it weren't for his injuries, LeVert could've been a lottery talent.
Weaknesses
The biggest red flag is obviously his proneness to injuries. His left foot has had surgery three times in his short career. It's hard to tap into his offensive potential if he can't even play. The Nets might be confident in their doctor but the risk will always be there. LeVert needs to take extra precaution and hope he doesn't go down again.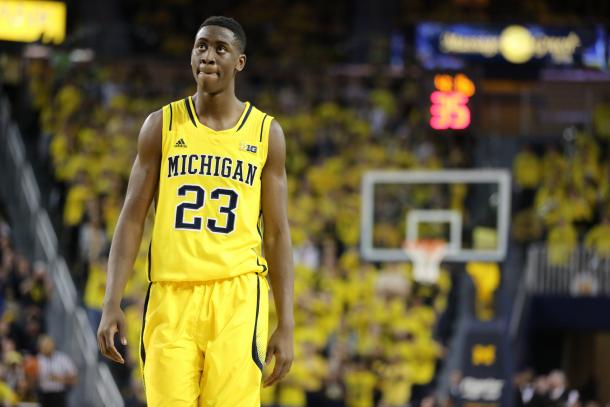 Besides his injuries, LeVert also has a skinny frame. He is taller than a lot of other guards but could really benefit from bulking up. Caris could get bullied in the interior but bigger NBA level players and might have trouble replicating what he could do in college. His defense hinges on this as well.
Enter the Brooklyn Nets
With a bleak outlook, LeVert was expected to go somewhere in the second round of the draft. It would probably seem unimaginable to him that he'd be drafted by the Nets with the 20th overall pick. But, that's exactly what happened. Brooklyn was willing to take a gamble on the injury-prone guard. LeVert did clearly show some potential with his time at Michigan. Coincidentally, the Nets team doctor is Martin O' Malley, who performed LeVert's multiple foot surgeries. Brooklyn may be confident that he can keep LeVert healthy and ready to play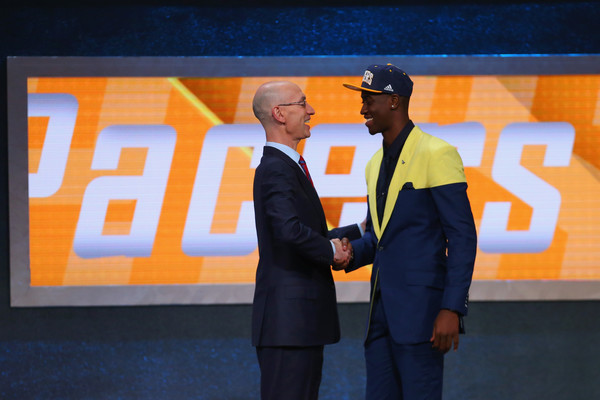 The 6'7" guard provides the Nets with a great scoring option on the wing. The Nets are trying their best to acquire young and athletic players. LeVert fits the role perfectly. It's likely he'll see some major minutes in Brooklyn.