The New York Knicks entered the game winners of their last five season openers but also lost the last six meetings with the Cleveland Cavaliers.
First Half
Both teams displayed a solid offensive start with the game tied at seven after the first timeout called at 7:28. The Knickerbockers then fell behind by not scoring a field goal in the last three minutes of the first frame and committed seven turnovers. Kevin Love converted on a three-pointer with three seconds left and gave Cleveland a 28-18 lead to end the quarter. Carmelo Anthony reached double-digit scoring early on with 11 and Love with 10.
At the 4:13 mark of the second quarter, New York erased the Cavs double-digit lead and tied the game at 41 thanks to a 15-2 run. Cleveland, who had a single turnover in the first period, got sloppy and committed seven. They did though get back on top at halftime and lead by three points.
Cavs Take Command in the Second Half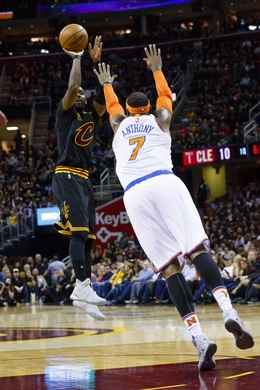 Cleveland erupted in the third stanza of the game and went on a 20-6. Kyrie Irving went for 19 points after scoring just 10 in the first half. New York was outscored 34-19 and were down by 18 entering the final 12 minutes of the contest. The Cavaliers continued their offensive domination in the fourth frame and outscored their opponents 35-24.
Final Stats
Irving lead all scorers with 29 points. Love ended with a double-double of 23 points and 12 rebounds. LeBron James earned a triple-double with 19 points, 11 boards, and 14 assists. Carmelo Anthony was the high man for NY with 19 points. Derrick Rose notched 17 points and Kristaps Porzingis tallied 16. Knicks concluded the night shooting 37 percent from the floor while Cleveland shot it at 48. The Cavaliers lead by as many as 32.
Quotes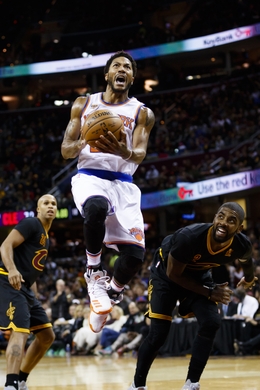 When asked about the team's turnover problems, Knicks head coach Jeff Hornacek said, "I think we were a little unsettled in the things we were doing tonight. Some of it was soft passes, not being aggressive enough."
As for the huge third quarter turnaround, he responded, "[In] That third quarter we only had one foul, so we got to be more aggressive".
New Knickerbocker Derrick Rose told the media, "I hate losing." He then added, "I wish we played tomorrow."
Meanwhile, Porzingis said "We didn't get back on defense. We didn't do the little things. One thing we can do right away is play better defensively."
On the other side, Cavaliers head coach Tyronn Lue told the media "Hearing the crowd cheer LUUUUUUE was a great feeling. Like I was back in L.A.."
Other Notes to Mention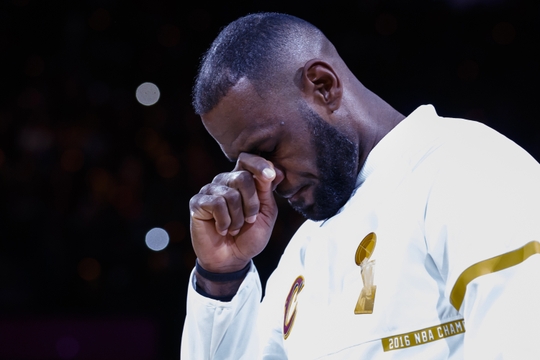 -LeBron James earned his 43rd triple-double of his career and his first ever season opener career triple-double.
-Cleveland celebrated their first pregame ring ceremony in 52 years.
-Cavaliers guard Iman Shumpert collide with Porzingis in the third period and was taken back to the locker room with concussion-like symptoms. He did not return back to action.
Up Next
New York will have a few days off before returning to the court on Saturday, Oct. 29th for their season home opener against the Memphis Grizzlies. Game time at 7:30 p.m. EST.
As for the Cavaliers, their next game will be on Friday, Oct. 28th against the Toronto Raptors. The game will start at 7:00 p.m. EST.