If it wasn't evident enough already, the Atlanta Hawks' best player is Paul Millsap and it isn't even close. He is also one of the most underrated players in the entire league with his elite defensive skills and versatile offensive game to go with it. Therefore, the news that he would remain out on Monday against the Charlotte Hornets with knee tightness meant that it would be an uphill battle for the Hawks to try to get the victory on the road.
On top of that, Hawks starter Kent Bazemore also missed this one with a bruised knee and will be sidelined for at least another week. These are key injuries for a team holding onto the fifth seed in the Eastern Conference, and it is still possible for teams like the Indiana Pacers or Milwaukee Bucks to catch them in the last few weeks of the season.
In this contest, the Hornets took off after the first quarter and didn't look back. The victory improves their record to 31-39, but barring a major surge they will likely find themselves back in the lottery once again this offseason. The Hawks drop to 37-33, which places them just a game ahead of the sixth-place Pacers.
Bench Play Key for Charlotte
The Hornets built much of their lead while the second unit was on the floor, with four of their backups registering plus/minus numbers in the double-digit positives.
Second-year big man Frank Kaminsky had 14 points, five assists and two blocks as his solid play continues over the past couple months. Jeremy Lamb also contributed 12 points, three rebounds, and three assists while veteran Marco Belinelli was a game-high +31 on the night.
The usual suspects also got it done, as all-star point guard Kemba Walker drained four threes on the way to 16 points. Nicolas Batum also had 16 points, which is encouraging to see after he underwent a CT scan for a series of severe migraines with which he was dealing. Forward Marvin Williams was the fifth Hornets player in double figures, as he added 13 points and eight rebounds of his own.
Hawks Sorely Miss Millsap
The Hawks now fall to 0-5 on the season when their all-star big man does not play, including losses of 44 and 36 points. It is obvious that this team is built around his lockdown defense and playmaking ability, and they struggle mightily when he cannot suit up.
Dennis Schroder was a bright spot in this one, scoring 20 points and assisting on six baskets. He continues to put up solid numbers as the starter, but lapses in his defensive effort have put a dent in his overall contributions this season.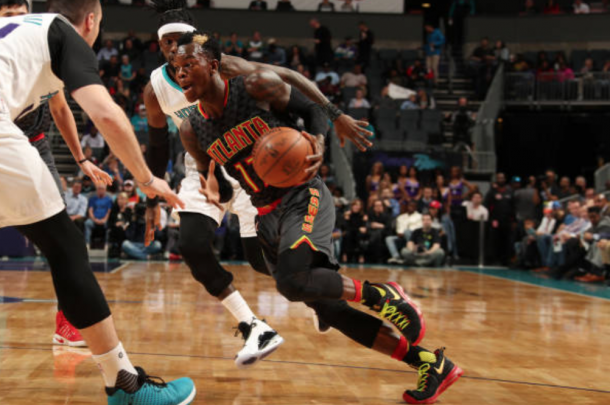 Dwight Howard came through with a double-double of 13 points and 10 rebounds but was a -22 on the floor. His impact has tapered off a bit as the campaign has progressed, and they will need him to step it up if they want to compete in the playoffs.
Ersan Ilyasova has been a plus since he arrived from the Philadelphia 76ers, and he had another solid game with 13 points and six rebounds. He is definitely a candidate for the Hawks to re-sign this coming offseason when his contract expires.
It was also nice for Hawks fans to get an extended look at rookie Taurean Prince, who put up 11 points and four rebounds in 30 minutes. He has shown that he can defend at a high level already, and some more polish on his offensive game will ensure an important role for him going forward. Fellow rookie wing DeAndre Bembry hasn't played as much, but he too has shown flashes of his basketball IQ and ability to defend.
Next Up
The Hawks travel on Wednesday to take on the Washington Wizards, who have climbed near the top of the conference standings thanks largely to the play of John Wall, Bradley Beal, and Otto Porter. The game will be televised on ESPN at 8:00 p.m. E.T.
The Hornets have a slightly more favorable matchup on Wednesday, as they hit the road to face Elfrid Payton and the Orlando Magic at the Amway Center. Tipoff is 7:00 p.m. E.T.