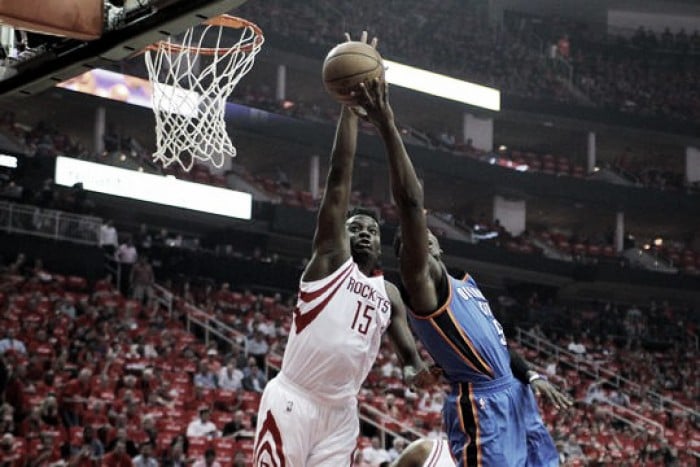 The Oklahoma City Thunder lead throughout the entire first three quarters, but could not hold on and fell short to the Houston Rockets at the Toyota Center.
Thunder Start Off Strong While Lou Williams Carries Team
Oklahoma City made seven of their first nine shot attempts and led 16-4 after the first timeout. The Rockets' starters struggled to find their shot and began the game shooting 1-of-7 from the field. Houston's head coach Mike D'Antoni went to Sixth Man of the Year candidate Lou Williams to find offense. Williams delivered eight points in the first stanza of the game and started off 3-of-3 from the floor which included two three-pointers. Most Valuable Player Candidate Russell Westbrook scored 12 early points as his Thunder team led 35-26.
Williams Continues to Pour Points to Help Trim OKC Lead
Williams did not slow down in the second frame and added eight more points to his stat sheet. For Oklahoma City, Doug McDermott hopped off the bench to score his first eight points of the night. Houston outscored their opponents in the period 36-33, but trailed by six points. By Halftime, Westbrook achieved a double-double with 22 points and 10 assists.
Westbrook Explodes but Rockets Conclude Quarter with a Fierce Comeback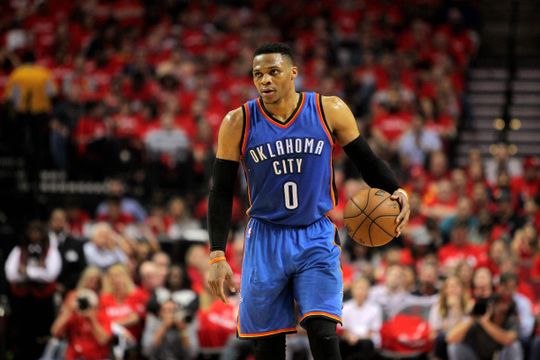 Westbrook went off and had his highest scoring period in the third with 14 points. He played the entire frame up until the last 2:21 minutes of the quarter. Oklahoma City failed to find offense without Westbrook on the floor and the 12-point lead they had at the time got cut down to three. Houston finished on a 12-4 run.
Westbrook Struggles and Rockets make it Rain from Downtown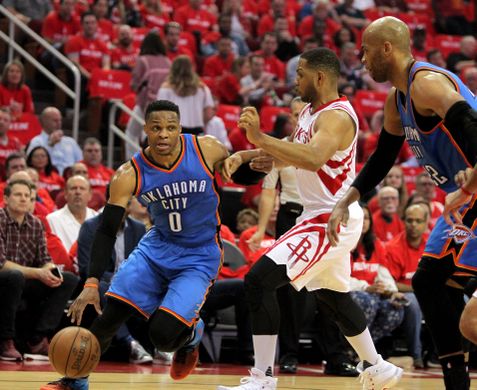 Eric Gordon gave the Rockets their first lead of the night by draining a three-pointer with 8:08 remaining in regulation. Houston continued to own the last period and scored 10 straight points with 1:22 left in the contest, which included three-pointers from Gordon, Patrick Beverley, and James Harden. A combination of fatigue and good Rockets' defense slowed down Westbrook, shooting 4-of-18 for the quarter. Oklahoma City went more than three minutes without any offense to permit Houston to gain the lead. The Rockets shot 5-of-9 from beyond the arc in the final 12 minutes.
Top Performers
Oklahoma City Thunder
Westbrook finished with 51 points, 13 assists, and 10 boards. Andre Roberson scored 12 points and McDermott concluded with 11.
Houston Rockets
Harden shot 7-of-17 but converted on 18-of-20 from the free throw line. He notched 35 points and 8 assists. Gordon chipped in 22 points and Williams finished with 21. Beverley scored 15 points to go along with 6 boards.
Quotes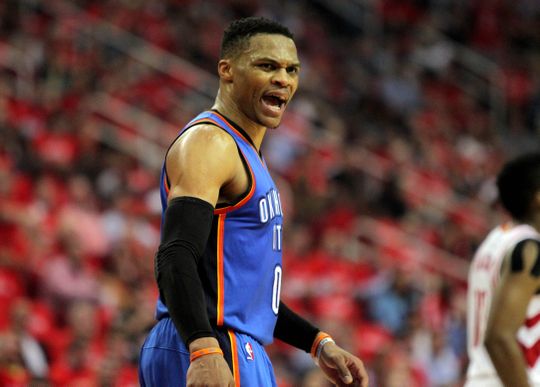 When asked about going 17-of-43 from the field, Westbrook said "I don't give a f--- about the line. We lost."
Rockets guard Eric Gordon commented on Westbrook's offensive struggles in the fourth quarter and said,"It's hard to do that the whole game."
Other Things to Note
-Westbrook continues to make history and joined Tony Parker as the only two players to have achieved a double-double in the first half of a playoff game in the last 15 years. His 51 point triple-double became the highest scoring triple-double in playoff history.
-Oklahoma City's center Steven Adams fouled out. For Houston, Beverley and Harden came close to fouling out with five fouls apiece.
Up Next
The series will shift to the Chesapeake Energy Arena in Oklahoma City for games three and four. Game 3 will be on Friday, Apr. 21, at 9:30 p.m. E.T.