 LeBron James needed 28 points Thursday night to surpass NBA legend and one of the all-time greatest to play the game, Michael Jordan, in career playoff points and he did so in a decisive manner. Scoring 35 on the night, James led his team to a 33-point win over his Eastern Conference foe, the Boston Celtics.
James passed Jordan as the NBA's all-time leading scorer in league Playoff history in the Cleveland Cavaliers Thursday night game five closeout of the Celtics in the Eastern Conference Finals. The points came off of a late third quarter three-pointer, propelling James towards 5995 total Playoff points.
James's Strong Stats
In the series against the Celtics, James averaged 29.6 points per game, 6.8 assists per game, and 6.4 rebounds per game. In these 2017 Playoffs as a whole, James has looked as though he as at the top of his game, averaging 32.2 points per game, seven assists per game, and eight rebounds per game on just above 55 percent shooting from the field according to NBA.com, leading his team to an astounding 12-1 record through his Eastern Conference matchups against the Celtics, Toronto Raptors, and Indiana Pacers.
On the same night, James also passed San Antonio Spurs' Manu Ginobili for third place on the all-time three-pointers made in NBA Playoffs history.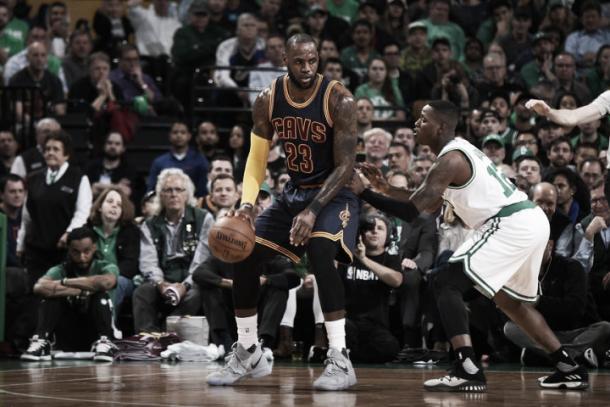 James has been known to turn up his play during the postseason, taking himself offline from social media and other digital outlets to maintain his entire focus on basketball, and his stats seem to have proven effectiveness in his strategy.
Through his career, James has averaged 28 points, approximately seven assists and nine rebounds per game in the Playoffs, ranking among the league's all-time bests. The consistently high scoring averages, including five postseasons with 30 points or higher, have allowed James to pass Jordan's all-time Playoff point total in 212 games.
James vs. Jordan
Jordan held his high point mark of 5,987 all-time Playoff points though his 179 postseason games played on an average of 33.4 points per game, according to ESPN. Jordan averaged above 35 points per game in the Playoffs in five different seasons, and early in Jordan's career, each round of the Playoffs was not a best of seven series as it is today.
The incredible statistics put up by James further his legacy as one of the greatest players we have ever seen in this league, and only make the discussion of "who is the all-time greatest" even more heated, as James continues to creep up on Jordan in wins and championships as well.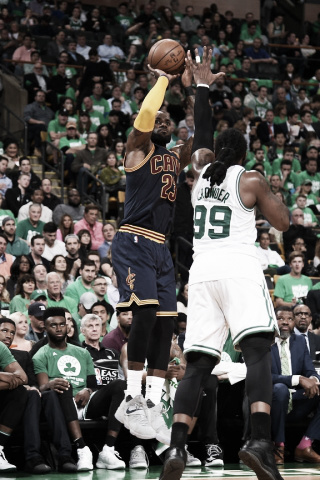 NBA Finals Preview
James will look to increase the gap between himself and Jordan in playoff points as he makes his way to his seventh straight NBA Finals, becoming the first non-Celtic player in league history to do so along with his current teammate, James Jones. James will lead his Cavalier team against the Golden State Warriors for the third year in a row, in attempt to repeat a championship win after the team's iconic 3-1 comeback in last year's Finals.
Game one of the NBA Finals will tip-off on Thursday, June 1 where Golden State has homecourt advantage and will host the first two games in Oakland.