 All-Star point guard Chris Paul has a busy summer ahead of him. Assuming he opts out of the last year of his deal with the Los Angeles Clippers, the floor general plans on meeting with his former employers as well as the Houston Rockets, Denver Nuggets, and the San Antonio Spurs, according to a Los Angeles Times report.
A True Floor General
Paul, a nine-time All-Star, would be a significant upgrade at the point guard position for any team that signs him. The former fourth overall pick from the 2005 NBA Draft, saw his numbers dip a bit last season, but still averaged 18.1 points, 9.2 assists, and five rebounds in 61 games for the Clippers. Paul's 10.6 win shares in 2016-17 were higher than the Rockets, Spurs, and Nuggets starting point guards combined (8.5). In his six seasons in the City of Angels, Paul averaged 18.8 points, 9.8 dimes, and 3.6 boards along with a 26.2 Player Efficiency Rating and 78.2 win shares.
Paul the Last Hope For the Clippers?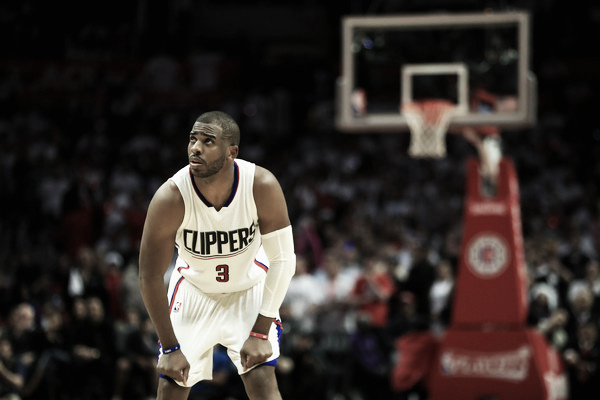 The Clippers hold Paul's Bird Rights, meaning the club can offer him an extra year and more money than any other team. Additionally, they can go into the luxury tax to retain the services of their superstar guard. That said, the Clippers first round loss to the upstart Utah Jazz, might have closed their championship window. Paul and Blake Griffin's possible departures could spark a rebuilding period for an organization that was one of the worst run teams in pro sports before their recent resurgence.
Could Paul Chase a Ring in San Antonio?
Outside of L.A., the Spurs give Paul the best chance to compete for a championship. San Antonio finished with the second-best record in the NBA last year and held a commanding lead over the Golden State Warriors in game one of the Western Conference Finals before Zaza Pachulia placed his foot in Kawhi Leonard's landing spot following a jump shot, extinguishing their title hopes. Signing Paul would allow the Spurs to move Tony Parker into a more limited role when he returns from injury and possibly let free agent Patty Mills walk. His usage rate might drop a bit in Gregg Popovich's system, but Paul's efficient shooting (he has a career .473/.370/.866 shooting line), tremendous passing and court vision should allow him to transition into the offense with little difficulty. However, Paul may struggle to fit under onto the team's payroll; the Spurs have $95 million on the books in 2017-18 and the price for the future Hall-of-Famer may be too steep unless they swing a trade or two.
CP3 and The Beard
Should Paul land in Houston, he would join possible league MVP James Harden and a team that chucked a league-high 40.3 three-point attempts per game. Harden's presence could shift the 32-year-old into a secondary role while giving Mike D'Antoni another playmaker when "The Beard" needs a breather. For what it's worth, Paul also compiled slightly more defensive win shares than well regarded "three-and-D" guard Patrick Beverley, which should assuage any concerns about a drop-off on that side of the floor. Like the Spurs, the Rockets may need to make some shrewd roster moves before negotiating a deal with Paul; they have over $91 million on the books for next season.
Paul in the Mile High City?
Outside of the Clippers, the Nuggets have the most cap room to sign Paul to a max contract. They also have the least amount of talent of the four interested teams. Still, this was a team that missed the playoffs by a single game a season ago and they have some interesting pieces, chief among them breakout star Nikola Jokic and recent VAVEL interviewee Kenneth Faried. Paul is a clear improvement over Emmanuel Mudiay and journeyman Jameer Nelson. Paul would bring much-needed stability to Denver, but the Nuggets do not have a team capable of dethroning the Warriors.
Not matter where Paul ends up, his signing is sure to alter the fortunes of several teams.
Only time will tell as the NBA Free Agency period is set to begin on July 1. Hold on to your hats, folks.