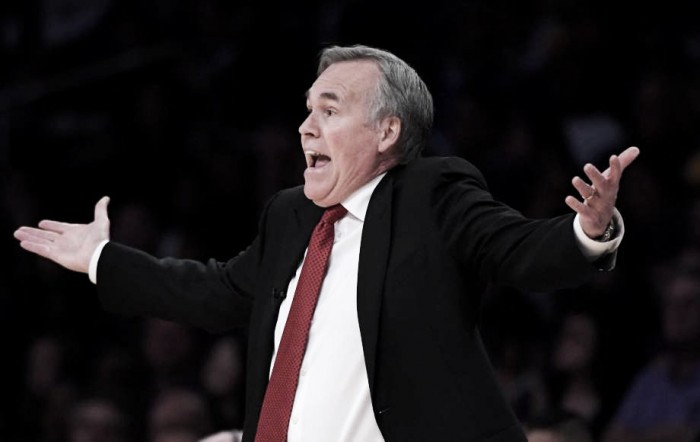 This will serve as both an article covering Mike D'Antoni (400 votes, 68 first place) winning the coach of the year award as well as an apology. When the Houston Rockets first hired him, I wrote this article, completely bashing him and the organization. They were right, I was wrong. I guess that's why I don't run an NBA franchise.
Anyways, D'Antoni definitely deserves the award this season. He took an eighth-seeded team that most thought had reached its peak already to the third-seed in the Western Conference. His gameplan led to a revival in James Harden's game. By putting him at point, Harden was able to increase his numbers from 29.0 points and 7.5 assists per game to 29.1 points per game (big difference, I know) and 11.2 assists per game. He also improved the team's offensive confidence. By the end of the season, they were second in offensive efficiency and broke the three-pointers made in a season record.
Other Candidates
The other finalists were San Antonio Spurs' Gregg Popovich (115 votes, eight first place) and Miami Heat's Erik Spoelstra (153 votes, nine first place). The San Antonio Spurs head coach did another amazing job at emphasizing efficiency and ball movement with a sound defense. Even when his star Kawhi Leonard went down in the playoffs, he was able to outcoach the competition to escape possible upsets at the hands of both the Memphis Grizzlies and the Rockets.
Coach Spoelstra completely turned around his Heat team. The year began horribly for the Heat, as they went 11-30. Everybody expected more from a team that boasted a premier center in Hassan Whiteside and a solid point guard in Goran Dragic. A big reason for the dreadful start was Justice Winslow's season-ending surgery and Dion Waiters' injury that kept him out for a total of 20 games.
When Waiters returned, Spoelstra made sure his team did not give up on the year, leading the team to a 13-game winning streak. Even though they could not make the postseason, the Heat's one-eighty is one of the greatest seen in recent memory. Without Spoelstra's guidance, there's no way that the team would've had the confidence to turn it all around.
What's Next for D'Antoni?
D'Antoni is far from done after winning his second Coach of the Year award. The Rockets disappointed when they could not beat the Spurs despite them losing their best player in Leonard and veteran point in Tony Parker. A lot of the blame for the Game 5 and Game 6 losses are put on Harden, but it is also partially D'Antoni's fault. As a coach, he needs to ensure no late leads are lost and that his team is ready for every single game, especially in the playoffs.
With a lot of rumors about big name free agents coming to Houston this summer, it'll be interesting to see how D'Antoni uses them. For example, if Chris Paul gets signed, how will D'Antoni use him and Harden efficiently while keeping them both happy? If Blake Griffin gets signed, how will D'Antoni utilize his post-game without slowing down the pace too much? This season was a test in that he had to revamp a team with potential but coming off a disastrous year. Next season, he will have to juggle new pieces and figure out how to make a team that can compete with the likes of the Spurs, Cleveland Cavaliers, and Golden State Warriors.