 The Toronto Raptors were unable to re-sign P.J. Tucker, who went on to ink a deal with the Houston Rockets for four-years, $32-million. This took a big hit on the defensive culture for Toronto, which made the signings of Kyle Lowry and Serge Ibaka all the more important.
Serge Staying in the Six
Ibaka signed a three-year, $65-million deal which means the Raptors have secured him for the remainder of his prime years, so to speak. Last season, Ibaka was traded to the Raptors from Orlando while averaging 15.1 points, 6.8 rebounds, and 1.6 blocks per game on a slash line of .488/.388/.846. In 23 games with the Raptors, Ibaka's averages remained consistent as he averaged 14.2 points, 6.8 rebounds, and 1.4 blocks per game with a slash line of .459/.398/.882. He got to spend time with DeMar DeRozan, who was playing at MVP caliber, and Lowry, who is a good distributor when given the right talent. Ibaka helped defend the frontcourt along with DeMarre Carroll.
Aging Lowry Gets New Money
Meanwhile, in the backcourt, Lowry has signed a three-year, $100-million contract to remain with the Raptors following a season with career highs in scoring (22.4 points per game) and three-point shooting (41.2 percent). In the days leading up to free agency, there were several stories connecting Lowry's name to other teams in the Eastern Conference, leading us to suspect he would not rejoin the team he's had so much success with. Raptors fans need not fear, as Lowry is still here. Lowry, 31, is another defensive cog for Toronto, and he'll be integral for seasons to come.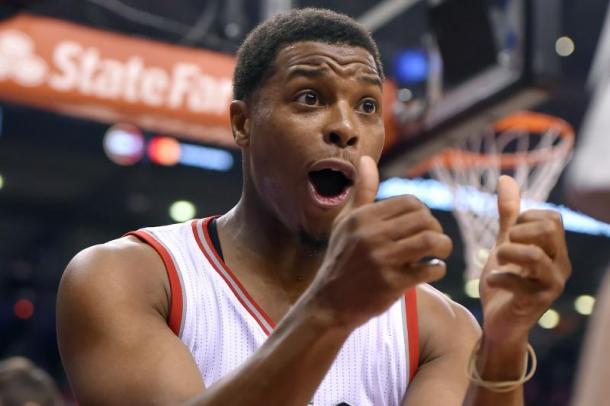 As an aging guard, there isn't much time until Lowry becomes expendable and/or depleted as a player. There's also the matter of his success in the playoffs, as he's had several years where his shooting disappears from game to game.
There is plenty of talent still left on the Raptors, though, which could mean they can at least get by for the time being.