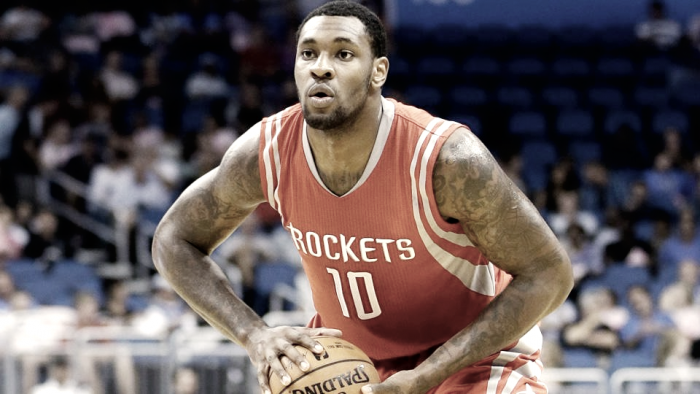 Despite disappointing news that the New York Knicks are considering keeping Carmelo Anthony, the Houston Rockets are continuing to add talent to their roster. Today, they used their biannual exception to sign Tarik Black, despite Daryl Morey originally saying they will more than likely keep it for next offseason.
Black last played for the Rockets in the 2014-2015 season, when he averaged 4.2 points and 5.1 rebounds per game. He then joined the Los Angeles Lakers, getting 12.6 points and 11.3 rebounds per game per 36 minutes. 
Free agent forward Tarik Black has reached agreement to sign with the Houston Rockets, league sources tell The Vertical.

— Shams Charania (@ShamsCharania) July 14, 2017
He now joins Clint Capela and Nene as centers on the Rockets. This might be a move to rest Nene a little more as he gets older. Nene was very efficient off the bench but got injured in the playoffs. Black wouldn't replace him as they went through a lot to keep Nene.
It does raise questions, however, since there are needs for other positions on the team. For example, Chris Paul is the only official point guard on the team. It would also make sense to add a power forward behind Ryan Anderson.
Isaiah Taylor, Troy Williams, and Zhou Qi might fill out these positions but there are questions with each one of them. Zhou has shown in the Summer League that he isn't ready at all and should stay in the G-League for a year. Taylor is playing well, but some more time in the G-League might be good for him. Williams might work, but is also a natural small forward. 
Black move out of nowhere
This move came slightly out of nowhere. Black was waived by the Lakers on July 1st, it's weird that the Rockets suddenly decided to sign him. This raises the question, are they adding depth at center so that they can add Capela to the trade for Carmelo?
Hopefully, I'm reading too much into this. Capela is an important piece to the team as he fits extremely well on both sides of the court and is young. Getting Melo isn't as bad as a lot of people have been saying, but Capela is too steep of a price. Hopefully, Morey isn't so infatuated with the idea of a Big Three that he overpays to make it happen.