The Phoenix Suns have agreed to a multiyear contract extension with General Manager Ryan McDonough. It was also announced that the Suns have added 14-year NBA veteran and former Suns forward James Jones as vice president of basketball operations.
Jones will report to McDonough and work closely with him to oversee all basketball-related operations, which include the draft, free agency, and trades.
"I would like to thank Robert and his partners for extending my agreement with this great franchise," McDonough said in a statement. "We have laid the foundation for what we hope will become the next championship caliber Suns team. There is still a lot of work to be done to reach our ultimate goal of bringing a championship to Phoenix so we are thrilled to add James Jones to our staff."
McDonough's impact
Named runner-up for NBA Executive of the Year in 2014, McDonough oversaw the league's best turnaround in the 2013-2014 season, winning 23 more games from the 2012-2013 season. McDonough joined the Suns as general manager on May 7, 2013, following ten seasons in the Boston Celtics organization, helping Boston to an NBA title in 2008.
The 2017-2018 season will mark McDonough's fifth season as the Suns general manager. In that time, McDonough has assembled some of the best up-and-coming young players for the Suns. Devin Booker, Josh Jackson, Dragan Bender, Alex Len and T.J. Warren are draft picks selected by McDonough in his first round. McDonough also orchestrated the Suns trade for Marquese Chriss.
McDonough is responsible for bringing in elite point guard Eric Bledsoe and has signed veteran leaders Tyson Chandler and Jared Dudley. McDonough has also accumulated a collection of upcoming first round draft picks.
James Jones welcomed to new position
Jones played two seasons for Phoenix, being the most successful in team history. Jones played on the 2005-2006 Suns team that won 54 games and advanced to the Western Conference Finals, as well as the 2006-2007 team that won 61 games and advanced to the Western Conference semifinals. Jones averaged 7.8 points and 2.8 rebounds with the Suns.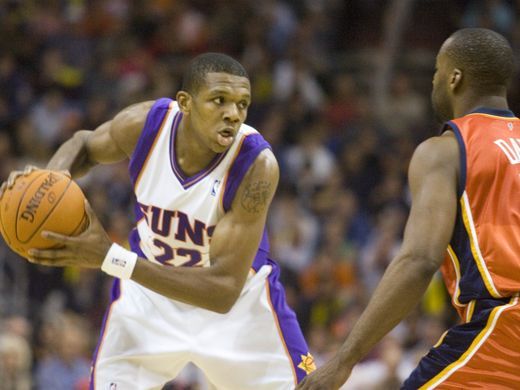 "It seemed like the perfect spot to invest my energy," said Jones, who said his experience with collective bargaining negotiations gave him a good perspective in preparation for his new position.
In each of his final seven seasons as a player, Jones reached the NBA Finals to join his teammate for all seven LeBron James and six Boston Celtics Hall of Famers from the 1950s and 1960s as the only players in NBA history to do so in at least seven consecutive seasons. Jones is a three-time NBA champion, winning rings with the Miami Heat in 2012 and 2013, and with the Cleveland Cavaliers in 2016.
In addition to his two seasons with the Suns, Jones played two seasons with the Indiana Pacers (2003-05), one season with the Portland Trail Blazers (2007-08), six seasons with the Miami Heat (2008-14) and three seasons with the Cavaliers (2014-17).