 The Boston Celtics are now 4-2 on the season after beating the Miami Heat 96-90 at American Airlines Arena on Saturday night. Kyrie Irving scored 24 points, three assists and four rebounds followed by Jason Tatum with 20 points and five rebounds in the game.
The Slovenian point guard Goran Dragic led the Heat with 22 points, three rebounds and four assists, who lost their second straight game of the season also after losing to the San Antonio Spurs three days ago. Besides him, James Johnson made 16 points, five rebounds, and two assists.
Heat led the first quarter, but Celtics turn up the game
Both teams played well in the first 24 minutes. The host side led the first quarter with 26-21. Which seemed to be a good performance by the Heat, turn with the Boston's side playing better, especially thus, Marcus Smart leading the scorers with 12 points.
He helped Boston to score more than 26 points in the second period, whilst Miami were struggling to decrease the difference. The second half finished with 47-45 for the club from Massachusetts.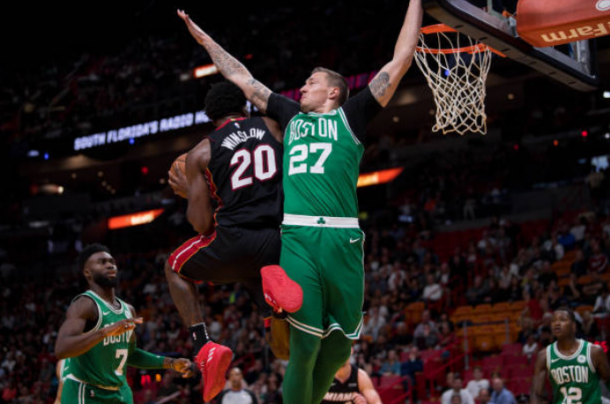 Celtics increased their advantage
From the third until the fourth period, what we have seen was Boston scoring more than 49 points. Kyrie Irving and Jason Tatum helped the team to increase their advantage over the hosts.
In the third quarter, the Boston led the period with 74-63. Especially because the Heats were having difficult to score the three-pointers ball, and plus were losing the ball and making unnecessary faults over the visitors.
Moreover, without shooting balls from the distance, they saw the Celtics leading into the final period with Tatum scoring 16 points amongst Irving who made 15 points and three steals, Smart with 14 points and Horford with nine points and nine rebounds.
In the final period, Miami changed their game, returning to do what they did in the first quarter, attack and improve their defensive rebounds as well. Miami's offense was held down by Dragic, Josh Richardson and Johnson. Former Celtics center Kelly Olynyk was effective as well, especially in the last, and the curious is that he played well against his former club with 14 points and nine rebounds.
Which seemed to demonstrate an epical turnaround, stopped after Irving appeared on the field. He made seven points in the last ten minutes, glanced off of the Heat's defense. Besides him, Tatum who was the best player until at that moment also scored more four points for the Celtics.
The last minutes were decisive to the Celtics increased their victory, and even so, Miami fought to shorten the score by five points.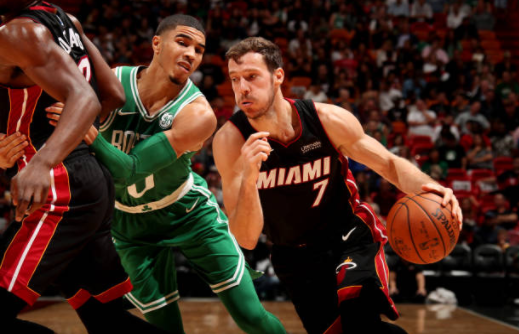 Up next
The Celtics will face the Spurs in their next game on Sunday at the TD Garden. Whilst Miami Heat hosts the Minnesota Timberwolves Sunday as well at American Airlines Arena.