 In a battle of two teams who met in the first round of last year's playoffs, the Washington Wizards once again came out on top with a 113 to 94 win over the Atlanta Hawks. The win pushes Washington's record to 7-5, which is still far from where they want to be on the young season. Meanwhile, the Hawks move to just 2-11 thus far in a year that was expected to be an uphill battle.
The game got off to a snail-like start offensively, with both teams dealing with a plethora of missed opportunities. The first quarter ended 20 to 19 in favor of Washington despite their complete lack of success from beyond the arc. As the game progressed, the superior talent of the Wizards took control and allowed them to cruise to an easy victory. For Atlanta, point guard Dennis Schroder needed to be much more effective for them to have a chance against one of the Eastern Conference's top teams.
Oubre and Morris fuel Wizards
It is almost a sure thing that the star backcourt pairing of John Wall and Bradley Beal will show up on any given night, but it is especially important that the pieces around them do the same. Kelly Oubre, the third-year player out of Kansas, provided some key scoring in his 23 minutes off the bench with 18 points. Most of this came from his ability to get to the free throw line, where he shot a solid 8 of 9.
Markieff Morris was also a catalyst in this one, finishing with 18 points of his own and four rebounds. Morris had a notable feud with the Hawks in last year's playoffs, and he seemed determined to show out against them. Former Hawk Mike Scott also had a solid game, with 10 points and five rebounds in his first appearance against the team since he was traded last season.
Of course, Wall and Beal both played their part in the win as well. Wall didn't light up the scoreboard, but he still provided a balanced line of 13 points, five assists and five rebounds. He also helped lock down opposing point guard Schroder, holding him to just 2 of 16 shooting. Beal, meanwhile, went 7 of 13 from the field for 19 points along with four assists and four rebounds.
Schroder's struggles doom the Hawks
As Dennis Schroder goes, so does the Hawks offense. Unfortunately for them, that meant a rough Saturday night in the nation's capital. His 2 of 16 night led to just seven points, although he was able to add seven rebounds and five assists as well. The young man is known to be inconsistent, but he doesn't let a few missed shots damage his confidence. On top of this, Coach Budenholzer is more than willing to let him continue shooting and work out his struggles.
Taurean Prince and Marco Belinelli were both bright spots for Atlanta, combining for 34 points on 11 of 20 shooting. Prince has continued to show flashes of why the front office views him as a crucial piece for the future of the organization, while Belinelli has been a pleasant surprise from the Dwight Howard trade after failing to find his rhythm for the Charlotte Hornets.
Center Dewayne Dedmon contributed 13 points and eight rebounds as he continues to play very well as a regular starter in Atlanta's system. Fellow big man John Collins, on the other hand, ran into foul trouble and was only able to manage one bucket in 22 minutes. The 20-year-old Wake Forest product has been sensational so far in his young career, but fouls have been his biggest issue. This is likely a facet of his game that will quickly improve as he gets more game time.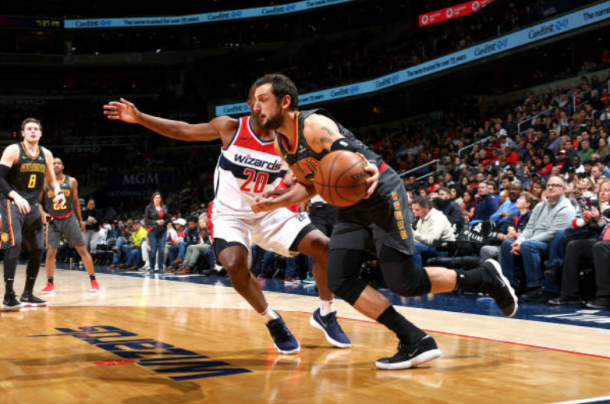 Up next
The Hawks will look for their third win of the season as they travel to face Anthony Davis, DeMarcus Cousins and the New Orleans Pelicans on Monday night. The Wizards remain at home to host the young Sacramento Kings Monday on NBATV.