 I'll keep my point short and sweet: Chris Paul has been great. There's a reason why the team has gone 7-0, beating opponents by an average of 21.6 points since his return. Yes, their opponents haven't been that good, but it's still very impressive.
CP3 has averaged 12.4 points per game on 42.7% shooting on the field and 42.5 from deep. The first two of those statistics are the lowest of his career, but don't start thinking he's been bad. Dude is also averaging 9.8 assists with only 1.8 turnovers per game. The former is the best in the league, the latter is less than the likes of Miles Plumlee, who plays more than 15 less minutes per game. Paul also leads the league in assist/turnover ratio at 5.57.
Want more stats? The Houston Rockets have scored the most points and allowed the least since Paul's return. They are also hitting 50% from deep off Paul 's passes; Ryan Anderson has knocked down 77.3% of those. The Rockets are also plus 43.9 with Paul on and James Harden off, showing how much a hall of fame point guard feasting on bench players can devastate. Also, he's done this.
Finally, it feels like Paul has made the team more cut-throat and consistent. Blown leads and early deficits were a common recurrence in Houston. But now, it seems like it may be a thing of the past. The Rockets have scored less than their opponents in only nine of the twenty-eight quarters that they have played in since Paul's return. Out of those nine, only one was at a time where the Rockets did not have a substantial lead. Excluding that one time, the most they were outscored was by six.
This just comes to show that Paul has brought a ferocity to this team, an attitude that wasn't really prevalent with Harden the sole leader. Some may complain that CP3 is too hard-headed, but he has definitely brought a competitive edge that the team will need to compete for the championship.
The Harden Paul Pairing
Coming into the season, a lot of people were skeptical about the combination of two ball heavy point guards. The fact that Paul was accustomed to a slow, half-court offense didn't help since Mike D'Antoni and the Rockets utilize the fast break so much.
The truth of the matter is that Paul is fitting great, but that doesn't mean those concerns were without basis. As mentioned before, his plus/minus stat without Harden is crazy high. Harden's with Paul sitting? 32.7. And both of them together? A solid, but significantly lower 10.7.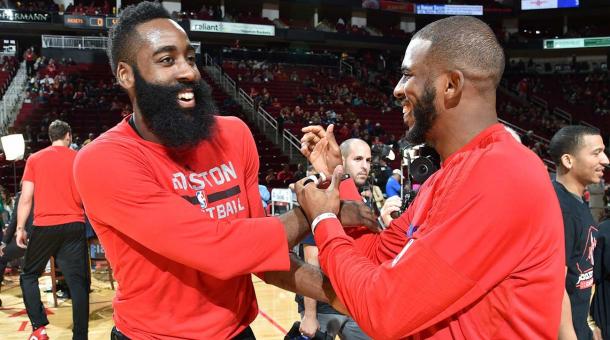 This shows that Paul has contributed mostly as the main cog in the secondary unit. He has played well with Harden on the court, but the two stars need to play together more to get used to each other's play styles.
This will come with time, but there is probably a ceiling as to how well they can compliment one another. Who knows where it's at? Still, the pair have definitely passed the eye test, as they seem to be utilizing their strengths to deliver a more efficient and effective offense. Paul's shouting and micromanaging have gone to a minimum while Harden is playing with a purpose. Their play styles may clash a little, but their chemistry has only soared.
How does the future look?
It's hard to tell since the Rockets have only played subpar opponents. The month of December will prove many exciting contests, such as games against the San Antonio Spurs and the Boston Celtics. Eight of their games the rest of this month are against teams that would make the playoffs if they started today. They also play the Golden State Warriors on January 4.
Therefore, the next month will be key in showing whether the CP3 experiment has actually worked or not. He came back from injury at the right time, as he has had a few easy games to ease himself in. My prediction is that they will still win most of their games this month, but won't have nearly as many blowouts and will probably lose both their Boston and Golden State game. Guess we'll have to wait and see though if Paul will continue thriving.