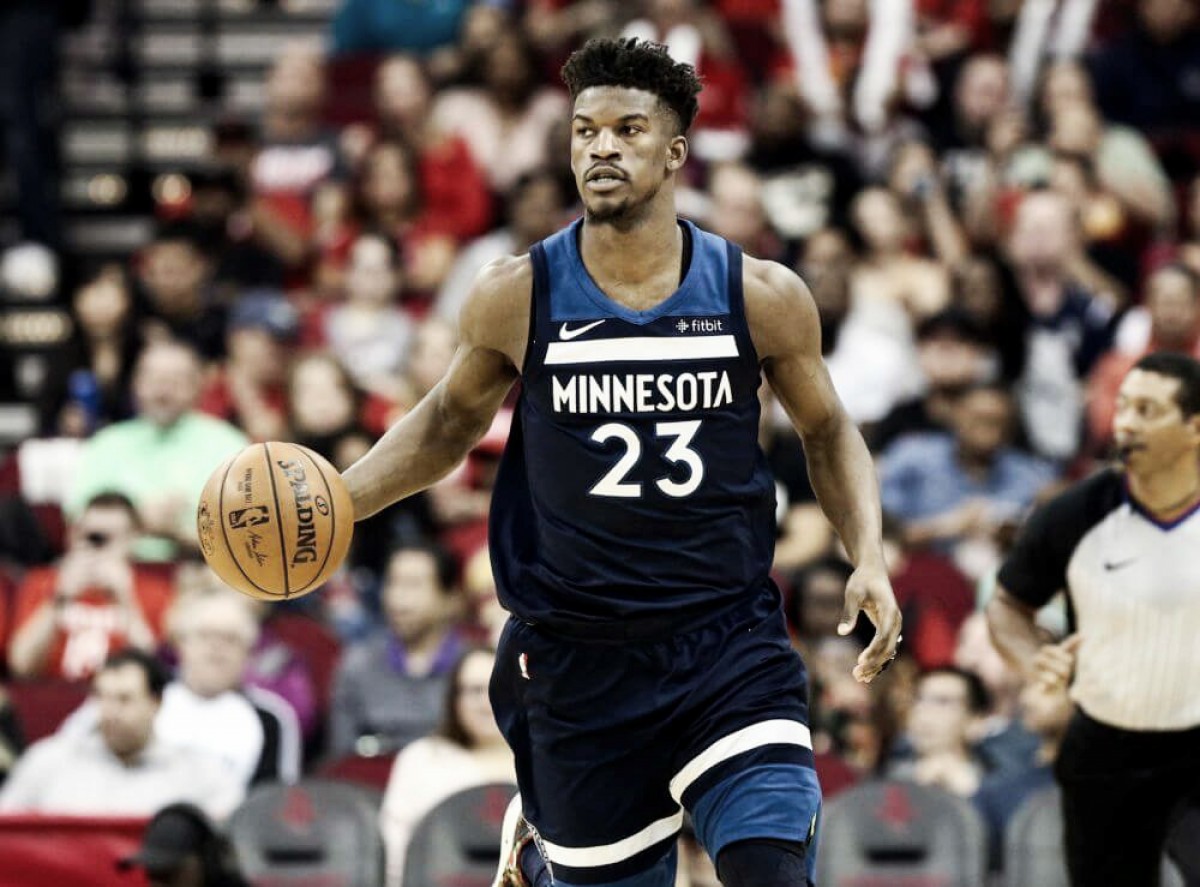 Amidst reports and rumors of dissatisfaction and frustration, Jimmy Butler has rejected a long-term contract with the Minnesota Timberwolves.
Per Darren Wolfson of 5 Eyewitness News, Timberwolves owner Glen Taylor said Butler turned down a four-year extension in the $110-million range.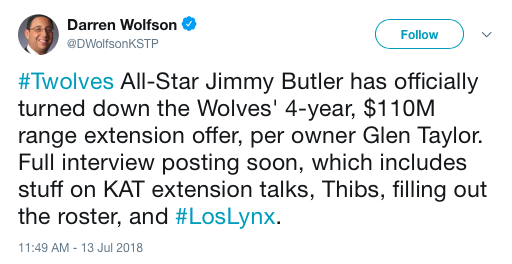 Wolfson also noted that Butler and his camp appreciated the offer, but insisted on putting a hold on contract talks until next summer.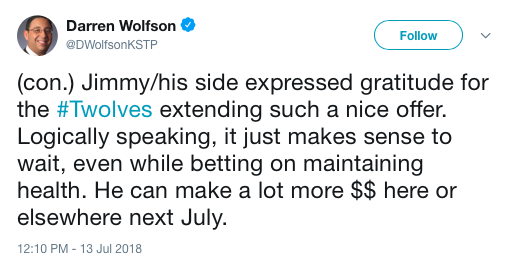 The news comes just weeks after Joe Cowley of the Chicago Sun-Times reported Butler has no intentions of signing an extension with the organization because he "has been frustrated with the nonchalant attitudes of younger teammates—specifically Karl-Anthony Towns."
Butler is under contract for $18.7 million next season and holds a $19.8 million player option for the 2019-20 season.
The 28-year-old Butler was traded to Minnesota prior to the start of the 2017-18 season after spending the first six seasons of his career with the Chicago Bulls. Helping the Timberwolves reach the playoffs for the first time since 2003, Butler averaged 22.2 points, 5.3 rebounds, 4.9 assists and 2.0 steals per game.
What possibly awaits Butler next summer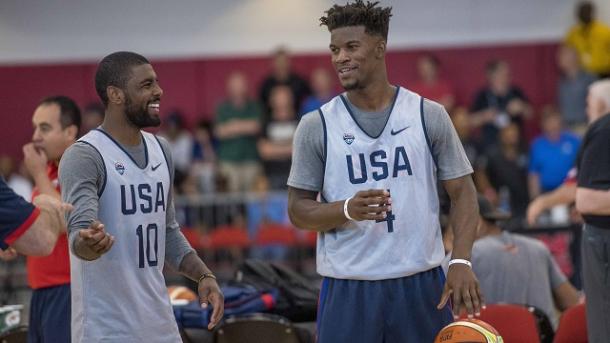 Joe Cowley also mentioned in his report that Butler has been in talks with Kyrie Irving to team up together next summer when both of them could be free agents.
To add fuel to the fire, Butler liked an Instagram comment that suggested he and Boston Celtics point guard team up together in New York next summer:
Meanwhile, Irving made it known that it wouldn't make sense for him to sign a long-term deal with the Celtics this summer. The New York Knicks were on Irving's list of preferred destinations when he requested a trade from the Cleveland Cavaliers last offseason because they are "close to home" for the New Jersey product.
A lineup that includes Irving, Butler, Kevin Knox, Kristaps Porzingis and Enes Kanter would make the Knicks an immediate contender in the Eastern Conference, that is if they can keep Kanter.
Kanter exercised his his $18.6 million player option for the 2018-19 season on June 29th. If the Knicks can't retain Kanter, they will have to either play Porzingis at center or rely young center Mitchell Robinson.
Only time will tell.