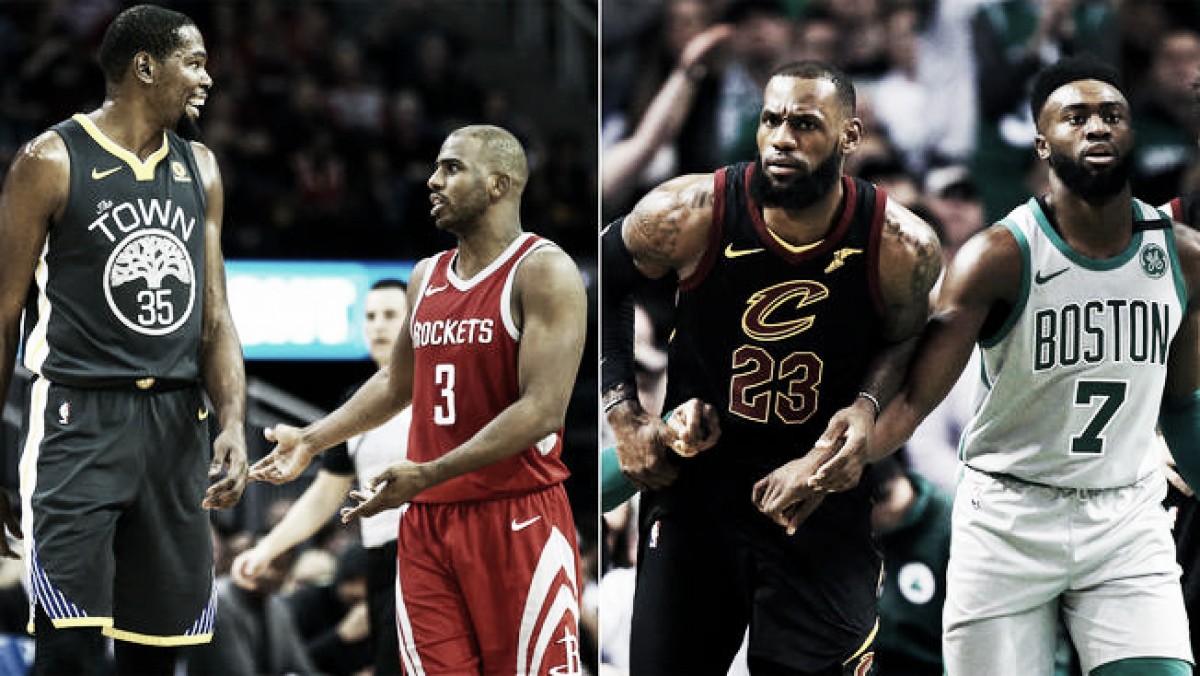 The first game of the final four teams remaining in the 2018 NBA Playoffs takes place today with the Cleveland Cavaliers going up against the Boston Celtics and the Golden State Warriors clashing with the Houston Rockets on Monday night.
Each team breezed to get to the conference finals, as neither took more than five games to advance. The Rockets won in five games against the Utah Jazz, the Warriors also won in five games against the New Orleans Pelicans, and the Boston Celtics took care of the Philadelphia 76ers in five games as well. The Cavaliers were the only team that swept to get to the conference finals as they defeated the Toronto Raptors.
Now, with the stage being set, Sully Akbari and Christopher Jeter are back again to give their predictions on the conference finals. But first, let's take a look at who they chose to win in their second-round picks.

In these playoffs, Sully's record for predicting the correct series winner stands at 8-4 and Chris's record stands at an impressive 10-2.
Moving onto Sully's and Chris's conference finals predictions.
Eastern Conference Finals predictions
No. 2 Boston Celtics vs. No. 4 Cleveland Cavaliers
Sully – Cavaliers win series 4-2
This will be a rematch of last year's Eastern Conference Finals that features almost entirely new teams. Only a total of nine players remain from their respective teams in last year's East finals. Today, the Celtics and Cavaliers have adjusted well to their new teams and injury woes and will once again go head-to-head.
For the Celtics, it all starts with their young pieces in Terry Rozier III, Jayson Tatum, Jaylen Brown, and Marcus Smart. They have played well and have been leading the team. Their veterans in Al Horford, Aron Baynes, and Marcus Morris have also complemented the young talent, giving Boston a well-rounded team as the team ranks seventh this postseason in both offense and defense rating.
But, what stands in the way of all of that is the Cleveland Cavaliers and LeBron James. Despite their flaws on the defensive end of the floor, sweeping the one-seeded Raptors was something no one expected (except Skip Bayless). It seems the Cavaliers have figured it out and are ready to face the task at hand. Behind James and Kevin Love, the Cavaliers' offense will outweigh the Celtics' defense and because of that, they will advance to the NBA Finals. As good as Boston has been this entire year, I think this series is where they will be outmatched.
Chris – Cavaliers win series 4-2
After exposing the Philadelphia 76ers' flaws in the conference semis, the Celtics now must face LeBron James and the Cavaliers, who are also fresh off of exposing the Toronto Raptors for the frauds that they are...again.
Boston's young players have exceeded expectations in these playoffs and they could give Cleveland's awful defense some problems. But the Cavaliers have the ultimate trump card in LeBron James. If the role players continue to step up and Kevin Love continues to play like the All-Star that he is, the Cavaliers will head to the NBA Finals again.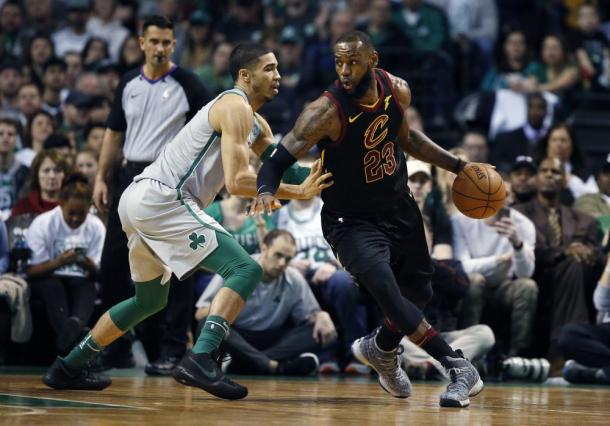 ---
Western Conference Finals predictions
No. 1 Houston Rockets vs. No. 2 Golden State Warriors
Sully – Rockets win series 4-3
From an offensive standpoint, this series should be nothing short of amazing. Both teams have cruised to get to the Western Conference Finals but only one will advance. The crazy thing is that this series could go either way as both teams have similar styles of play. However, the ongoing narrative is that the 'Rockets don't play defense,' which seems to be inaccurate. During these playoffs, Houston's 102.1 defensive rating is only second to Golden State. To add, as good as the Warriors offense is, the Rockets can be just as good defensively and be able to withstand the Golden State's runs. With solid defensive players in Trevor Ariza, Clint Capela, P.J. Tucker, and Luc Mbah a Moute, the Rockets should be fine in guarding Stephen Curry, Klay Thompson, and Kevin Durant.
As good as the duo of James Harden and Chris Paul has been, their play may dip just a bit. Draymond Green and Andre Iguodala will make it difficult for Harden and Paul to get to their spots, meaning the rest of the Rockets will have to show up and contribute more than they did in the past two series.
For the Warriors, it will come down to how good their offense can be. It must be better than Houston's because their offense is more efficient than the Warriors as they score from all areas of the floor. However, their offensive capabilities are limited after guys like Curry, Durant, Green and Thompson and this where I see Houston getting the edge. If Harden and Paul have an off night, Capela can take advantage of the Warriors' thin interior defense. And if that doesn't isn't going well, Eric Gordon, Ariza, Tucker, Mbah a Moute, Gerald Green, and Ryan Anderson, who hasn't played much, can all spread the floor to hit shots from deep or make plays for others. With homecourt advantage, I can see the Rockets finally making it past the Warriors.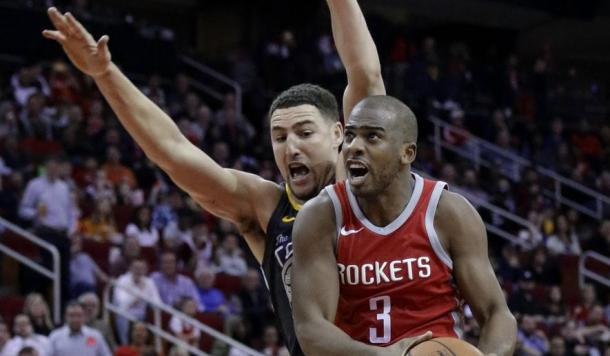 Chris – Warriors win series 4-3
This highly anticipated matchup between the two best teams in the league is finally set. This isn't just a clash between two of the NBA's best offenses; it's also a clash of philosophies. Both teams attack the paint, get to the free-throw line, and chuck up threes, but they use different means to reach their end goals. On one side, you have the Warriors' Borg-like mindlink, as they use off-ball screens, cuts, and well-timed passes to get the optimal shot. Houston, on the other hand, relies heavily on superstar guards James Harden and Chris Paul to break down defenders and either finish at the basket (or, in Paul's case, take a mid-range jumper) or kick it out to an open shooter.
Both teams also defend at a high level; Houston, despite the constant jokes about coach Mike D'Antoni's aversion to defense, ranked sixth in defensive rating during the regular season. The Warriors surprisingly ranked 11th in the same category, but that was mainly due to injuries and disinterest in the regular season. When they're locked in, they can clamp down any team.
Houston was built to beat this Warriors team on both sides of the ball, but I think they will fall a little short. The Warriors have lanky, switchable defenders that are athletic enough to slow down Harden and Paul, and I think that will be the difference.
---
Gear up, NBA fans! Both conference finals series should be exciting. Game 1 between the Celtics and Cavaliers will tip-off today at 3:30 p.m. ET, and Game 1 between the Warriors and Rockets will be on Monday at 9 p.m. ET.