The Cleveland Cavaliers have agreed to a four-year, $120 million extension with power forward/center Kevin Love.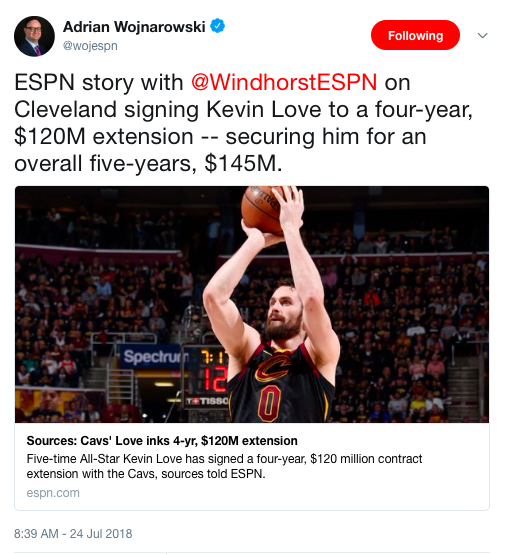 Earlier Tuesday morning, the deal was announced with the Love signing on the dotted line in front of the Cavaliers fan base at Quicken Loans Arena in downtown Cleveland.
Adrian Wojnarowski and Brian Windhorst of ESPN reported the news.
Love is set to make $24.1 million in the 2018-19 season before his extension kicks in. Love chose to opt out of his $25.5 million salary for the 2019-20 season to sign his new deal, per ESPN's report, which will pay him an average of $30 million per season.
the deal does not include a no-trade clause or player option. It also comes in at less than a potential max extension Love could have signed. Per Windhorst, Love took about $8 million less than his full max.
"When I first came to Cleveland, I came with a long-term mindset," said Love. "I came here to win. We developed a culture here that reflects that. I'm super excited and I couldn't be happier. It's a big commitment for me and it's a big commitment from the Cavaliers." Love told NBA.com.
A part of a rebuilding process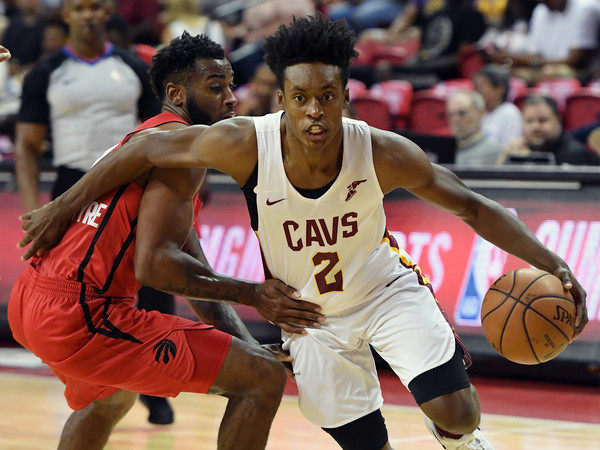 Love was an NBA All-Star this past season, appearing in 59 games (all starts) for Cleveland and averaging 17.6 points and a team-high 9.3 rebounds in 28.0 minutes per game. He also shot .415 from beyond the arc and a career-high .880 from the foul line.
The 29-year-old recorded 31 double-doubles and scored 20 points or more on 26 occasions, including a season-high 38 points in just 25 minutes versus Miami on Nov. 28. He posted 17 outings of at least 20 points and 10 rebounds.
Though he never really became the Robin to LeBron James' Batman, Love will have another chance with rookie point guard Collin Sexton.
Though they might not reach they had with James, locking up Love for the foreseeable future is the first step for Cleveland to rise back up towards the top of the NBA East.