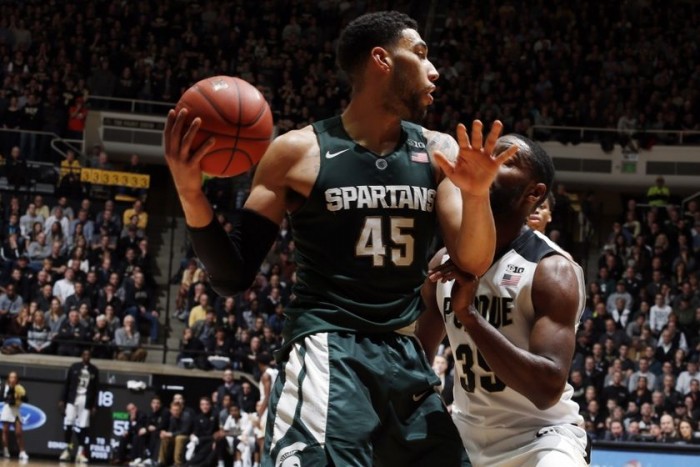 Thank you for following along on VAVEL NCAABB LIVE of the Big Ten Championship Game. Until Next time, I am Matthew Wadleigh!
Michigan State will find out their seeding and if they are a 1 seed in about a half hour. Purdue fought hard but couldn't do enough versus the mighty Spartans!
FINAL BUZZER: Spartans take the Big Ten Title. 66-62 is the final. WHAT A GAME!
2nd half (8.6 seconds) Forbes is fouled and goes to the line. FORBES KNOCKS DOWN BOTH. 66-62 LEAD FOR THE SPARTANS.
2nd Half (20.2 seconds) Personal foul committed by Davis. Costello will go to the line up 2 with the 1-and-1. COSTELLO MISSES. PURDUE GETS THE REBOUND. HILL DRIVES AND IS BLOCKED BY COSTELLO!!!!
2nd Half (26 Seconds) Foul on Rapheal Davis. Sixth team foul.
2nd Half (43 seconds) Caleb Swanigan misses a three with plenty of time left on the shot clock and down by 2! Michigan State gets the rebounds and calls a timeout.
2nd Half (1:26) Edwards misses the first but makes the second. 64-62 lead fro Michigan State
2nd Half (1:45) DENZEL VALENTINE WITH THE DRIVE AND THE STEP BACK JUMPER. SPARTANS UP 64-61.
2nd Half (2:50) DAVIS KNOCKS DOWN THE FIRST BUT MISSES THE SECOND. 62-61 SPARTANS LEAD.
2nd Half (3:10) Timeout on the floor taken by Purdue.
2nd Half (3:39) Davis with the assist to Hammons who throws it down! Hammons makes the free throw to complete the 3-point play!!! Purdue down 2!!! 62-60
2nd Half (3:45) Timeout on the floor.
2nd Half (4:24) Johnny Hill with a pair of free throws. 62-57 lead for the Spartans.
2nd Half (5:07) Colby Wollenman with a dunk for Michigan State! Lead up to 7! 62-55 for the Sparty!
2nd Half (5:55) After a pair of free throws, Harris knocks down a three on the other side! Wollenman with the assist. 60-55 lead for Spartans.
2nd Half (6:13) Foul committed by Clark and he and he fouls out of the game.
2nd Half (6:45) Edwards with a pair of free throws and a Spartans layup by Costello off the Valentine assist on the other end! Lead back to 4 for Michigan State. Valentine now has nine assists in the game!
2nd Half (6:47) Official TV timeout, as Forbes three-pointer shifts momentum back to Michigan State! This is getting very interesting.
2nd Half (7:20) Bryn Forbes with a huge three for Michigan State! Spartans lead back to 4. 55-51.
2nd Half (8:04) Purdue is on a 16-6 run. Mathias with the assist and Hammons with the dunk to pull within a point!!!!!
This crowd is getting LOUD!!!! Purdue is crawling back into the game and we have ourselves a ballgame folks!
2nd Half (8:25) Johnny Hill with a three for Purdue and then Hill with a layup on the next possession!!!!! Purdue is now down just 3! 52-49 Michigan State lead with a few ticks above the 8 minute mark!
2nd Half (10:10) Deyonta Davis with the answer and the layup. Lead back to 6. 50-44 for Michigan State.
2nd Half (10:41) Dakota Mathias with a three for Purdue! Lead down to 4 now.
2nd Half (11:58) Valentine with another dime after almost losing the ball and lobs it up to Davis for the dunk!!!!!!! 48-41 Michigan State
2nd Half (12:27) Valentine with the steal on defense and pushes it up the floor and is fouled. Spartans ball out of bounds.
2nd Half (13:11) Edwards with another jumper for Purdue. 8 unanswered. 46-41!
2nd Half (13:47) Swanigan with another bucket and Purdue makes it 6 straight points. 46-39 lead for Michiga State.
2nd Half (14:20) Vince Edwards with a jumpber off the glass for Purdue. 46-37. Back to 9 for Sparty.
2nd Half (15:05) Caleb Swanigan makes two free throws to cut into that lead. 46-35 MSU.
2nd Half (15:23) Marvin Clark comes into the game and knocks down the three off the Valentine assists. Spartans take their largest lead of the night. 46-33
2nd Half (15:44) Haas losses the ball and its out of bounds on Purdue. Ball will be possessed by Michigan State after the timeout. 43-33 Spartans.
2nd Half (16:38) Valentine again with a bucket for Tom Izzo's bunch. This time a three! Spartans lead up to 10. 43-33.
It sure does seem like the crowd is heavily in Purdue's favor!!!
2nd Half (17:14) caleb Swanigan with a jumper. 40-33 Sparty lead.
2nd Half (17:50) Bryns Forbes banks in a jumper. Lead back up to 9. 40-31 Spartans
2nd Half (18:35) P.J. Thompson makes the first three of the game for Purdue! Spartans lead down to 7.
Get ready for 20 more minutes of Big Ten action. A victory for Michigan State will all but cement their number 1 seed, and with Purdue down by 10 they desperately need a big run to get back in this game.
Halftime Analysis: Denzel Valentine is having a good game (of course). The senior leads all scoeres 20 minutes into the title game with 10 points on 4-7 shooting to go with four assists and three boards. The Spartans have outrebounded Purdue 24-16 in the first half. Michigan State has also shot 41 percent from the field to Purdue's 33 percent mark from the field. The Boilermakers have yet to hit a three-pointer, as they are 0-7 from beyond the arc in the first half.
Halftime Analysis: The Spartans pace is absolutely killing the Boilermakers. Purdue needs to make some stops on defense and set their half-court offense. This transition and fast-break game isn't the style of Purdue. Hammons is playing well for Purdue but looks exhausted, as the center has 6 points and 6 boards on just 2-7 shooting. Vince Edwards leads Purdue in scoring with 8 points on a 3-8 clip. The Spartans have used seven players off the bench already, and the bench players have combined for 16 points in the first half. That is huge.
Purdue was up 17-16 at the ten minute mark, but the Spartans have found their form to take a ten-point lead into the break.
Tom Izzo said "they look gassed". The Spartans tempo is cauing a lot of problems for Purdue, especially for the big men of the Boilermakers.
1st Half (0:00) Javon Bess misses a layup but Michigan State goes into the half up 10.
1st Half (0:11) Tom Izzo calls a timeout. It appears Michigan State will take the last shot of the half.
1st Half (0:22) Hammons to the line for Purdue. The big man makes both. 36-26 Sparty.
1st Half (0:42) Valentine with another basket, this a driving layup. Valentine has 10 points and Michigan State lead is back to 12.
1st Half (1:04) Vince Edwards with a pair of free throws. 34-24 Spartan lead
1st Half (1:44) Ellis III with the rebound on defense and pushes up court. Makes the layup. Michigan State up 34-22
1st Half (2:19) Valentine with the dish to Ellis III who hits the 3! Spartans take their first double digit lead. Now up 32-22
1st Half (2:44) Costello with another layup. 29-22 Spartans
1st Half (3:26) Costello with the layup. 27-22
1st Half (3:38) Davis makes the free throw after the timeout. 25-22 Spartans.
1st Half (3:38) Rapheal Davis with a jumper. That is Purdue's first basket in the last four minutes! Michigan State up 25-21.
1st Half (4:11) Denzel Valentine with a 3! Spartans extend their lead to 25-19. Spartans have scored nine in a row.
1st Half (5:19) Colby Wollenman makes a layup on the assists from Alvin Ellis III. Spartans lead now up to 3. 22-19
1st Half (5:56) Nairn Jr, with the assist to Schilling for a bucket. 20-19 Sartans lead.
1st half (7:13) Harris knocks down a pair of free throws. 19-18 Purdue lead.
1st Half (7:53) Isaac Haas comes off the bench and knocks down a hook shot in the paint. Purdue 19-16
1st Half (8:33) Purdue holds a 1-point lead. 17-16 with 8 and a half remaining.
1st Half (10:09) Hammons with the basket and draws the foul. A.J. goes to the line and misses the free throw. 15-14 Purdue.
1st Half (10:33) Valentine with a drive and a basket. 14-13 Spartans lead.
1st Half (10:54) Both teams combine to shoot just 10-28 from the field thus far.
1st Half (10:54) Matt McQuaid hit a three for the Spartans, but Caleb Swanigan hit a layup to put the Boilermakers ahead by a point. 13-12 is where we stand.
1st Half (10:54) Buckets on both ends and Purdue is in the lead, 13-12.
1st Half (14:29) Schilling makes both. 7-7 tie.
1st Half (14:29) Schilling is fouled and will go to the line after the timeout.
1st Half (15:25) Harris with a jumper for the Spartans. 7-5 Purdue
1st Half (16:25) Vince Edwards with back-to-back buckets. Purdue up 7-3.
Hammons with a bucket to tie it at 3.
Denzel Valentine for 3 from the top of the key!
Swanigan hits 1 but misses the other.
This crowd is crazy at Bankers Life Fieldhouse.
Swanigan gets fouled inside. He will go to the line. Foul on Davis.
Just tipped on CBS!
It is almost time for tip off!
This will be a great battle between two teams with legitimate shots to go a long way in the NCAA Tournament. Come back this afternoon to stay tuned and up-to-date with the latest in the 2016 Big Ten Championship game on this LIVE event!
The x-factors for each team are quite obvious. For Purdue, it's A.J. Hammons on both ends of the floor. Hammons dominated against the Wolverines in the semifinal game on Saturday, finishing with 27 points and 11 boards to go with three blocks on 11-17 from the field in a 17-point victory for Purdue. For Michigan State, it's National Player of the Year candidate Denzel Valentine. Valentine flirted with a triple-double on Saturday against Maryland, as the senior guard finished with 18 points, seven boards and 10 assists while shooting just 4-12 from the field, leading the Spartans over Maryland by three.
Joe Lunardi, ESPN's bracketology expert, has Michigan State as a 1 seed and Purdue as a 4 seed after Saturday's games were completed. A Michigan State loss might move them to a 2-seed with Oregon and Villanova breathing down the Spartans necks. While both of these teams are comfortably in, a win for the Spartans cements their 1-seed status, whereas a Boilermakers victory would likely move them up to a 3-seed.
Purdue is 11th in the entire nation in rebounds per game, averaging 41.3 a game. Purdue averages 17.8 dimes per game, which is good for fifth in the country, and their defense is one of the toughest in the country as they average 64.7 points per game, good for 27th in all of college basketball.
Purdue is a team full of talent, and the Boilermakers have four players who average double figures on the year. Senior center A.J. Hammons leads the team in scoring averaging 14.7 points per game. Hammons also average more than seven boards a game, but Caleb Swanigan is the team's leading rebounder at 8.4 boards a game.
For Purdue, their season has been almost as impressive as the Spartans, Purdue has rolled by Illinois and Michigan in consecutive days, much to the appreciation of Spartans fans who wanted to avoid Michigan and top-seed Indiana. While Purdue might not have any signature non-conference wins, their lone loss in the early part of the year was to Butler, who was ranked 17 at the time. The Boilermakers did beat Florida and Pitt in their non-conference slate. Purdue lost six games in Big Ten play, with their worst loss coming to the hands of Illinois, on the road by a score of 84-70.
Michigan State has rode the hot hand of Denzel Valentine all season long, despite being out for a weeks earlier in the year with an injury. Valentine has been almost unstoppable, as the senior guard, whose hometown is Lansing, has averaged 19.6 points, 7.5 rebounds and 7.5 assists per game in the 2015-2016 campaign thus far. Valentine had two triple-doubles within the first six games of the year, but was on the bench for four games and missed the first three conference games due to injury. Bryn Forbes and Matt Costello are the other Spartans who average double-figures on the year, and Costello leads the team in rebounding with a little more than eight boards per game. The Spartans always play team basketball, and Tom Izzo always stresses the importance of playing as a team. This year is no different.
Michigan State beat Ohio State and Maryland in consecutive days in order to earn the right to play in the championship game. Purdue's road to the final has been somewhat easier, as they beat 12-seed Illinois and then 8-seed Michigan in the past two days. Purdue avoided both Iowa and Indiana, who was the 1-seed, thanks in part to Illinois beating the Hawkeyes and Michigan upsetting Indiana on a buzzer-beating three.
Tom Izzo's team have had an impressive season and were the top-ranked team in the country for a weeks before starting Big Ten play. The Spartans lost to Iowa by 13 to start Big Ten play, and lost three straight conference games to Iowa, Wisconsin, and Nebraska just a few weeks later. The Spartans other loss on the season were to this Purdue team by a final of 82-81 in Overtime on February 9 at Purdue.
Michigan State enters this game as a potential number 1 seed in the NCAA Tournament after finishing with a 28-5 record on the season, with all five losses coming in conference play. The Spartans have non-conference wins against Kansas and Louisville, two teams that finished in the Top 25. Louisville isn't eligible for postseason play after a self-imposed ban, but the Kansas Jayhawks are ranked first in the whole nation and figure to be the number 1 overall seed when the brackets are released shortly after the conclusion of this game on Sunday evening.
Hello ladies and gentlemen and welcome to VAVEL USA's LIVE coverage of the Big Ten Championship Game! While this isn't exactly the title game we all expected, both of these teams have earned the right to be here. #2 Michigan State Spartans is battling the #13 Purdue Boilermakers this afternoon at 3:00 P.M.. EST at Bankers Life Fieldhouse in Indianapolis. My name is Matthew Wadleigh and I will be your companion taking you through of all the action in this Big Ten clash between two heavyweights.