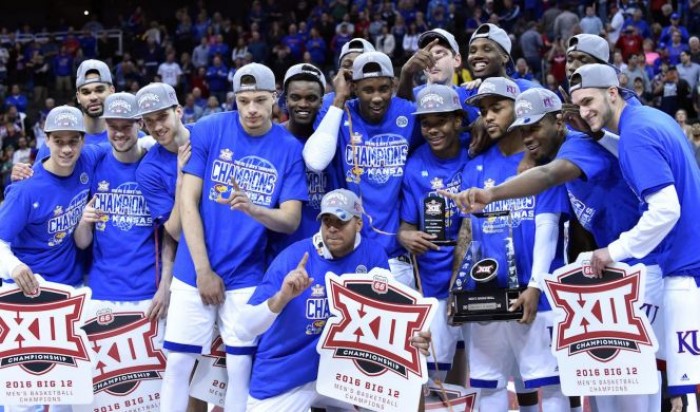 The Kansas Jayhawks own one of the most successful and winningest programs in NCAA history. Kansas basketball has always been built around success and 2016 was no different for the Jayhawks. Bill Self's team found themselves winning their twelfth straight Big 12 regular season title. The Jayhawks then went on to the Big 12 Tournament and beat West Virginia in the final to capture both the regular season and tournament titles. But one would think with the success the Jayhawks have enjoyed would translate into success in the NCAA Tournament in March. But that has not been the case in recent years .
There's been a lot of disappointment when it comes to the team's performance in March. The Jayhawks have been bounced early for a few years now and they are looking to change that trend headed into this year's tournament. Whether it was an injury to Joel Embiid or a ruling of ineligibility for the tournament by the NCAA for Cliff Alexander, the Jayhawks have one thing working in their favor this year. The Jayhawks enter this tournament as the nation's number one overall seed and they are doing so at full strength. That's something Self and company have not been able to say for a few years now and that's why this year could be different.
Team Play
One testament to why Kansas emerges as a favorite in this field is the fact that they have been playing like a team. There are just two teams in the nation that boast numbers in the top 10 in terms of offensive and defensive efficiency. The Jayhawks are one of those teams to accomplish that feat this season. If there's anything that Kansas does well, it's that they play as a team and that will come in handy in this tournament.
Three Point Shooting
Traditionally, Bill Self has not been a fan of shooting the three ball. However, the Jayhawks have done that this season and utilized it much more in their offense than past Kansas teams. How good are the Jayhawks from beyond the arc? They rank third in all of the country in 3-point field goal percentage. One huge contributor to that number is Brannen Greene. Greene has been in and out of Bill Self's dog house but when he is let out, he shoots the ball from downtown very well.
Emerging Stars
Kansas has also found success from some unlikely players and that is another reason they won both the conference and regular season Big 12 titles. Devonte Graham has been a steady 10 to 12 point scorer for the Jayhawks. However, he had some games this year where he elevated his play and seemed to thrive off of the big game environment. Graham put up 27 points two separate times in 2016.
The first time came in a game on the road against Buddy Hield and the Oklahoma Sooners. The most recent 27-point game was in the Big 12 title game against the Mountaineers. Graham has really found his game this season, almost doubling his point per game total from a year ago. Last year Graham averaged 5.7 points, but this season he found himself averaging 11.7 per game.
Graham isn't the only player on the rise, but he is one worthy of the attention. The Jayhawks have a great chance and when Graham elevates his game to the peak that he can, it makes them even harder to beat.
The team is currently 30-4 on the year and the only bad loss on the resume is a loss to Oklahoma State in Stillwater. The other three losses came to teams that are amongst the higher seeds in the NCAA Tournament. Kansas is battled tested and though the Big 12 Conference has not lived up to its reputation lately, at least in the tournament, Kansas is a team that has the championship look to them. They have been to the tournament before and they have beaten good teams this year. They had some cupcakes on their schedule but every team plays them.
What Kansas has is an experienced team headed to into the NCAA Tournament and they are healthy. Combine that with how hot they have been down the stretch and they have a recipe for winning a title and cutting down the nets in Houston. The last time Kansas lost was on January 25th against Iowa State on the road. That is a winning streak of 14 games.
Being objective, Kansas could be ousted by a team like possibly Cal or even Maryland. Anything can happen in this tournament and that has proved true year in and year out. But this Kansas team is hot and they have been in big moments time and time again. Combine that with a future Hall of Fame coach and their chances to win make it clear why they are a favorite.