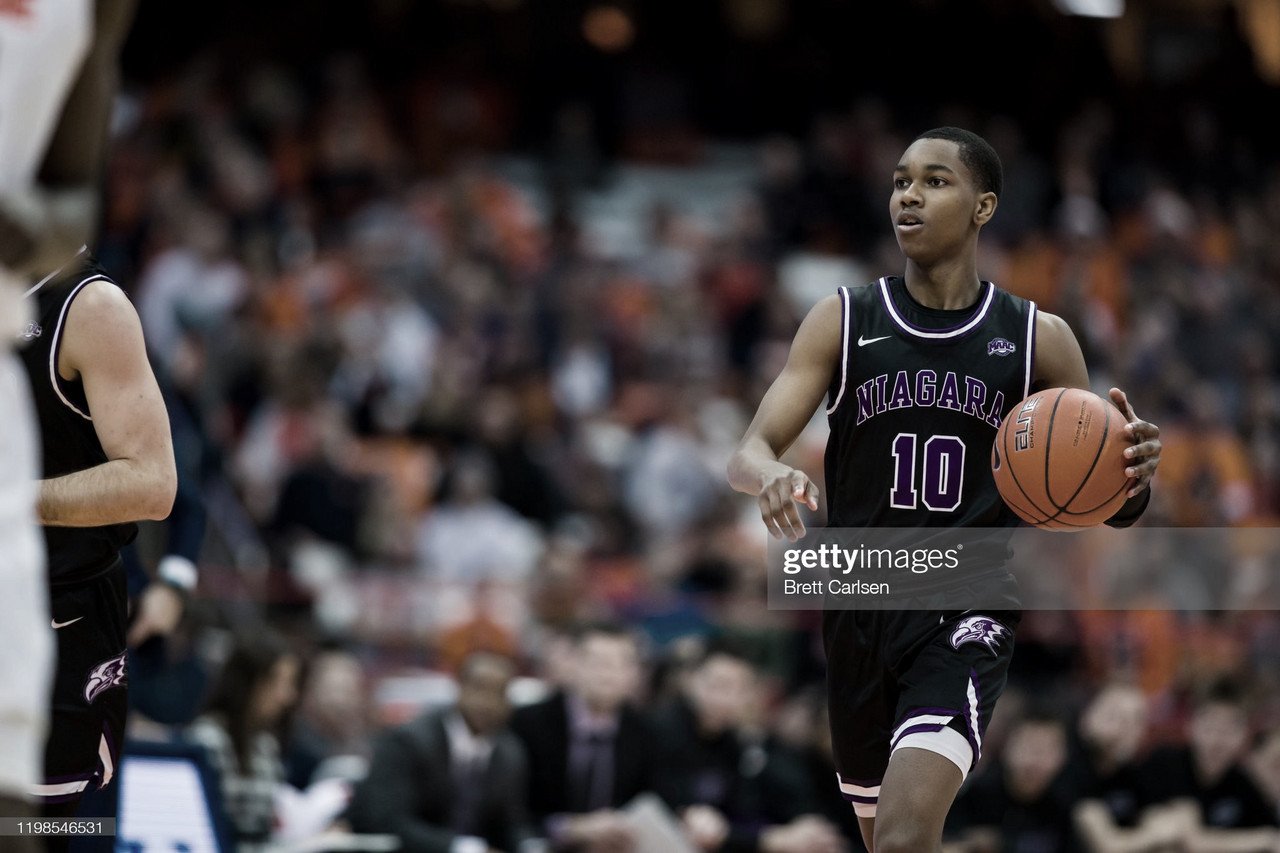 There are many expectations for the Niagara Purple Eagles ahead of the 2021 / 22 season. The team is now led by eight senior players which could set them apart once March Madness arrives.
One of those Seniors is Marcus Hammond, who was recently selected to the Preseason All-MAAC First Team.
𝐇𝐞𝐫𝐞 𝐢𝐬 𝐲𝐨𝐮𝐫 𝐌𝐞𝐧'𝐬 #𝐌𝐀𝐀𝐂𝐇𝐨𝐨𝐩𝐬 𝐀𝐥𝐥-𝐌𝐀𝐀𝐂 𝐅𝐢𝐫𝐬𝐭 𝐓𝐞𝐚𝐦@IonaMBB ➡️ @thisisnelly23 @MonmouthBBall ➡️ @gpapas35 @NiagaraMBB ➡️ @iam_marcuss @RiderMBB ➡️ @lildwight_23 @PeacocksMBB ➡️ @kcndefo_ #maAChoops22 pic.twitter.com/bDM7rCEqBV

— #MAACHoops (@MAACHoops) October 19, 2021
Numbers
Last season, the guard averaged 12.7 points and 5.8 rebounds per game, leading the Purple Eagles in rebounding and second in scoring.
This season Hammond is ready to take a leap in his game. Although Niagara was picked 10th in the MAAC preseason coaches' poll, the former All-MAAC Second Team honoree is ready to silence the critics and make a deep run in the tournament.
The Queens native has worked his way up to being a leader for this Niagara team. Hammond went from starting in just four games during his freshman year to starting in 52 games over the last two seasons and becoming a three-time MAAC Player of the Week.
Coach
The Niagara Purple Eagles are coached by College Basketball legend, Greg Paulus. In his first campaign in charge of the Purple Eagles, he was honored as the top first-year NCAA Division I coach.
Paulus joined Niagara prior to the start of the 2019 / 20 season and is under contract through 2024 / 25.
"One of the things that we try to develop here is the holistic approach," Paulus said when asked about NU's culture. "That's not just skills on the court, that's leadership away from the court, that's how you can do the best that you can in the classroom."
"One of the things that we try to develop here is the holistic approach. That's not just skills on the court, that's leadership away from the court, that's how you can do the best that you can in the classroom."@NiagaraMBB - Greg Paulus#MAACHoops | #maAChoops22 pic.twitter.com/NLH774Ip9T

— #MAACHoops (@MAACHoops) October 21, 2021