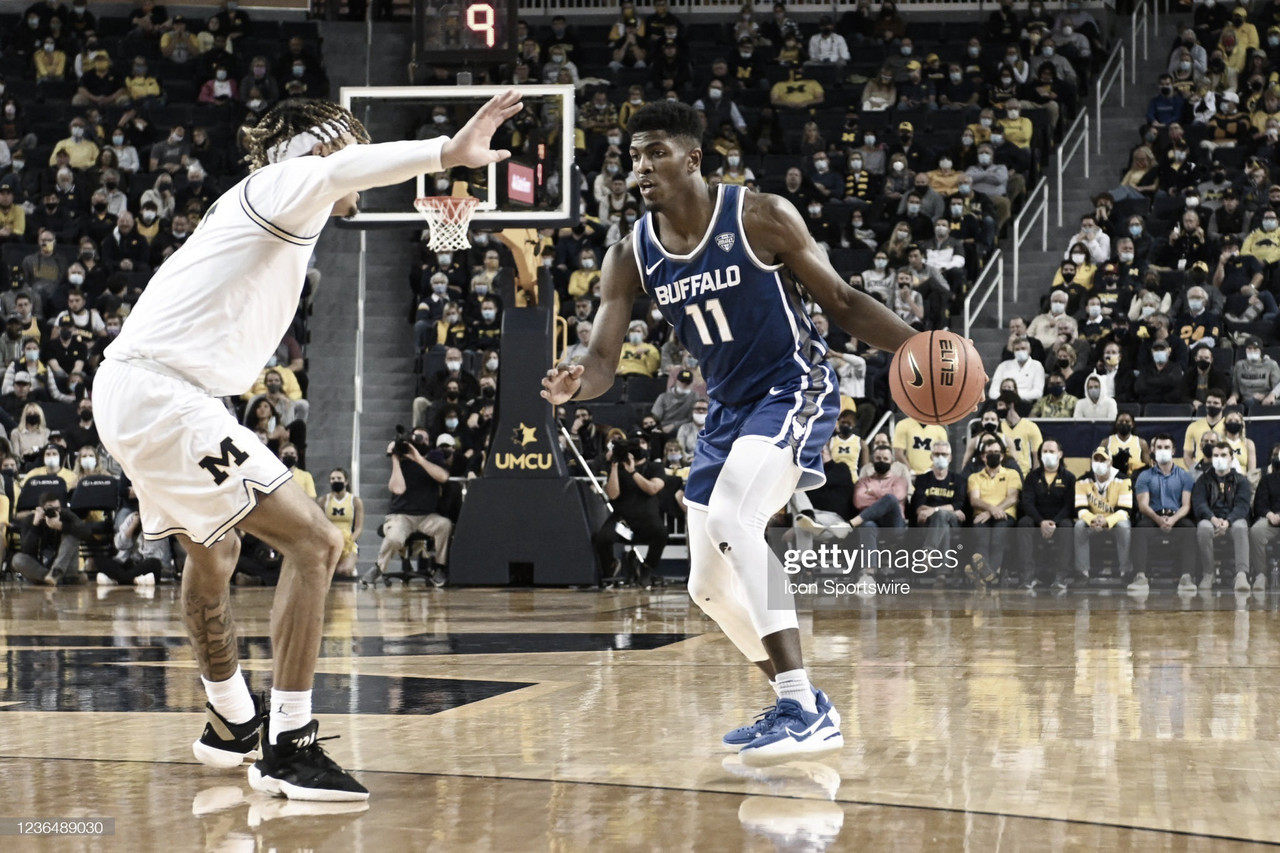 Throughout his college career, the Buffalo Bulls forward Jeenathan Williams has shown his improvement on both ends of the floor.
Not only is Williams averaging a career-high in points with 19 per game, but he's also shooting an impressive .44% from the three-point line.
The best thing about the 23 year-old's improvement is that his performances are translating into wins. The Bulls are in the midst of a seven-game winning streak in the Mid-American Conference regular season.
Williams, a former second-team All-MAC, has been instrumental in Buffalo's 17-8 records this season. The Bulls have also secured their spot in the conference tournament to be played in Cleveland next month.
With tonight's victory the Bulls are officially.....CLEVELAND BOUND!#UBhornsUP pic.twitter.com/Cs7WSE537D

— UB Men's Basketball (@UBmenshoops) February 23, 2022
Jeenathan Williams speaks
The Rochester, New York native spoke exclusively to VAVEL USA and revealed where he feels his game is at right now as well as his expectations for the rest of the season.
''In my opinion, I feel like my game has a lot of room for growth but I'm playing at a high level right now,'' Williams said. ''Honestly, my expectations for the season is to win the conference championship and secure a spot in the NCAA tournament.''
When asked why he thinks the Buffalo team can win the Mid-American Conference, Williams said that ''this group is special because we can play through adversity and we all just want to win.''
In his career with the Bulls, Williams has only seen action in the NCAA Tournament twice. During the 2019 edition, he played in the first round against Arizona State and in the second round against Texas Tech.
Jeenathan Williams calls GAME!#UBhornsUP pic.twitter.com/vAwFL7VUfX

— UB Men's Basketball (@UBmenshoops) February 23, 2022
Improvement
Prior to joining the Buffalo Bulls, the 6'5 forward out of Prolific Prep was listed as 83rd in the Rivals Top 150 for the class of 2018.
The forward added that his shooting ability is the area of his game that has improved the most since arriving to the University at Buffalo almost four years ago.
Williams went from shooting .35% from the field his freshman year to .48% this season on over 15 attempts per contest.
With just a few games remaining in the MAC regular season, things are looking good for the Buffalo Bulls as they attempt to win their first conference championship since 2019.