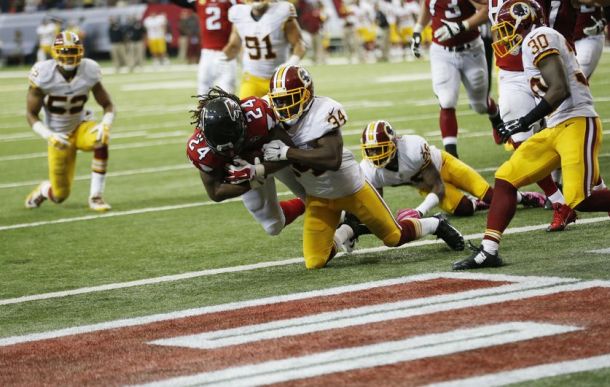 Most people did not predict the Atlanta Falcons would be this good in 2015. They have served as the NFL's breakout team so far after a 5-0 start. New head coach Dan Quinn has the dirty birds playing inspired football. Atlanta will try to improve their record to 6-0 this week against a rival on Thursday night, in the New Orleans Saints.
Offense:
Thursday night will be a battle between two prolific offenses. Atlanta is the third ranked in the NFL while New Orleans is sixth. The Falcons run game has been the driving force this season as Devonta Freeman is tied for second in rushing yards for the entire league. The crazy part about that is, Freeman's role was very small until rookie tailback Tevin Coleman was injured in week two. Wide receiver Julio Jones has proved, when healthy, he is one of the best at the position. Injuries have slowed his production down the past two weeks but Jones is definitely a force to be reckoned with and will draw double teams from the Saints secondary. Matt Ryan has been as smooth as always and has his Falcons offense rolling. If the Saints defense does not have some good game planning for this explosive Falcons offense, we could have a shootout on our hands.
Defense:
The Falcons defense is not quite elite with their twenty first overall ranking, but it is much improved over last season. For the Saints, they have the worst ranked defense and have not been able to defend neither the run or the pass. If the Saints are going to have any chance in this game, they will need to step up on defense and try to stop the red hot Devonta Freeman. Atlanta's defense continues to make plays and even score game-winning points for them. This game will have a lot of offense to show, but not too much defense for either side.
What to watch for:
It's simple, if running back Devonta Freeman continues to play as he has, it will be very hard to beat Atlanta, especially if Julio Jones gets back on track. Make sure to keep an eye on the New Orleans Saints young front seven in this game, they will have game planned hard for Freeman and we will have to see how it pans out. The reason the Falcons offense is near the top of the NFL this season is because they are no longer one dimensional.
Injury Report:
JULIO JONES. That is all everyone wants to hear about, will he play? Jones has been battling a hamstring and toe injury this season and some doubt whether he will be able to play Thursday night on a short week. Dan Quinn spoke out today and said he expects Jones to play, despite not practicing. So, for Falcons fans and fantasy owners, it's looking good, and for Saints fans, I'm sorry.
Prediction:
Divisional road games are never easy especially on primetime, but the Falcons should be able to pull through. The Saints defense is far too young and inexperienced to slow down Atlanta's fire power. Drew Brees will make every attempt to keep his Saints in this game, but will ultimately come up short.
Falcons 34 Saints 23