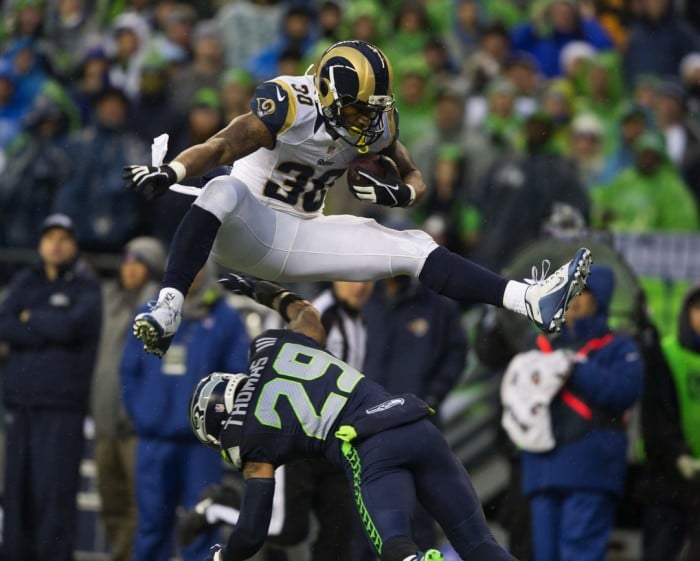 For the fifth time this season, St. Louis Rams running back Todd Gurley has been honored as VAVEL USA NFL rookie of the week. Gurley has earned this honor for his performances against the Arizona Cardinals, Cleveland Browns, San Francisco 49ers, Detroit Lions, and now the Seattle Seahawks. Gurley finished the game against the Seahawks with 19 carries for 85 yards and one touchdown. Gurley's yards per carry for the game were 4.5. Gurley also added one catch for seven yards.
Gurley's longest carry of the game was a 20-yard scurry, in which he hurdled Seahawks safety and fellow Pro Bowler Earl Thomas but was stripped as he landed. Luckily, Rams center Tim Barnes recovered the fumble, which was his second fumble recovery of the drive, which ultimately saved the game for the Rams.
Gurley this season has rushed the ball 229 times for 1,108 yards and 10 touchdowns. His yards mark is third in the league, trailing only Adrian Peterson and Doug Martin. It's highly unlikely Gurley catches either, as he trails both by 200-plus yards. Nonetheless, Gurley is the front runner for the NFL rookie of the year award. The only other two that are really in the conversation is Oakland Raiders wide receiver Amari Cooper and Tampa Bay Buccaneers quarterback Jameis Winston.
Gurley is a tremendous talent. He's amassed 1,000 rushing yards and 10 touchdowns and he's only started in 12 games this season. He didn't make his NFL debut until Week 3 against the Pittsburgh Steelers. Gurley started the next week against the Arizona Cardinals and started from there on out. His ceiling for the next few years is incredibly high and Gurley easily has the potential to become an elite running back and one of the best the game has seen. If the Rams can get more offense from other players than just Gurley, they will function much better and open up even more opportunities for Gurley.