Today, we at VAVEL USA have crossed thousands of miles to the United Kingdom to bring you an interview with one of the UK's most iconic sports presenters, Kevin Cadle. Kevin currently presents football on Sky Sports NFL. For those who don't know, Sky Sports would be the UK's equivalent to ESPN. With the popularity of American sports growing all over the world, we thought it would be a great change of pace to bring you something a little different.
About Kevin Cadle
The name Kevin Cadle these days especially in the UK is usually associated with American Football, but the face of Sky Sports NFL first made a name for himself in the British basketball.
With 30 titles including 27 majors, Cadle is the most successful coach in British basketball's history. He has won eight Coach of the Year awards in his illustrious career (1984-1997). He is also in the Guinness Book of Records for being part of the "Most Successful Team Ever in British Sport" (The Kingston Kings, 1989/1990).
During his career, he coached for the Glasgow Rangers, Falkirk, the Kingston Kings, the Guildford Kings and the London Towers.
Cadle has also coached both the Scottish and English National teams and spent some time as the acting head coach of the Great Britain basketball team in the qualification tournament of the Olympics (1992).
Kevin was born in Buffalo, New York directly across the street from the Buffalo Bills' former playing ground, the War Memorial Stadium. Needless to say that Kevin is an avid Bills fan and was more of a football fan than a basketball fan as a youngster.
It was in high school that Kevin fell in love with basketball. He played basketball in high school and earned himself a scholarship to Penn State University (1973-1977) where he played under head coach Johnny Bach, who went on to coach in the NBA with the Golden State Warriors and the Chicago Bulls.
He has been a presenter for Sky Sports for over 20 years covering both the NFL and NBA. Kevin has also had the pleasure of meeting and interviewing many of the NFL's and NBA's top players and coaches.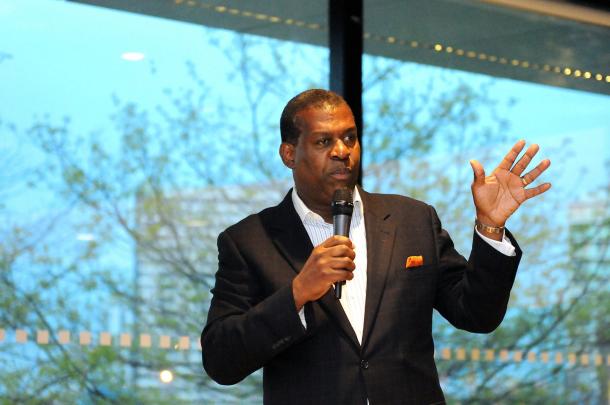 ---
The Interview
Paul Frances (VAVEL): Kevin, I'd like to thank you on behalf of myself and VAVEL.com for giving up your time to take part in this interview today.
Kevin: No, the honor is all mine, Paul. Thanks for asking, I really appreciate your interest.
VAVEL: Who is the best sportsman that you have ever seen?
Kevin: That would have to be Muhammad Ali. Not only was he such a physical specimen but socially he was so aware of what was going on in the world. He lived up to his principles and he wasn't scared to either. He is for me by far the best in the history of the heavyweight division and in boxing. He held his own, he was the one that carried the sport of boxing and is also the one that people still look up to. He's the one that everyone compares themselves too. How would he do against Ali, how would Ali do against him? All these fighters now cannot compare socially to Ali, they don't even come close.
Yes everyone looks up and admires him still to this day. He said he was the greatest and probably is the greatest.
Kevin: Yes, especially when you talk about the all-around package.
Yes, for sure. Some of his interviews I have seen him in were just incredible.
Kevin: He carried the sport of boxing; the thing is he took it to another stratosphere. The thing is that people of my generation and anyone who has had the opportunity to watch him is still searching for is another like Ali but that hasn't happened and may never happen.
I agree he did put boxing on the map. It was unbelievable the way he conducted himself in the media, with the press, and in interviews. He was his own social media marketer. No internet back then. He did so much for boxing as a sport.
Kevin: One of the great things about him was that he knew. I think I remember him saying "50% of people will love me and 50% of people will hate me but when they come to the fights the cash register still goes cha-ching" (laughter) or words to that effect. He understood what it was ALL about.
VAVEL: He was one of my favorites. Did you ever get the chance to see him live?
Kevin: Not back then, I just had the chance to watch him on the television. I remember the first time I saw him, it was at the movie theater and it was against Sonny Liston. Ali would be talking trash and running his mouth, it was great. It was on before the main show.
VAVEL: Is a dynasty good for a sport?
Kevin: Yes, no question. I don't think it's a negative. I think what it does is cause people to look around and look at themselves and say "in order to knock them off, I got to go to another level." It gives everybody something to shoot for. It also brings people into a sport that may have never thought of entering before. They see a repetition of a name that maybe they haven't heard of and are interested in seeing what it's all about. It creates awareness. I've never seen a dynasty ever being a negative. A player or a team will have to up their own game keep getting dominated; it raises the competition level of the sport.
Yes, you are right Kev; it gives a player or a team something to aim for and improves everyone's game.
VAVEL: Are Peyton Manning, Charles Woodson and Calvin Johnson first ballot Hall of Famers?
Kevin: Peyton Manning, no question. Charles Woodson, no question. Calvin Johnson, I believe the coin is still up in the air. If you look at his numbers compared to the top receivers in NFL history, his numbers are not close to Terrell Owens' for instance and they are not close Andre Reed's and they weren't first ballot Hall of Famers. Calvin had some outstanding seasons and I believe he will eventually be in the HOF but when you look at where he ranks in receptions, in yards, and in touchdowns, he retired with some work left to do. Manning and Woodson no doubt but I think second or third ballot is the best that Calvin can hope for.
I agree that he will be in Canton one day but as you said the coin is definitely up in the air when it comes to the first ballot.
VAVEL: What are your thoughts on the now - the past player argument?
Kevin: It's the same with everything, like old cars are better than new cars. The players of the past are better than the one's today. When I look at most past players I think cerebrally they might have been better but today's generation are as a whole are athletically better. Some of the great players of the past can hang athletically with the players of the present but I don't know if today's players can compete mentally. If you look at the human body yes it's gotten superior over time but can athletes today deal with it mentally. Also, the physicality has been taken away from a lot of sports, football included, so being more athletic may not be everything. The players of today's generation that can be cerebrally superior and more athletic than their counterparts will be the players that stand out and be the "Superstars" of today and the future. The guys in sports today are much more athletic than they were 15 years ago but I just don't think that the mentality of these athletes has gone up to the next level. I think it will always be one of those arguments when people will think and say "it was better in my day." What did Gladys Knight say in her record "today will eventually be the good old days."
Yes, it seems to be that athletes these days are bigger, stronger and quicker than athletes of the past. In football there are tight ends, receivers and backs built like linemen. In rugby there are backs built like forwards and all these guys can run 4.50 or better 40-yard times.
Kevin: Can you remember when William "The Refrigerator" Perry came out of college?
Oh yes, I loved the Fridge.
Kevin: When he came out there were talks of possibly banning him from playing because he was so big (laughter). Now there are 30 to 40 guys in the NFL bigger than he was.
LaQuan McGowan is a 6'7" 410 lb former tight end from Baylor University that just came out of college. Don't think he got drafted though but he is huge.
Kevin: Physically the present players on average are bigger and quicker that's the biggest difference with then and now but for me I feel the past generation players have the edge.
VAVEL: Why is coaching so important?
Kevin: I think it takes you as a player to the next level. As a player, you can see certain things yourself, you can push yourself a certain amount but I think coaching is what takes you that next step. An important part of coaching is to be able to see the things that the player cannot see, to help that player mentally and to teach that player that if they do more of this or less of that they will reach the next level. Coaching gives a player an outside perspective which helps them reach their potential. That's the importance of coaching.
Someone who mentors you, who teaches you, who is there for you emotionally and who keeps you on the right path.
Kevin: Guiding you on and off the court or field. Motivation is also a big part.
A good coach can make an average player great.
Kevin: Or at least good. Most players will tell you that they can do everything and that they have no weaknesses but a coach can see it from the outside and focus that player.
VAVEL: What's your cup of tea, Gregg Popovich with five NBA titles in six finals or Bill Belichick's four Super Bowl titles in six attempts?
Kevin: Both coaches have ridden the coattails of a superstar. Popovich with Tim Duncan who has been there for each and every one of those titles and Belichick with Tom Brady who has been there for all of Bill's titles. For me, it's a toss-up. Even though Pop has one more title they have both been to the dance six times. The thing that stands out for me is that most people look at both teams with dislike. People don't like the way the New England Patriots play because their style can be boring. Same is said about the way the San Antonio Spurs play. Both of them are strong coaches, they put an emphasis on fundamental team play and they both are great at implementing new players into the team and its structure without disruption. Both are very strict guys, who don't take any trash from any player or anything, they pride themselves on discipline. The thing is you find very few guys and I mean very few guys that have played for either coach at some point in their career say anything negative about them. That is very rare for former players and coaches. That speaks volumes.
VAVEL: Could either coach have done as well without the likes of Duncan or Brady?
Kevin: That is very hard to say. That's one of those tricky hypothetical things, too hard to say. With Pop, I think Duncan was the guy who started it all for the Spurs. Now he is a system player whose time on the court has dropped off over the past few years. Well, he is 40-years-old. But Tim is a veteran in that locker room and brings buckets of experience and leadership. He's helping to mold the future of the San Antonio Spurs. The big difference today is that Bill still relies so much on Brady, much more than Pop does with Duncan. This past season the Spurs set an all-time franchise record for wins without a huge presence from Duncan. Bill and Pop are both tremendous coaches in their own rights. Both pride themselves on getting the best out of players and have both been so successful in doing this.
VAVEL: What are your thoughts on the money in sport?
Kevin: Hey man the money in sports is great (laughter). The thing is that people are always saying that there is too much money in sports. If there was too much money in sport the owners wouldn't be paying that money. At the end of the day, the players get their pot but the owner's pot is still full. Chris Rock said "I don't want to be like Shaquille O'Neal, Shaq is rich. I want to be like the owners they're wealthy." (Laughter). I've never been against money in any kind of sport. I believe they should pay college athletes. There are a lot of people in the stands watching college sports. There are guys in college who haven't got enough money to buy food but they are out there playing games in front of maybe 100,000 fans in football and 20,000 fans in basketball. The head coach is making four to five million dollars and all the player is getting is a scholarship. When it comes to the money whether it's the pros or college, I have no problem with more money, more money, and more money.
I've known of some college players living on the street and they're busting their guts at training and games. It's certainly something that needs to be looked at.
Kevin: For sure and it will.
I think so, over the next five years.
Kevin: Definitely.
VAVEL: Who's the one sportsperson you never saw play in person, who you would love to have seen?
Kevin: Joe Namath. I think him coming to the NFL brought some glamor to the game. He brought some style and I can just imagine being at a New York Jets' game watching "Broadway Joe." The buzz would have been incredible in the stadium and leading up to kick off when Joe was playing. Everything based on the Jets was based on Joe Namath. If it wasn't for Joe getting that victory in Super Bowl III there is no telling what would have happened with the Super Bowl. Would we still have one? It has been said that Joe is responsible for the Super Bowl being as it is today because if the AFL would have lost again that would have made the NFL say we don't need to continue this because we are dominant.
VAVEL: Who has been your favorite sportsman to interview and why?
Kevin: No question it's Shaquille O'Neal. It was years ago when the Orlando Magic came to London and I had 30 minutes sit down with him and we had a great time. As a matter of fact, the interview was going so well and going on for so long that his agent actually jumped up and stopped the interview and said that they had other people to go and see. Shaq looked at him like "Are you kidding." I still look back at the interview to this day, it was a great interview, it was so much fun and we had a great back and forth going. It was actually my first ever interview that I did and I didn't realize that when Shaq was talking I was making some noises in agreement so part of the interview couldn't be used, but I learned. Being able to spend that time with and talk to Shaq was incredible and it really gave me a great feel for him and what he was all about.
VAVEL: The effect of social media in sports, positive or negative?
Kevin: It's been both. For football, it's one of those cases where off-season it's kind of been negative dare I say (laughter) but in the season when guys are more in tune it's been positive. It has helped to give people an insight to who a player really is and what he's all about. One thing that goes with social media is what someone said to me a long time ago in the music business "there is no such thing as bad publicity." Even the Tom Brady "Deflategate" incident is publicity for the NFL, they are not mad about that. Every time it gets mentioned it's a few minutes of publicity. I think that there are good and bad points with social media in sport but I think the good outweighs the bad by a long way.
I think you are right Kev. Personally, it's been good for me. I've gained so many connections through social media that it has helped me out no end. Without social media, I may not have had the chance to speak to you today or it would have been a lot harder. I speak to players, coaches, agents and scouts every day.
Kevin: I've got a question for you. I know you have interviewed several NFL hopefuls this off-season. Out of all the players who got drafted the highest this year?
It was Kenny Clark, a defensive tackle out of UCLA who was drafted by the Green Bay Packers at number 27. Very talented player, he will do well in Green Bay. I've interviewed some amazing people and still talk to a lot of them. I'm really close friends with a few of them. One of them being Kile Willett, a draft hopeful from Florida, another is Kenny "The Madden Man" Bell, NFL hopeful and motion capture star and finally former New York Giant legend, Leonard Marshall. All are exceptional people with amazing stories who I hope to stay friends with for a very long time.
VAVEL: You have just released an autobiography titled "The Cadle Will Rock". Tell the fans a little something about the book and where they can find it.
Kevin: you can go to kevincadle.com and purchase a hard copy or you can go to Amazon and get it as an eBook for the kindle. Basically, what it's about is how I was able to turn a job into a career. It has a lot of motivational stories, stories about my interaction with players and celebrities, and there are a lot of things you can pick up on that could help you in your own journey in life. It's an easy fun read. There is a lady who read my book who said to me "Kevin, I am really not into sports but I really enjoyed your book and have implemented several things in my business." It's a book for people of all walks of life.
VAVEL: You have been one of British basketball's greatest ever coaches, you have had an amazing career as a presenter, what's lies ahead for Kevin Cadle, any plans for the future?
Kevin: Right now I hope to continue presenting at Sky Sports. Hopefully, that continues to last. At some stage I have to start thinking about plan B and working on plan B. I would consider something in British basketball; they currently don't have a commissioner maybe that is something I could do. I really enjoy going to organizations, companies and schools to do motivational talks and speeches. That's one thing I really enjoy. I would love to take that to another level where it would be more lucrative.
That can be very rewarding.
Kevin: Yes getting out that positive vibe and letting people know that they can make it happen. It's just like coaching but instead of in front of a team of 12; it's on a much larger scale.
VAVEL: Any thoughts of going back to coaching?
Kevin: It maybe something. I definitely miss coaching especially when it's that time of year to give out trophies (laughter). That's when it kind of gets me. I've gone to some teams and helped out at their practices and have to say I've really enjoyed it and loved the connection with the players. It felt great giving them something that may help them reach the next level.
VAVEL: So coaching isn't off the table?
Kevin: Nothing is off the table (laughter).
VAVEL: Kevin, I would like to thank you again for taking part in this interview, it's been an amazing experience and I've truly enjoyed our time today.
Kevin: Big thanks and you continue to be the best that you can be. "Never Accept Good over Best".
---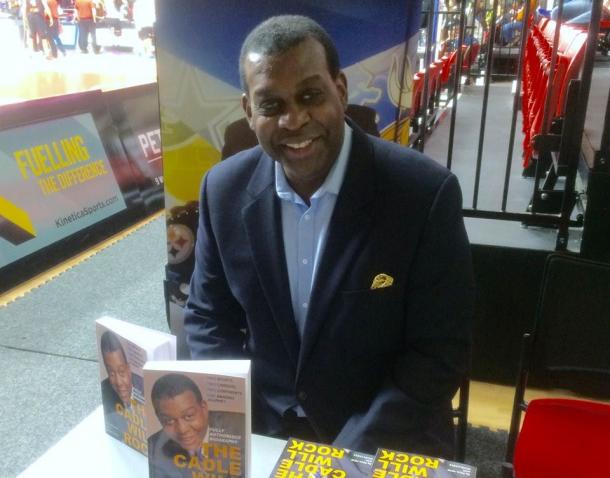 To keep up to date with Kevin you can follow him on his Twitter account @kevincadle, at his website kevincadle.com and on his Facebook page.
Kevin has helped put the NFL and NFL television on the map in the UK and without his years of service as a presenter the sport would not have been as popular as it is today.