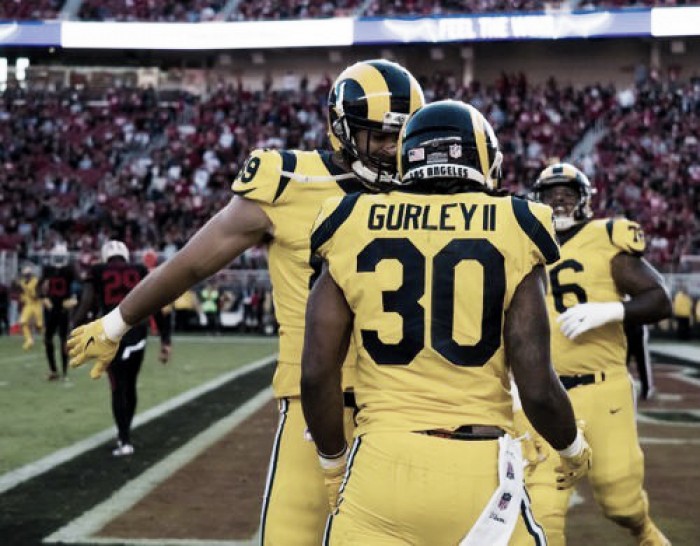 In one of the most wild Thursday Night Football games, the Los Angeles Rams improved to 2-1 with a 41-39 win over the San Francisco 49ers.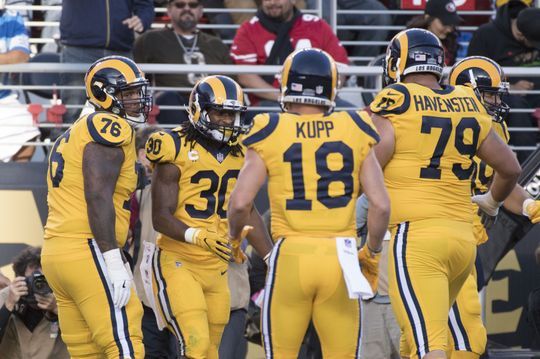 The play was not always great, it was, though, extremely exciting.
Rams dominated early
Brian Hoyer showed that the 49ers offense can be a threat. They put up an astounding 39 points -- more than tripling amount of points scored their total before Thursday's game. He also threw for 332 yards and two touchdowns.
San Francisco's quarterback, Hoyer, needed to get the 49ers offense going early if they had any shot of winning this game. But on the very first play, Hoyer threw an interception to Nickell Robey-Coleman, who ran it back to the three yard-line.
A play later, Todd Gurley scored his first touchdown of the night, with a three yard bulldozing run.
However, Hoyer and the offense gained tons of confidence during the next offensive drive. Carlos Hyde broke off a 20 yard dash up the middle of the field, getting his team near midfield.
The offense then stalled and were about to punt it away. San Francisco got a break when the Rams were lined up offside. They continued to mix short passes with runs up the middle. It was only fitting that, from the nine yard line, Hoyer ran it in for the 49ers first touchdown of the season.
Chaotic fourth quarter leads to exciting finish
The 49ers defense stopped Los Angeles to get the ball back after four plays. Hoyer ripped off a bomb of a throw to Pierre Garcon, who drug his toes to get San Francisco to the five yard line. Trent Taylor then brought the deficit to nine after point after attempt.
On the kick off, Pharoh Cooper fumbled the ball, giving the home team life and all the momentum. They scored eight plays later. However, they missed the two point conversion and the botched extra point earlier buried them even deeper.
After the score, Kyle Shanahan went for the onside kick and it worked to perfection. The ball hit off the ground, giving the kickoff team to get past the 10 yard line. It bounced off a helmet, and the 49ers recovered.
To cap off a thrilling game, Aaron Donald made his first major statement of the season, sacking Hoyer for an eight yard loss.
Up Next
Los Angeles continue their road trip next, and there, they will take on another big test: the Dallas Cowboys.
This is a hard loss for the 49ers to take. Coming so close to a win, but unable to come up win matters most. However, they will take on another divisional rival in the Arizona Cardinals Sunday afternoon.