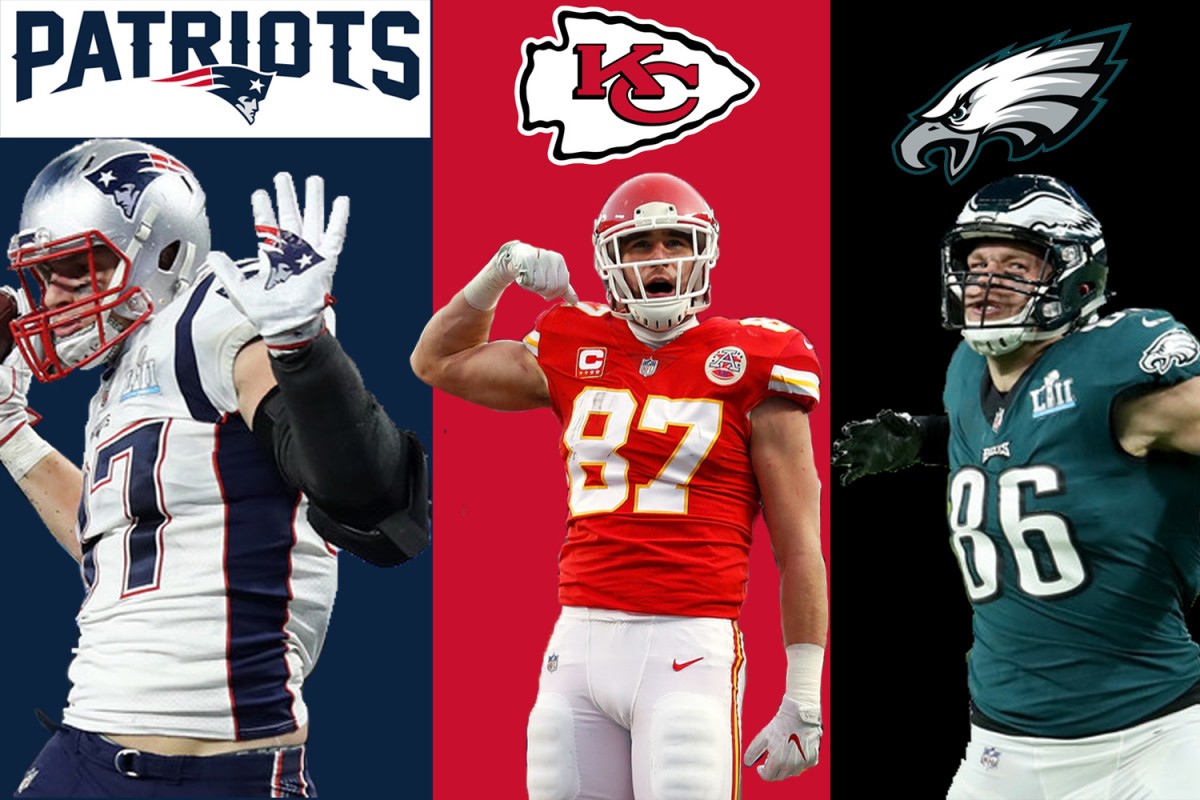 Honorable mentions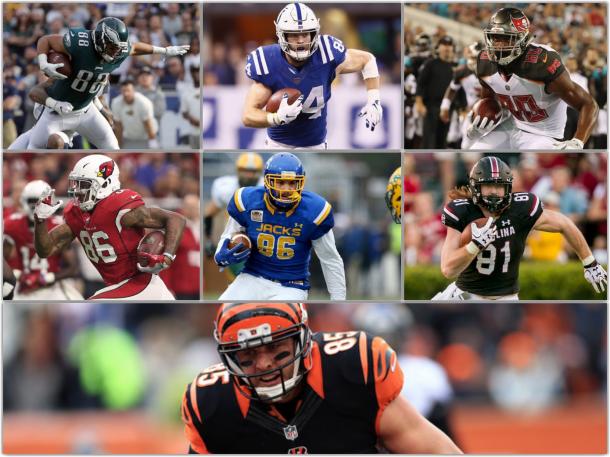 Tyler Eifert |Cincinnati Bengals|
Jack Doyle |Indianapolis Colts|
Trey Burton |Chicago Bears|
O.J. Howard |Tampa Bay Buccaneers|
Ricky Seals-Jones |Arizona Cardinals|
Dallas Goedert |Philadelphia Eagles|
Hayden Hurst |Baltimore Ravens|
Goedert and Hurst are a couple of big receiving tight ends that could do a lot of damage in their first seasons in the NFL. Hurst could have the bigger impact of the two. Last season a tight end led the Ravens with receptions. Goedert will have the advantage of learning from a Pro Bowl caliber tight end Zach Ertz.
O.J. Howard is a candidate for break out player of the year for the Buccaneers. Howard recorded 432 yards and eight touchdowns in his rookie season and was a solid blocker in the run game. In his second season, Howard should be a more integral part of the offense.
Seals-Jones was starting to break out towards the back half of the season. Seals-Jones caught 12 passes for 201 yards and three touchdowns. With a new coaching regime in place, Seals-Jones could be featured more in the offense.
Eifert can be one of the more productive tight ends in the league, when he is healthy! Eifert has played in 13 games or more just twice in his five year career. This is a male or break year for the soon to be 30-year-old tight end.
No. 10 to No. 6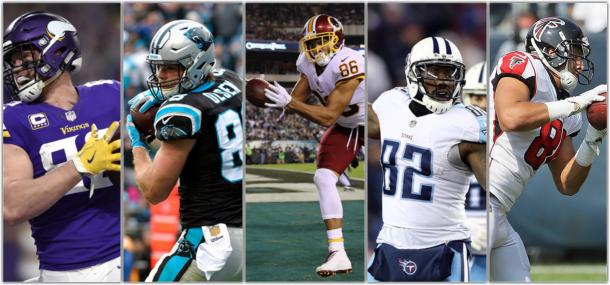 10. Austin Hooper |Atlanta Falcons|
9. Delanie Walker |Tennessee Titans|
8. Jordan Reed |Washington Redskins|
7. Greg Olsen |Carolina Panthers|
6. Kyle Rudolph |Minnesota Vikings|
Hooper impressed in his first season with the Falcons and followed it up with a terrific 2017 campaign. In 2017, Hooper recorded 49 catches for 526 yards and three touchdowns. That may not seem like a big deal, but in a offense that featured Julio Jones, Mohamed Sanu and Taylor Gabriel, Hooper still finished third on the team in receiving yards.
Walker is an example of a tight end that hasn't been shown much love by the NFL. The Titans tight end has finished in the top-12 in each of the last five seasons, including two top-five finishes, making Walker one of the best tight ends in the league. Walker has become one Marcus Mariota's safest, go-to targets and the trend could keep up this season.
Like Tyler Eifert, Jordan Reed could be one of the best tight ends in the league, but injuries have taken their toll on him. The 27-year-old played in just six games last season, recording 211 yards and two touchdowns, both career lows. Reed could be in-line for a rebound season, possibly developing a connection with new quarterback Alex Smith.
Many thought that Olsen was well on his way into retirement to start a career as a TV commentator. However, in the offseason Olsen signed a two-year contract extension to remain with the Panthers. From 2008 to 2016, Olsen appeared in all 16 games in a season. From 2014-2016, Olsen recorded more than a thousand receiving yards. An injury ended his season last year, and both he and the Panthers hope he could return to form.
Rudolph has been one of the more dependable tight ends in his seven year career. Rudolph caught 57 passes for 532 yards and eight touchdowns. With Kirk Cousins being more of a gun slinger down the field, Rudolph will give the Vikings an option in the middle of the field.
No. 5 to No. 1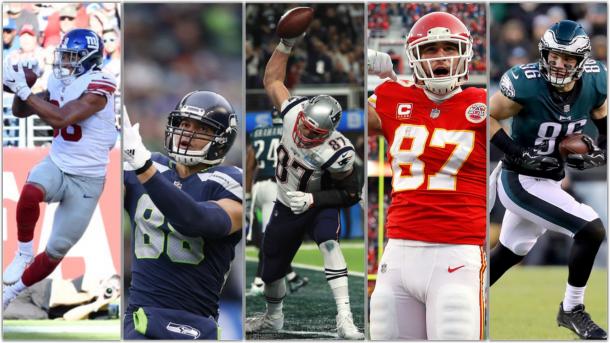 5. Evan Engram |New York Giants|
4. Jimmy Graham |Green Bay Packers|
3. Rob Gronkowski |New England Patriots|
2. Zach Ertz |Philadelphia Eagles|
1. Travis Kelce |Kansas City Chiefs|
Graham wasn't really featured predominantly in the Seahawks offense in the three years he was there. In the pass happy offense in Green Bay and the fact that Aaron Rodgers is their quarterback, Graham will be utilized properly and could return to dominant form.
Rob Gronkowski has been one of the bet tight ends for quite some time now. The problem that the Patriots are facing is just how much longer the tight end will want to play? How much longer will Gronkowski be Gronkowski? Gronkowski has slowed down a little the past couple of seasons as the injuries and partying might be taking it's toll on him. As long as ​Tom Brady is throwing the football, Gronkowski could be in line for another thousand yard receiving season.
Zach Ertz has really thrived since becoming the full time starter for the Philadelphia Eagles. Ertz has totaled 800 yards or more the past three seasons and contributed big plays in the Eagles Super Bowl victory. The next step for Ertz is to solidify himself as a top-two tight end.
Kelce has really turned the corner in the last four seasons. Since taking over for Anthony Fasano, Kielce has been on a Tony Gonzalez like trajectory. Kelce has recorded back-to-back thousand yard receiving seasons and could be in-line for another. The biggest factor that will stand in his way this season is the development of sophomore quarterback ​Patrick Mahomes.