 Honorable mentions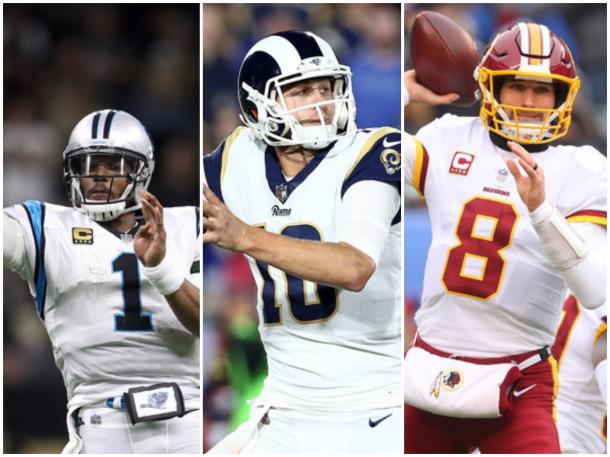 Cam Newton |Carolina Panthers|
At 6'5", 245 lbs, Cam Newton has been one of the best dual threat quarterbacks in the league. In 2017, Newton completed 59% of his passes for 3,302 yards and 22 touchdowns. Newton rushed for 754 yards and six more touchdowns. Newton falls out of the top-10 on this list due to his low completion percentage and his high interception rate. Only DeShone Kizer (22) threw more interceptions that Newton (16). With the Panthers adding some weapons in the offseason, Newton could finish in the top-10 at seasons end.
Jared Geoff |Los Angeles Rams|
After struggling his rookie season in 2016, Geoff really thrived in 2017. Head coach Sean McVay and former offensive coordinator ​Matt LaFleur simplified the offense enough for Geoff to establish some confidence, with Geoff leading the Rams to a 11-5 record and winning the NFC West for the first time since 2003 (when the team was still in St. Louis). Geoff finished the regular season in the top-20 in completion percentage, top-10 in both yards and touchdowns. If Geoff is able to able to put together another season like this, Geoff will definitely find himself in the conversation for the top-10.
Kirk Cousins |Minnesota Vikings|
Kirk Cousins is considered to be one of the more underrated quarterbacks in the NFL. Since 2015, Cousins as accumulated 13,176 yards and 81 touchdowns. With not much to work with in terms of talent while in Washington, Cousins contributed a lot to the franchise. In six seasons, Cousins lead the Redskins to two division titles and two Wild Card weekend appearances. Now a member of the Minnesota Vikings, Cousins could take the next step and go further in the playoffs.
No. 10 to No. 6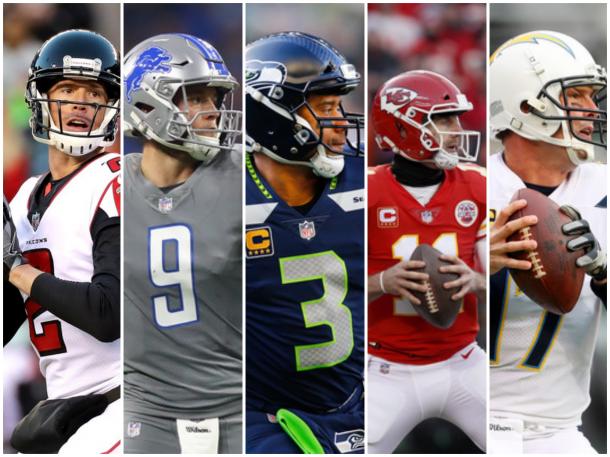 10) Philip Rivers |Los Angeles Chargers|
Philip Rivers is the last of his kind. Rivers, along with six quarterbacks, have been on the league since 2004 or earlier. In the past five seasons, Rivers has thrown for 4,000 yards or more. He also has thrown 30 or more touchdowns three of the last five seasons as well. In 2017, Rivers completed 62.6% of his passes for 4,515 yards and 28 touchdowns. The Chargers finished 9-7, one win shy of tying for the division. With Ken Whisenhint in his third season as offensive coordinator and the division wide open, the Chargers could make the move and take the division in 2018.
9) Alex Smith |Washington Redskins|
Poor Alex Smith. He felt like he wasn't wanted in San Francisco with the arrival of Colin Kaepernick and the writing was on the wall once again in Kansas City with the arrival of Patrick Mahomes. With Smith at the quarterback position, he has lead his team to the four division titles and one Wild Card berth. Smith finished third last season with a 67.5 completion percentage and finished in the top-10 in yards (4,042 yards) and in touchdowns (26). Now as a member of the Washington Redskins, it will be interesting to see how far he can take the team previously lead by Kirk Cousins.
8) Russell Wilson |Seattle Seahawks|
There has not been many quarterbacks to do what Russell Wilson has been able to do while in the NFL. With no offensive line to protect him and no running game to speak of, Wilson has made plays with both his arm and his feet. He plays with so much passion and puts the team on his back when he needs to. With Wilson under center, the Seahawks have won the division three of his first six years and two Wild Card appearances. Wilson even delivered Seattle it's first Super Bowl victory ever. Wilson lead the NFL in touchdowns (34) and finished behind Cam Newton in rushing yards by a quarterback.
7) Matthew Stafford |Detroit Lions|
Along with Aaron Rodgers and Drew Brees, Matthew Stafford is one of the true gunslingers in the league. Stafford finished third in the league in yards (4,446) and fourth in touchdowns (29). The Lions rewarded Stafford by making him one of the highest paid players in league history. In 125 games, Stafford has thrown for 34,749 yards and 216 touchdowns. The only missing from Stafford's impressive resume is a playoff win; Stafford is 0-3 in three playoff appearances.
6) Matt Ryan |Atlanta Falcons|
Since being drafted third overall in the 2008 NFL Draft, Matt Ryan has done nothing but win for the Atlanta Falcons. In 10 seasons, Ryan and company has posted just two losing seasons and has just one 8-8 season. Ryan lead the Falcons to their second Conference championship in 2016 and lost his lone Super Bowl appearance to the New England Patriots. In 158 games, Ryan has thrown for 41,796 yards and 260 touchdowns.
No. 5 to No. 1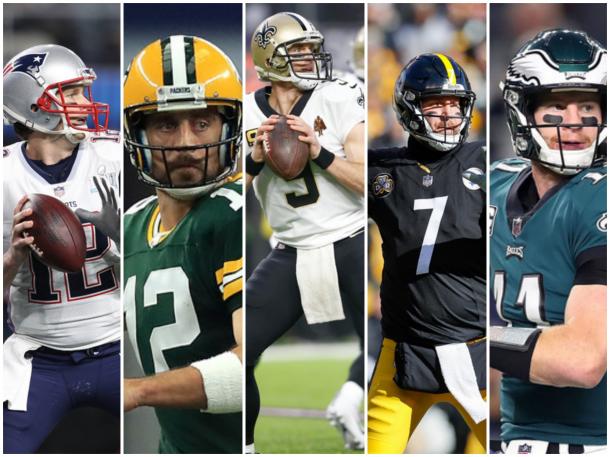 5) Carson Wentz |Philadelphia Eagles|
4) Ben Roethlisberger |Pittsburgh Steelers|
3) Drew Brees |New Orleans Saints|
2) Aaron Rodgers |Green Bay Packers|
1) Tom Brady |New England Patriots|
It is amazing what Carson Wentz was able to do in two-years time. If it wasn't for a torn ACL and LCL injury, he and Eagles would have run the table and help deliver the Eagles' first Super Bowl in franchise history. Last season, Wentz threw for 3,296 yards and 33 touchdowns. Throwing just seven interceptions, Wentz does not turnover the ball. The future is bright in Philadelphia.
The next four entrees on this list have at one time been the face of the NFL. All four have appeared and won Super Bowls, with Tom Brady and Ben Roethlisberger winning multiple Super Bowls. Each of these four are more often than not in the top-10 in statistical categories. Each have solidified themselves as future Hall of Famers and continue to lead their teams and success.
Brady and Brees are the two oldest quarterbacks in the league. Each finished in the top-five in passing yards in 2017, with Brady finishing third in the league in touchdowns.