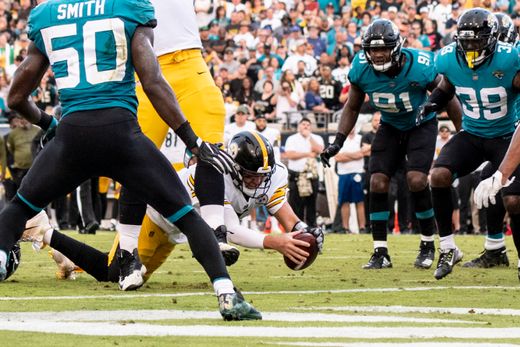 Week 11's match up between the Jacksonville Jaguars and the Pittsburgh Steelers was always going to be a close game and that was exactly what happened as the Steelers won the game right at the death 20-16.
The Jaguars keep the Pittsburgh offense quiet
Ben Roethlisberger had probably one of the worst games in his career as he finished the day with three interceptions. The Steelers offense stuttered for most of the game and not only was Roethlisberger picked off, twice by Jalen Ramsey, but the quarterback was sacked twice in the game as well. Roethlisbeger also had a 57% completion record on the day as he failed to pick out his receivers on numerous occasions, forcing the Steelers to punt six times. The Jaguars defense also limited the running game as James Conner only had 25 yards rushing and the Steelers overall had 26 rushing yards.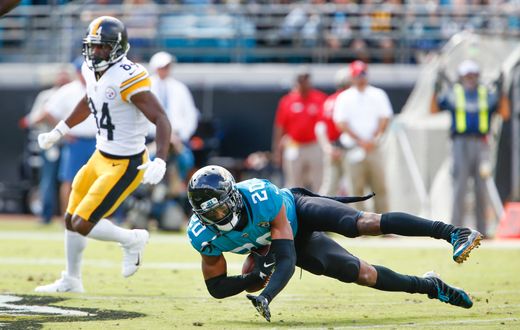 Jacksonville had their way with the Steelers for most of the game and also managed to get turnovers on downs due to how poorly Roethlisberger was playing. As the third quarter was drawing to a close, the Jaguars were in prime position to win consecutive games against the Steelers but it was not to be. Roethlisberger executed a game wining drive that featured a 35-yard pass to Juju Smith Schuster and a 25-yard pass to Antonio Brown. 'Big Ben' then had the last laugh as he ran up the middle for a one-yard touchdown to give his team a big win.
Bortles struggles and shows exactly where Jacksonville's problems lie
With his defense playing so well, all Blake Bortles had to do was convert all the opportunities Jacksonville got from turnovers into touchdowns. That did not happen and instead, when the Jaguars got to the red zone they had to settle for three field goals in the first half. Jacksonville's only touchdown of the day came from Leonard Fournette who ran it in from two yards to put the Jaguars up by sixteen but with Pittsburgh still with time on the clock, the game was never done and dusted.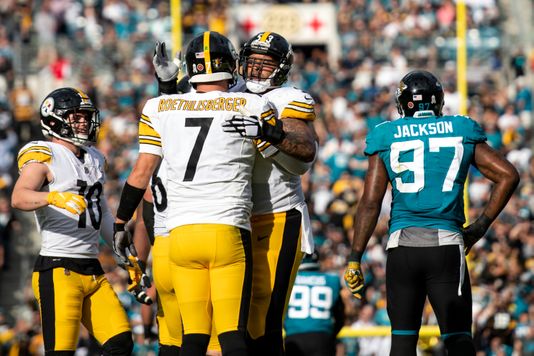 Even with Roesthlisberger playing so badly, having an elite quarterback will give teams wins when they really should lose them. Including the final touchdown of the game, Roesthlisberger also connected with Brown on a 78-yard touchdown pass late in the third quarter and found Vance McDonald on a 11-yard touchdown pass to give the Steelers a chance. The Pittsburgh defense also had kept them in the game until their offense could get going, recording six sacks (two by T.J. Watt) and two forced fumbles. Ben Roesthlisberger will not have too many games like he did today but if he does, the Steelers know they can count on their defense to keep them in it for as long as possible.
Score
Pittsburgh Steelers 20 - 16 Jacksonville Jaguars
Scoring Leaders
Pittsburgh: B. Roethlisberger - 27/47, 314 YDS, 2 TD, 3 INT; J. Conner - 26 YDS; A. Brown - 117 YDS, 1 TD, J. Smith-Schuster - 104 YDS; V. McDonald - 27 YDS, 1 TD.
Jacksonville: B. Bortles - 10/18, 104 YDS; L. Fournette - 95 YDS, 1 TD; L. Fournette - 46 YDS; D. Westbrook - 19 YDS.