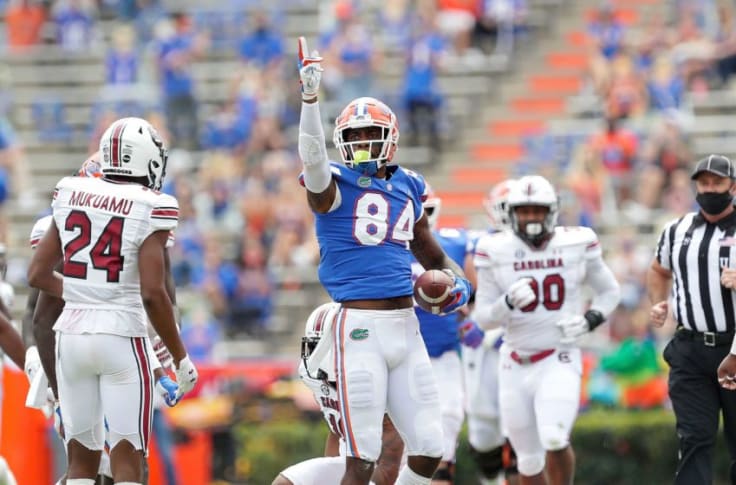 When the Arizona Cardinals schedule came out, there was so much confidence that the team would turn the corner and the expectations were through the roof, even putting the Cardinals in the playoff conversation.
Four weeks have now gone by and the optimism is starting to wear off. The roster is getting exposed and more of the same scenarios from the 2020 seasons are reoccurring through this season.
Plain and simple, the Cardinals need help. They need to add talent all over the roster. A quarter of the season is gone and the needs are starting to become more and more apparent.
With free agency likely to bring much uncertainty, the NFL Draft will be a dark cloud of skepticism. Come April 29 to May 1, 2021, Arizona will be adding some talent to hopefully push the roster to solid playoff contender. Who could possibly lace up with Kyler Murray, Chandler Jones, and the rest of the Cardinals come September 2021?
Here are the prospects that could help the Cardinals in their quest for a Super Bowl.
Round One: Kyle Pitts, TE, Florida
A big part of Kliff Kingsbury's air raid offense includes utilizing a tight end. Maxx Williams is more of a blocking tight end and Dan Arnold is still very unproven. With their first pick, the Cardinals add maybe the best pass catching tight end in Kyle Pitts.
Over the past two seasons, Pitts has 57 catches for 722 yards and six touchdowns. Pitts opened up his 2020 campaign in a big way, catching eight passes for 170 yards and four touchdowns against Ole Miss. In his second game, Pitts caught four passes for 57 yards and two touchdowns against South Carolina.
Pitts hasn't been a strong run blocker and may never develop into one. But he is a creative route runner that finds a way to beat both zone and man coverage. Pitts big catch radius that would excite both coach Kingsbury and Kyler Murray. He will do most of his damage at the middle of the field, something that the Cardinals offense is missing.
Round Two: Sage Surratt, WR, Wake Forest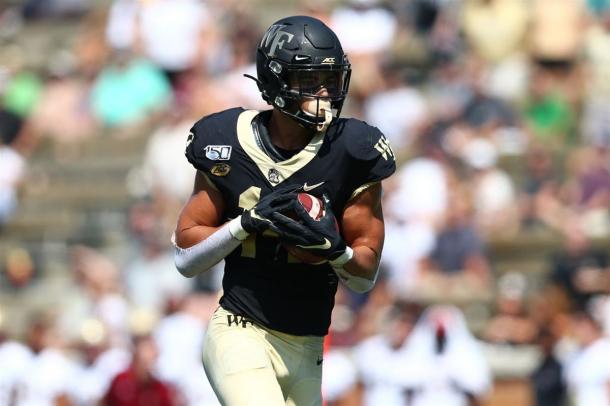 Looking at the Cardinals receiving core, there is just one true outside wide receiver with a cast of slot receivers. Larry Fitzgerald, Christian Kirk, and Andy Isabella do most of their damage in the slot while KeeSean Johnson and Trent Sherfield have possible reached their ceilings and are not viable options as the No. 2 wide receiver. Sage Surratt could be that guy.
Surratt is a 50-50 ball master at the college level, proven to be one of the best and one of the more dominant receivers in that category. Listed as 6'3" and 215 pounds, he plays a lot bigger than that. He is a natural athlete with terrific size, plays physical with excellent play strength. He does a wonderful job tracking the ball and making the necessary adjustments to the football while positioning himself to win against corners. Like Fitzgerald, he can be trusted as a blocker in the run game and hits key blocks on the perimeter.
Surratt totaled 107 receptions for 1,582 yards and 15 touchdowns at his two years at Wake Forest. With him on the outside, the pressure on DeAndre Hopkins will be lifted as defenses will have to account for Surratt and the tight end the Cardinals used their first pick on. If Fitzgerald does come back for one more year, imagine Surratt lining side-by-side to each other and creating wholes for Kenyan Drake and Chase Edmonds.
Round Three: Deonte Brown, IOL, Alabama
Justin Pugh and J.R. Sweezy have been serviceable at the guard spots for the Cardinals but Sweezy will be a free agent at seasons end and the Cardinals should consider upgrading. Deonte Brown could be that guy.
Brown has been battle tested over the past three seasons, going up against draft picks Derrick Brown, K'Lavon Chaisson, and Javon Kinlaw. Brown is a monster in the run game, mauling opposing defenders with his frame and natural power. Brown has demonstrated the ability to get up and go outside of the tackles when he is a puller, which is something that would be valuable in the Cardinals offense. People will knock Brown is the passing game, but he is just as strong in his pass protection as he is in the run game. He will have to be polished and coached up a little bit in some areas but he is as strong as a pass protector as they come.
Pair Brown next to possibly future right tackle Josh Jones or whomever is holding down the right tackle position and the right side is improved.
Round five: Alec Lindstrom, IOL, Boston College
It has been a long time since the Cardinals have had a strong center. A.Q. Shipley was a good center but there was no one better when Lyle Sendlein was at his best. It's about time the Cardinals add another guy that can be the anchor like Sendlein was and Alec Lindstrom could be that guy.
If the name sounds familiar, it's because his brother Chris was selected by 14th pick overall in the 2019 NFL Draft. His father and his two uncles also played in the NFL.
He is a dominant force in the running game, as he brings a level of violence to his play that is typical of a run-blocking offensive lineman. There are multiple times and examples of him getting out to the second level in order to create lanes downfield. Lindstrom was part of the reason for A.J. Dillon's success with Dillon being draft in the third round in 2020.
Lindstrom is prey solid in pass protection as well. He shows a high level of football intelligence with good play recognition. This is typified by his ability to pick up a blitz and negate the threat of the pass rusher.
Just imagine a guy like him playing next to Justin Pugh and Deonte Brown in the guard spots in the offensive line. Kyler Murray would be able to execute more plays as they guys would be able to protect him.
Round Six: Merlin Robertson, LB, Arizona State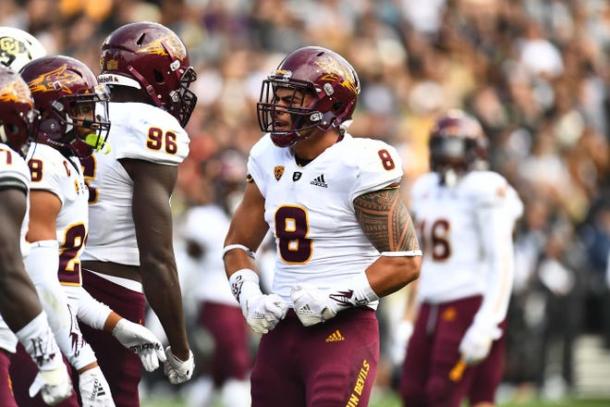 Robertson burst onto the scene as a freshman in 2018 and immediately made an impact. He finished the year as Pac-12 Defensive Player of the Year and also made the Freshman All-American team as he led ASU in tackles, tackles for loss, and sacks while missing only eight tackles on the year.
His sophomore year was a completely different story. Robertson, by his own admission, went through a sophomore slump. Robertson lost 15 pounds prior to the 2019 campaign but put that weight back on during the summer before preseason camp and later said he was too heavy. Whether it was mental or physical, his play was affected, and it showed on the stats sheet.
In spite of all of that, there is still plenty to like about the linebacker prospect. He could develop into a three down linebacker if he plays to his size, speed and movement skills. He can get after the call carrier as his 151 tackles are no fluke. Can get to the quarterback as he seven sacks for his career. If the Cardinals lose De'Vondre Campbell in free agency, Arizona is going to need to find someone that can play sideline-to-sideline and get after the running back. Robertson fits the bill.
Round Seven: Kennedy Brooks, RB, Oklahoma
The Cardinals have a big decision to make on Kenyan Drake. If they sign him long term then all is well. If they don't they need to find someone that can share carries with Chase Edmonds. If that is the case, Kennedy Brooks will be a fine, late draft addition for the Cardinals.
Over the past two years Brooks rushed for 2,067 yards and 18 touchdowns, and that is splitting carries with former Oklahoma quarterback Jalen Hurts. He will be familiar with this kind of offense as Kyler Murray is a dual-threat quarterback as well. He shows a lot of patience as a rusher, he waits for the play to develop and running lanes to open. He uses his toughness and physicality when in pass protection, making him one of the more competitive pass blockers in college football.
With Brooks being more of the power back and Edmonds being the elusive back, the Cardinals would have a good one-two combination in the run game.